Updated for 2023
One of the best things to do as a family in December is to get in the car, turn on some Christmas music, pick up some hot chocolate and go look at Christmas lights. It's by far the most popular Christmas activity that rings in the holiday spirit!
Some houses are so breathtaking that people travel from all over San Bernardino to see the incredible holiday light shows. And we just couldn't be more excited which is why we've compiled a list of neighborhoods and local places that have some of the best Holiday Light displays in San Bernardino and beyond.
Also, for more holiday entertainment be sure to check out our guide to the best drive thru holiday light displays in Southern California!
Where To See Christmas Lights near San Bernardino
Chino Christmas Lights
Spur Court, Chino is an entire neighborhood of houses that go all out with their decorations and adds synchronized music to it. In Spur Court you are treated with that experience and more! It will make your loved ones and children's eyes glitter with the dancing music.
San Antonio Lights will add sparkle to your holiday season with the whole street in Christmas spirit. Every other house is decorated in a new way with different lighting and music. Located at Cypress & San Antonio Street & Walnut and the 60 Freeway.
Chino Hills Christmas Lights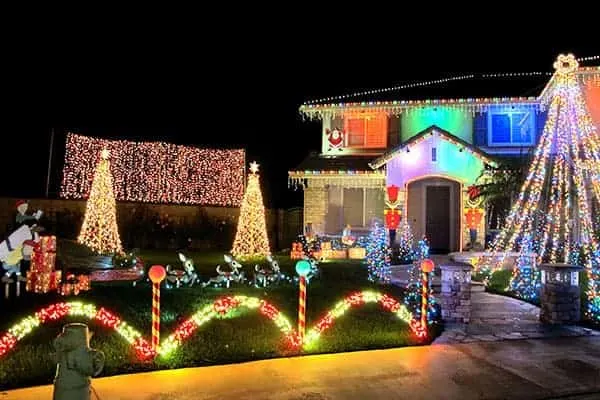 You won't want to miss Operation Christmas House when driving through Buttonwood Court in Chino Hills. This over the top home is decorated with Christmas Holiday Lights and nothing left behind! The Nehmans family has been putting on this spectacular show since 2011, decorating with thousands of lights and carols giving a sight you wouldn't want to miss.
The family raises funds for Operation Christmas Lights which provides Christmas gifts to children of fallen soldiers. So, don't forget to make a donation in the donation box!
Highland Christmas Lights
Dancing Lights in Highland is a holiday Christmas lights display which has over 50,000 lights, all choreographed to dance to the beat of the Holiday music.
Rancho Cucamonga Christmas Lights
Thoroughbred St in Rancho Cucamonga is a widely popular spot to see Christmas lights in San Bernardino. This street is merely a collection of people who love Christmas and have so much cheer that they put up with the floods of visitors wandering down their street all month to see their crazy light displays. It is a great and free way to get into the Christmas spirit for the whole family. This is a drive-thru only event.
San Bernardino Christmas Lights
Lights On Deerberry located at 17940 Deerberry Way is a sight to behold! The house presents a light show with 15,000 pixels that runs nightly from 5:30 pm to 10:00 pm. Each pixel has a red, green and blue LED inside and depending on how they are turned on and/or faded, it can create almost any color at any given time.
Happy Holiday Field Tripping!
Jilleen