This post may contain affiliate links.
There's a lot of questions out there right now about what to do with your kids at home while school is out. As parents, we may need to find new ways to entertain ours kids at home for longer periods of time.
Sometimes in the midst of chaos, creating a small oasis of normalcy and continuity is very important. As a homeschool mom, there's a lot of learning activities that I do with my kids at home that are ideal for this situation.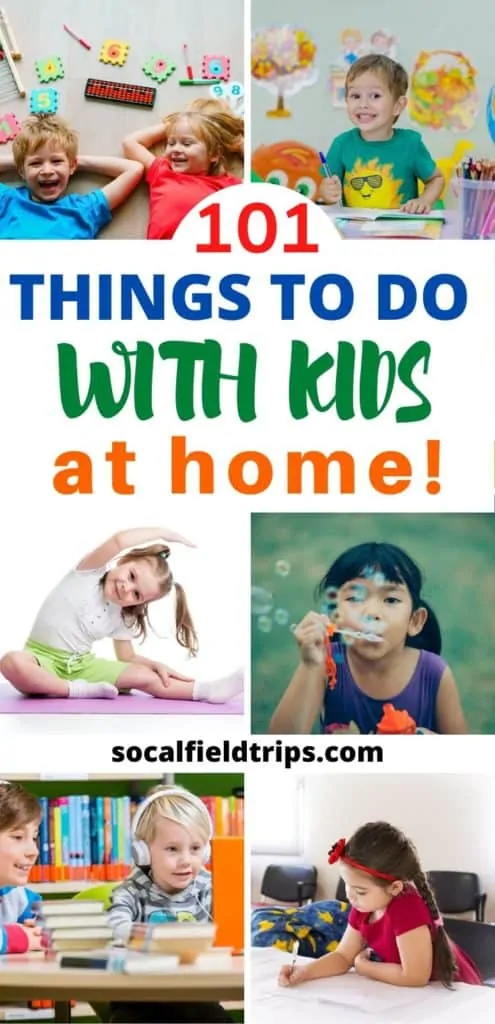 My first suggestion is to think beyond the usual textbook! Right now is a great time to improvise and make use of what you already have. For example, design a new board game out of an old one, look for new ways to use old sporting equipment, ask a friend or family member to teach your child a new skill via Skype. The list of learning opportunities from home are endless!
101 Things To Do With Kids At Home
To get your creative juices flowing, I've made a list of 101 learning activities, crafts and games that you can do with your kids at home to help keep them occupied while school is out. There's a combination of educational programs, indoor and outdoor games, YouTube channels and more. So read on for more ideas!
Fun Activities To Do With Kids At Home
Host a family game night. My family loves to play Clue, Klask, Jumanji, Gravity Maze and Suspend.
Take a virtual field trip
Set up a LEGO challenge. Playing with Legos combats boredom, and gives kids a chance to learn while they play.
Play with Perler Beads. They help with fine motor and concentration skills.
Playing with Playdoh enhances fine motor skills, improves pre-writing skills, sparks imagination, creates a calming effect and develops eye-hand coordination.
Have an indoor scavenger hunt. You can set it up by letter, number or color.
Make a dinosaur craft
Make a DIY escape room
Draw a comic book
Make slime
Play with Kinetic Sand. They even have dinosaur kits!
Play with Magna-tiles. My kids have played with Magna-Tiles for over 10 years!
Learn a new magic trick
Put a puzzle together
Make a sensory bin, sensory bottle or sensory bag for toddlers and preschoolers
Build a DIY light box that provides endless hours of play and learning
Make a fort out of cardboard boxes or sheets and blankets
Have a parade with costumes and homemade instruments
Enter an online poetry or writing contest
Build a famous landmark out of LEGOS
Make sock puppets and host a puppet show
Make a shadow box
Build a marble run out of cardboard, duct tape and marbles
Teach your dog a new trick
Play detective and learn secret spy codes
Host a dance party
Have a comedy night in your living room
Play charades
Play hide-and-go-seek
Make a homemade kite
Bake or cook with your kids
Take a free online cooking class with Chop Chop Cooking Club.
Set up a race car track on the stairs
Take turns reading aloud a book as a family
Make ice cream in a bag
Make your own board game

Backyard Games & Activities For Kids
Paint with watercolors on the driveway or grass
Play with chalk
Play frisbee golf
Set up a tent in the backyard and go camping
Have an outdoor movie night
Play tic-tac-toe with sticks and rocks
Play hopscotch
Read a book outside under the stars with a flashlight
Make a ninja warrior course outdoors
Use chalk and set up and play a game of four square
Arts & Crafts Activities For Kids
Make a collage out of old magazines and newspapers
Make necklaces out string and pasta
Make a life size self portrait of yourself out of butcher paper
Create a journal
Teach your kids to knit or crochet with Raverly.com
Terra Arts is hosting free online art classes starting on Monday, March 16
Art Kids Hub Here offers free art lessons for kids including how to draw and some paint projects
Learn origami
Studio DIY is hosting daily camps you can do at home. She offers ideas for music camps, ice cream camps and more.
Hello Kids offers free online drawing lessons with hundreds of drawings to choose from

At Home STEAM Activities

Educational Podcasts For Kids
Learn in Color put together a great list of educational podcasts for kids. This list is wonderful to have on hand in case you need a short parenting break.
AudioBooks For Kids
Live Webcams & Virtual Field Trips For Kids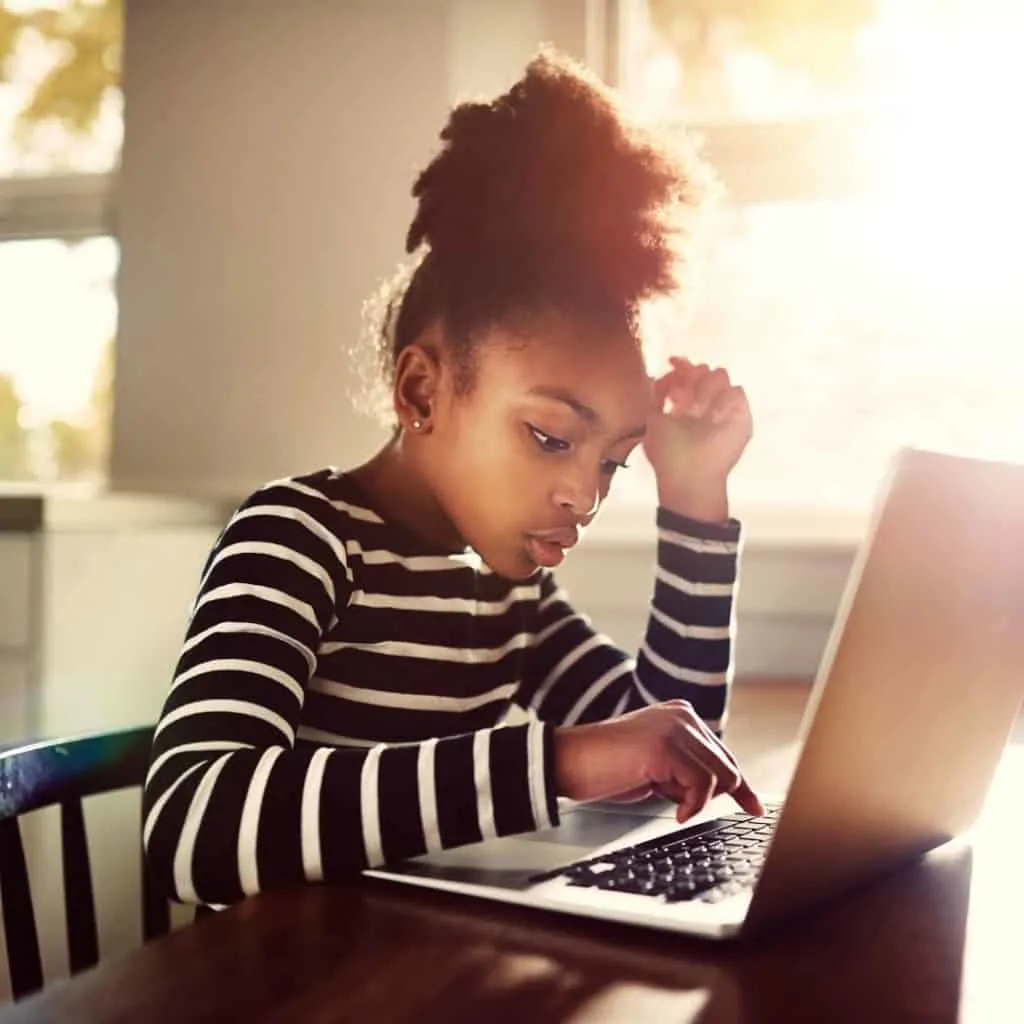 Online Learning Programs, Games & Videos For Kids
Online Reading Programs and Games For Kids

Online Writing Programs For Kids
Printable Worksheets For All Ages
At Home Math Activities For Kids
Now is a great time to have your children work on their math facts and math fluency. The good news is that Amazon still open for business! And with Amazon Prime you can get learning supplies in as little as 1 to 2 days!
To work on math with your child, you can use good-old-fashioned flashcards, a math workbook or play a math board game. You can also use math beads to teach your child math skills–like addition and subtraction–and pattern-making or memorization skills.
Online Math Programs and Games For Kids

Online Science Programs, Games and Videos For Kids
Online Social Studies Programs and Videos For Kids
Online Exercise Classes For Kids
Online Performing Arts Programs For Kids
Online Foreign Language Classes For Kids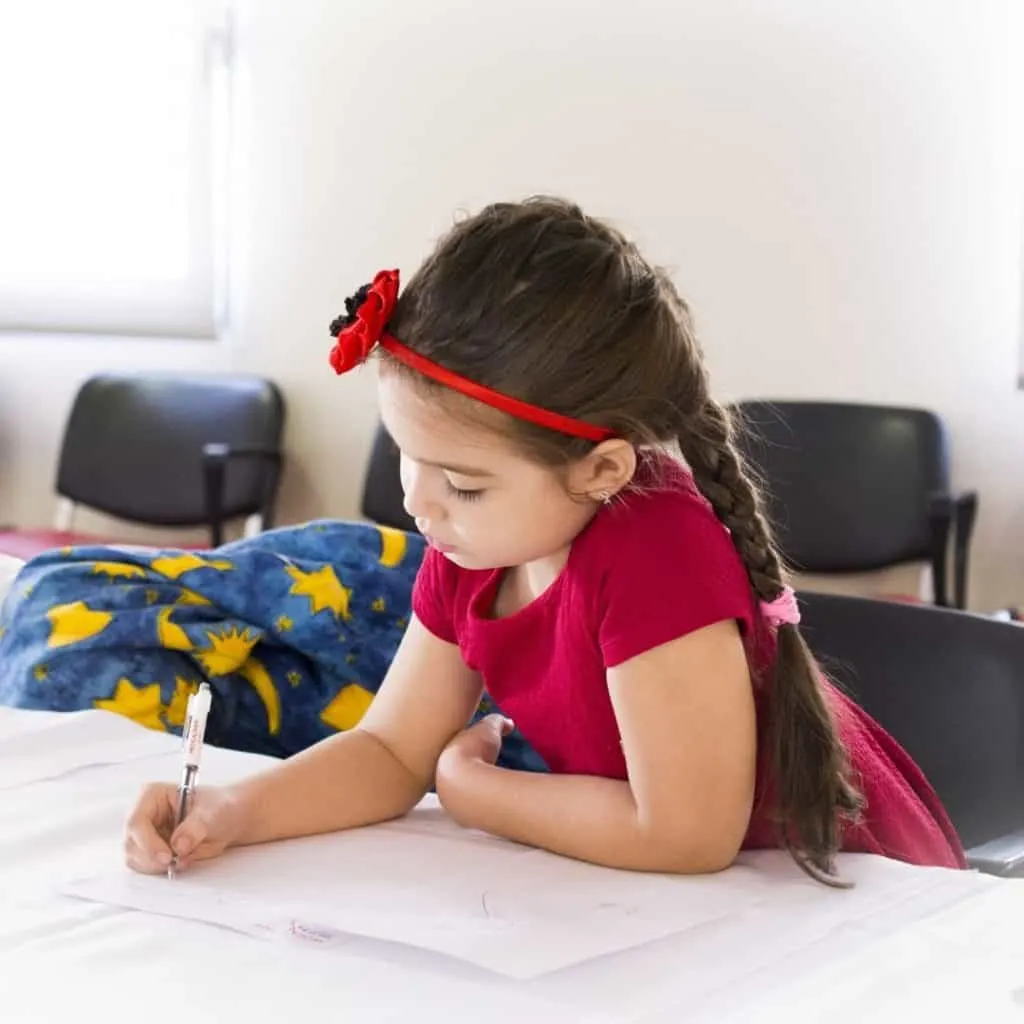 Online Technology Classes For Kids
I hope this list 101 Things To Do With Kids At Home During The Coronavirus will help keep y0ur kids occupied and learning during this time change and transition. If you know of any more fun activities or online programs that are great for kids, please let me know in the comment section below. The more we share, the more we can support each other during this time.
Stay safe my fiends! My prayers are with you!
Jilleen