A few weeks ago, as my son and I were getting ready go see the new LEGO Batman Movie, I saw my son playing with his Lego Batman and Batmobile on the floor. So, it got me thinking. Why does my son like to play with LEGOES so much? Could it be because that his own father has 15 hard-to-find LEGO sets stored in the garage for a rainy day or that his siblings like to play LEGOS with him all the time or that we had been invited to Batman Movie Days at LEGOLAND California? I had no answer at the moment. Only time would tell!
LEGO Batman Movie Days at LEGOLAND California
So, last Sunday, after a major rain storm, we headed to LEGOLAND California for Batman Movie Days. My son, Aiden, walked proudly into the park in his Green Ninjago outfit (his name is Lloyd to be exact!).
At first, he was not interested in seeing the Batman Legos, but wanted to ride the Ninjago ride instead. After a little cocking, we ventured over to the table where they were raffling off a nice Batman LEGO set. This peaked his initial interest enough to ask us if we would buy him a memorabilia later in the day.
Next, the friendly LEGOLAND staff handed us Batman cardboard masks to put on. I thought it was funny to see more dads wear the masks than kids.
To the left of the main welcome booth, kids and adults were invited to contribute to the build of a life-size Batman figure. We were given instructions on the types of colors and shapes that would be the building blocks for the set. To date, half the body and the head have been assembled. Some of the kids really wanted to go onstage to insert their pieces, but alas, they had a professional responsible for this part.
As my son's interest in Batman started to peek, we head over to the photo area to take a picture with Batman. The wait was moderate but once again, it seemed like the dads enjoyed it just as much as the kids. They all wanted their own pictures taken with their childhood superhero!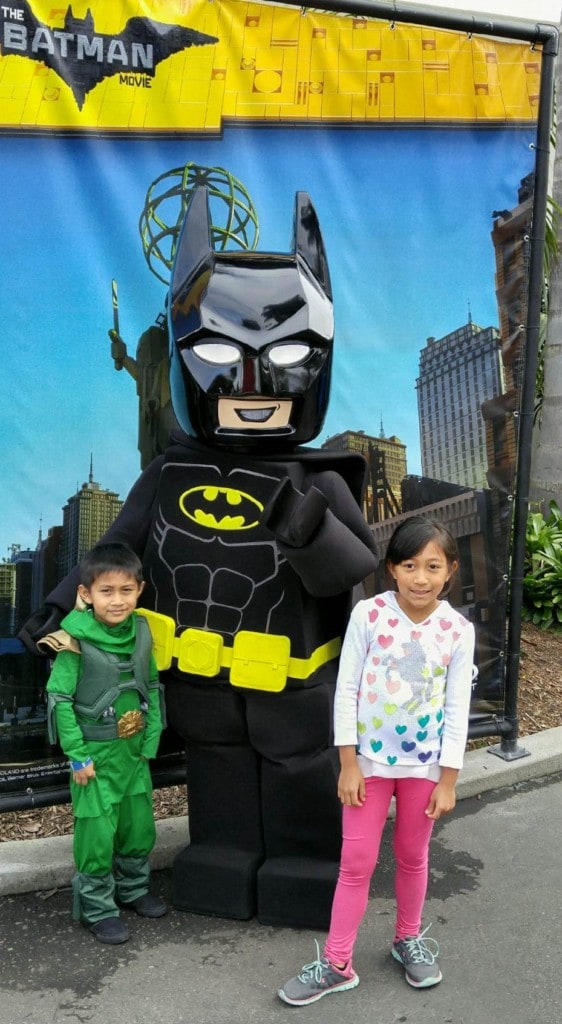 After visiting with Batman, we entered an exhibit where you could build a preliminary Batmobile and race it against other children. This is finally got my son hooked!
After that, he didn't care about riding the rides anymore. All he wanted to do was visit the stores and find the Batmobile. In the end, we did find the set and he chipped in to help buy it. Now fast forward a week later, with the Batmobile set all built, he travels everywhere with it. Just like his dad!
LEGO Batman Meet & Greet Times
LEGO Batman Meet & Greets are taking place every day in March & April, for a limited time only! To learn more about Batman Movie Days at LEGOLAND visit legoland.com.
Discount Tickets to LEGOLAND California
If you are planning on visiting more than one tourist destination in San Diego, then I recommend that you purchase the Go Card San Diego! From seeing gorillas at San Diego Zoo to kayaking in caves to exploring a real aircraft carrier, this pass has something for everyone. You can choose 4 San Diego attractions and activities from 8 great options and save up to 39% compared to paying at the gate. Visit www.smartdestinations.com for more information.
Happy Field Tripping!
Shawn
SoCal Field Trips Blog Contributor
More Things To Do With Kids in San Diego
75 Places To Explore in San Diego with Kids
Living Coast Discovery Center is one of San Diego's Best Family Attractions
Insider Tips for Visiting the Birch Aquarium
The Best Time To Visit The Flower Fields in Carlsbad