Have you heard of the term farm-to-table? Farm-to-table (or farm-to-fork) refers to the stages of the production of food which includes harvesting, storage, processing, packaging, sales and consumption. Farm-to-table also refers to a movement concerned with producing food locally and delivering that food to local consumers.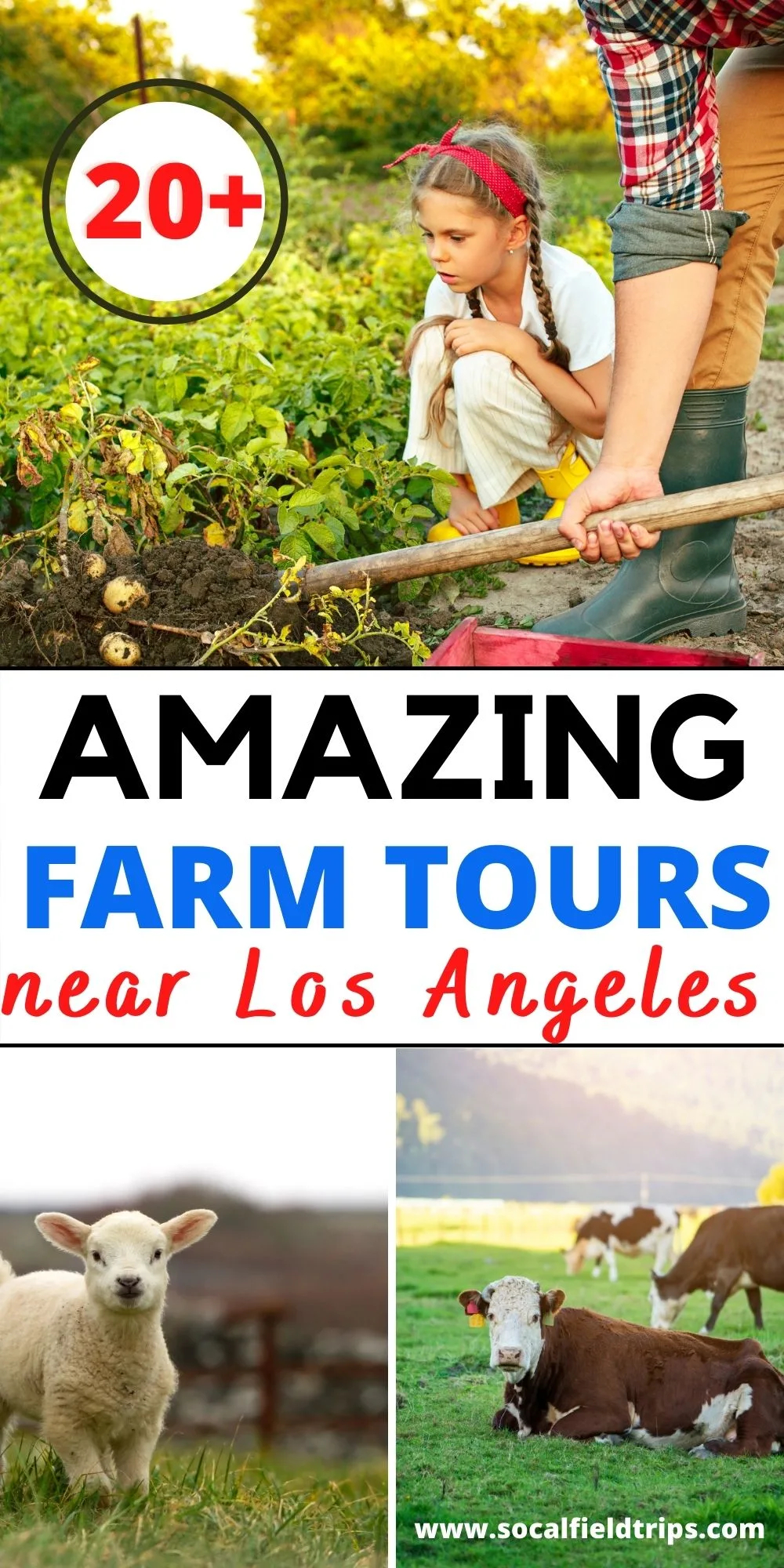 Do your children know where their food comes from? In a desire to teach my own, I have taken my children to a couple of local farms in Los Angeles to take a tour. The purpose of a farm tour is to connect people with the farmers and land that grow their food.
During a tour, you get a behind-the-scenes look at how a variety of food is grown and meet farmers who grow crops and raise livestock. In fact, the food your family eats may in fact come from one of Southern California's family farms.
So take a peak at this list of local farms in our area and schedule a tour today!
Best Farms in Riverside and San Bernardino
Amy's Farm is a real working poly culture farm that provides hands-on, guided tours to students of all ages. The offer elementary, middle and high school tours.
During an elementary school tour children get to:
Take a walk through the garden and learn about fruits and vegetables.
Harvest one item in the garden.
View a mother cow and learn the "Story of Milk"
Pet goats and sheep in the petting zoo.
Feed the pigs vegetables picked from the garden.
See chickens, roosters, turkeys, geese, and ducks.
Milk a cow (this is super fun!)
Pet and visit horses
Peltzer Farms is open year round for family and school groups to visit. They have a whole host of activities including gold mining, train rides, a petting farm, pony rides, a tractor garden and mini John Deere carts.
During the months of September and October, teachers can bring their students to enjoy the Peltzer Pumpkin Farm.
Admission costs $2 per person, Monday – Friday and $3 per person, Saturday – Sunday. Each individual activity costs $1.
Oasis Date Gardens offers date tasting's, gift and bulk dates on a 175-acre working date ranch. You can take a tour of the date gardens and packing house and check out their antique farm implement display.
Best Family Farms Near Los Angeles
Every June, Bennett's Honey Farm offers 3 daily train tours to visit their farm during the Annual California Honey Festival. The honey festival is an educational and tasty experience held in conjunction with the Fillmore & Western Railway. Their tasting room is open year round.
Visit the farm March through December from 9 am to 6 pm daily to purchase fresh seasonal produce in the open air farm market, including corn, tomatoes, strawberries, cantaloupes, peaches, plums, nectarines, apples, beans, zucchini, watermelon, and much more. They are a cash only farm.
Every October, Forneris Farms also hosts a Harvest Festival with a huge 10 acre corn maze, tractor train ride, pumpkin patch and more!
The AGRIscapes facilities serve as a community resource where people can come and learn about issues relating to food production and the environment. The farm hosts a pumpkin patch in the fall and strawberry picking in the spring.
Guests are invited to visit the Gilchrist Farm and you learn how to milk the goats, gather eggs or take a horseback-riding lesson. You can also enjoy the petting zoo, take a wagon ride, a pony ride or make a local seasonal craft, like soap-making.
The farm is open every Saturday, year round from 9 am to 2 pm. Admission and parking is free at the farm. Individual activity prices vary. In autumn, they host their most memorable event of the year, the Harvest Festival.
The purpose is to support schools and teachers in their efforts to incorporate garden-based themes in their classrooms and curricula. Field trips feature our life cycle garden and oat planting with topics encompassing transportation methods used to bring food to our grocery store, video presentation on grains and making flour for bread, the food pyramid and composting garden waste. There is a hands-on planting exercise where each child will plant flower seeds and an herb to take home. Each child receives a healthy snack and take-home materials to share with the family about lessons learned on the field trip.
The Farm's mission is to teach all ages lessons about sustainability, healthy eating, crop growing and the basics of how food is produced, grown, gathered and delivered. The Farm also encompasses traditional favorites like the Big Red Barn, with milking demonstrations, the largest petting zoo in the state and agricultural exhibits. You might get lucky and find a new baby animal being born as well!
The Gentle Barn's mission is to "Teaching People Kindness and Compassion to Animals, Each Other and our Planet." A visit to barn provides children from any background a great opportunity to learn about farm animals with their unique features and personalities. They host field trips for scout troops, home school groups, school classrooms and church groups.
Tapia Brothers Farm is a family-owned and operated produce stand in the San Fernando Valley. They grow and sell fresh seasonal produce. During the fall, they offers the opportunity to experience a class pumpkin patch. They also sell Christmas trees during the winter season.
Best Farms Near Orange County
Centennial Farm is a three-acre working farm at the OC Fair & Event Center created to educate youth about agriculture and its importance to daily life. We have been to this farm numerous times. The Farm is home to fruit and vegetable gardens, livestock, and the Millennium Barn. You can either visit the farm freely on your own to view the pigs, chickens, cattle, goats and gardens or set up a tour. Our family has done both. Their free school tours book up months in advance, so if you want to schedule one, I would say jump on it soon! And if you want to visit on your own, note that Centennial Farm is closed weekday mornings to accommodate school tours.
Tanaka Farms has been educating children about where fruits and vegetables come from and how they grow since 1998. They offer strawberry, watermelon, pumpkin, and u-pick tours.
At the Crean Family Farm, you can peek into the barn doors and experience a farmyard adventure. Learn about life on an Orange County farm while you feed goats and sheep and milk a replica cow. Learn what it's like to care for farm animals, and learn about the roles rare breeds of animals play on a farm. Feeding and milking activities not available all days. Please call to check if these activities will be available on the day of your visit.
The Eco-Labs at The Ecology Center are outdoor interpretive stations with tools and activities provide systems-thinking, ecologically relevant, hands-on education through interactive explorations of what our ecosystems are and how we can live to improve them. Focusing in the areas of Water, Food, Waste, Energy, and Shelter, The Ecology Center offers tours, field trips, content, and curriculum toolkits. Educators and students can engage with ecology in fun, hands-on ways that also satisfy the California State Standards for Science.
Best Farms Near San Diego
The Oasis Camel Dairy invites everyone to discover their beautiful San Diego attraction and enjoy their relationship with their beloved animals. Mother camels raise their own calves in natural, large pasture settings, and learn through gentle conditioning to share the milk with us.
They offer an agritourism experience like no other. You can plan your visit on one of their Open Farm Days or arrange a private experience.
Bates Nut Farm got its start as a walnut farm, but now brings in nuts from all over the world. Pistachios, pecans, cashews, peanuts, pignolias, sunflower seeds and much more can be purchased on the farm. The Farm Zoo is open daily from 9am – 5pm.
Visit with mini-donkeys, goats, sheep, llamas, pigs, emus, chickens, peacocks, ducks, geese & more! The animals love visitors, and will eat from your hands. Bags of animal feed can be purchased. Admission is free. They are also well-known for their amazing pumpkin patch farm tours.
Keys Creek Lavender Farm is San Diego's counties only USDA certified organic lavender farm. About two dozen varieties of lavender are grown on the 8 acres lavender farm. After harvesting the lavender is processed into a variety of products which are available for purchase at the farm gift store.
During the summer blooming season (May and June) Keys Creek Lavender Farm is open Wednesday through Sunday from 10:00am – 3:00pm. The rest of the year the farm is open for events and tours. Call ahead to see what's going on at the Lavender farm.
Wild Willow Farm & Education Center is a six-acre working farm located less than three miles from the Pacific Ocean and two-thirds mile north of the Mexican Border. The farm is nestled along the banks of the scenic Tijuana River, and borders the river's stunningly beautiful estuary nature preserve.
Wild Willow Farm field trips are offered on Monday, Tuesday, Wednesday, Friday and Saturday mornings and typically last from 1.5 to 2 hours depending on your needs. Visitors will be split into groups and rotate through three to four hands-on activities, including light and easy farming and interactive lessons. Your farm tasks may includeplanting, weeding, watering, bed-building, composting, mulching, etc.
At Little Creek Acres Farm there are dairy goats and sheep who know their names, chickens you can visit, cats that talk to you, farm dogs who love attention, as well as a veggie garden and an orchard to explore and learn in! A two and a half hour experiential learning tour for youth groups of 5 to 90, ages 6 and up, scheduled March through November.
Carlsbad Strawberry Company has been growing Strawberries for four generations. At this farm, you can pick your own strawberries in the spring. During the fall months, the farm offers a beautiful pumpkin patch and have a very popular corn maze. Throughout out the spring, they offer strawberry picking.
Best Farms Near Ventura and Santa Barbara
Underwood Family Farms welcomes schools and groups to visit their family farm to enjoy the beauty of Ventura County and to gain a positive farm experience. They offer strawberry, vegetable, pumpkin, animal, & combination tours which are very educational and lots of fun! You can also enjoy the convenience of shopping at the Farm Market for the same field-fresh produce.
The Farm Animal Center has farm animal displays, pony rides, activities and games. You can even host a child's birthday party by reservation. They host three celebrations a year – Easter on the Farm, the Fall Harvest Festival every day in October and Christmas on the Farm in December!
The barnyard is home to domestic sheep, which you can feed with specially formulated pellets available for purchase at the Explore Store adjacent to the barnyard. Visiting the barnyard is free, with the price of admission.
Ostrich Land is a fun side trip while visiting Solvang. There are about 50 these flightless birds at the ranch and their main purpose in life is to attract visitors. You can buy a bowl of food to feed the birds. OstrichLand USA is a great place for family fun, photography, field trips, and bus tours. Groups are welcome and guided tours are available.
McGarth Family Farm is a sustainable farm that grows a variety of organic fruits and vegetables year round. The farm features educational tours where kids may feed and handle farm animals, and pick fruits, vegetables, and even flowers. The tours are $10 per person. Self guided animal visits are $4 per person.
The first Saturday of each month visitors are welcome to the farm to enjoy a talk with one of their local growers/farmers about organic farming. Advance registration is required.
Happy Field Tripping!
Jilleen
More Things To Do With Kids in Southern California
19 Space Field Trips For Kids in Southern California
4 Sports Stadium Tours For Kids in Southern California
Best Places To See Dinosaurs in Southern California