Fall is soon upon us! With the changing of autumn leaves, cooler nights and Halloween right around the corner, it's time to start planning fall activities and Halloween crafts for kids. It's also my favorite time of year! So I've rounded up 25 Easy Pumpkin Crafts for Kids that are guaranteed to inspire them this season.
Happy Fall!
Jilleen
25 Easy Pumpkin Crafts For Kids
Pumpkin Suncatcher Toddler Craft – Simple Fun for Kids
Suncatchers are a fantastic toddler craft, and they will love looking at their creation in the window too. Adorable!
Pumpkin Geoboard – Danya Banya
This is one of the coolest and unique pumpkin craft ideas out there! So much fun and doesn't it look terrific?
PUMPKIN CRAFT KITS FOR KIDS
Fun Express 8 Inch Foam Halloween Pumpkins – Craft Shapes – 24 Pack
Baker Ross Ltd Pumpkin Scratch Art Magnets (Pack of 12) for Children to Design & Display
3D Pumpkin Wreath Craft Kit – Crafts for Kids & Decoration Crafts (12 Kits)
Set of 12 Glittery Polka Dot Pumpkin Ornament Foam Craft Kits
Outus 500 Pieces Pumpkin Stickers Halloween Roll Stickers Round Circle Face Stickers for Halloween Party Decoration
Button Pumpkin: Bright and Easy Autumn Craft – Adventure in a Box
Button crafts are always lots of fun because it's so neat to see how you can take a bunch of round buttons and transform them into artwork. Kids of all ages (and even adults) will love this project.
Kids Fall Art Project: Puffy Paint Pumpkins – Emma Owl
You know anything that kids can get their hands a little dirty is going to be a huge hit. They may not get too messy with this puffy paint, but they are going to love feeling it.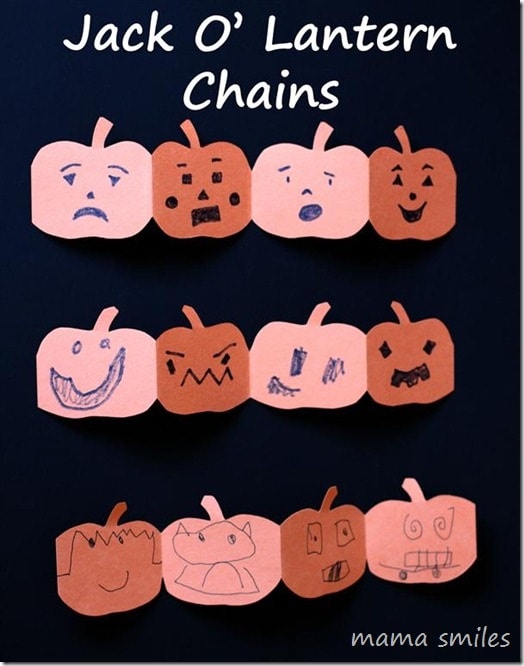 Pumpkin Jack O' Lantern Chains – Mama Smiles
If you are looking for a reason to talk to your kiddos about emotions, these pumpkin Jack O' Lanterns would be fantastic. Each one can have a different look and emotion.
Toilet Paper Tube Pumpkins – Twitchetts
Save those toilet paper tubes because the children are going to enjoy this pumpkin craft significantly. It's easy enough for little kids, and older kids will love using their imaginations.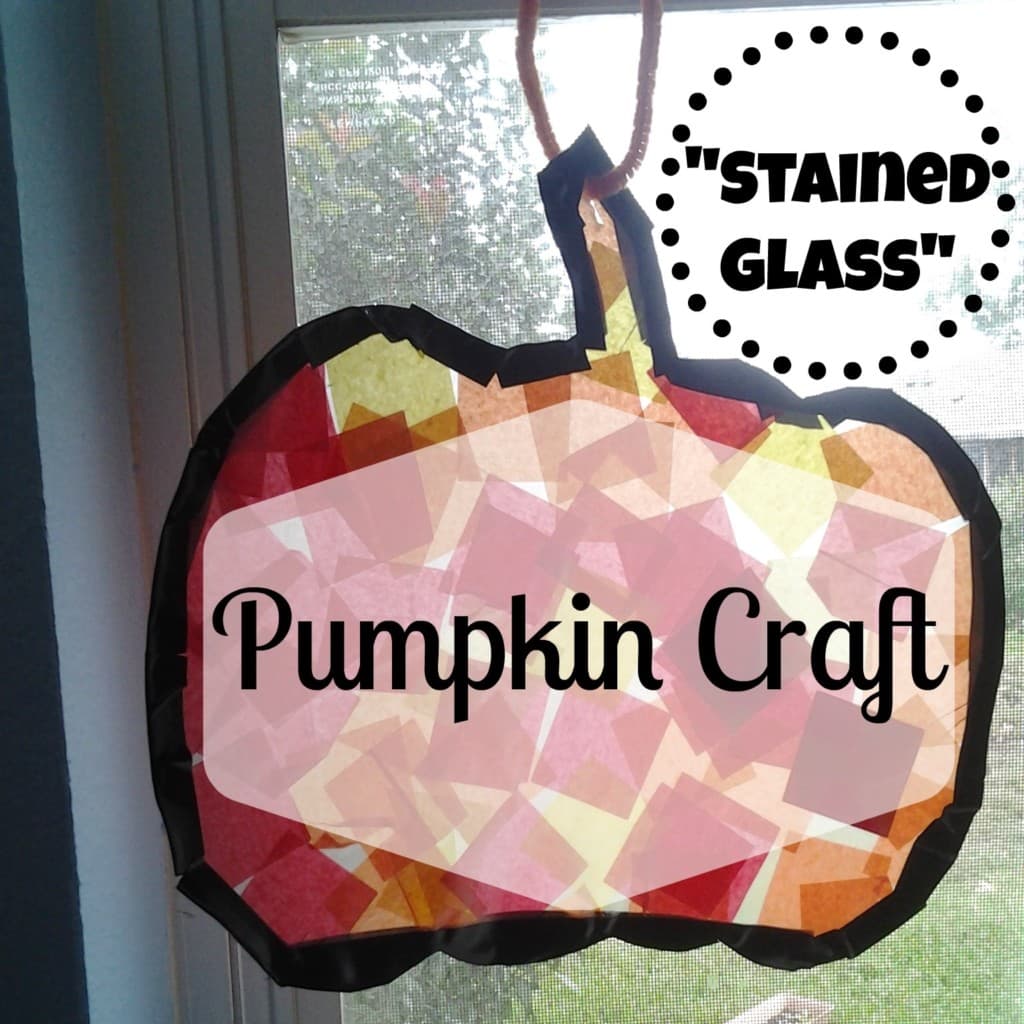 "Stained Glass" Pumpkin Craft – My Mundane & Miraculous Life
Making anything that looks like stained glass is always fascinating. The finished look of these pumpkins is positively delightful.
Pumpkin Fairy House – The Usual Mayhem
When you tell the kids you are making pumpkin fairy houses, they are going to do a happy dance and scream for joy. You can't make a fairy house without a smile on your face either.
Adorable Egg Carton Pumpkins – A Beauty in the Mess
These cute little pumpkins are made from egg cartons! All you need is some paint, pipe cleaners, scissors, egg cartons, and newspaper.
Halloween Pumpkin Lanterns – Red Ted Art
The kids can make a variety of sizes of these adorable Halloween pumpkin lanterns. Each one can have different style too.
Pumpkin Craft Upcycled Mason Jar Lid – Reuse Grow Enjoy
Mason jar lids can be turned into such a huge variety of crafts. This upcycled jar lid is beautiful!
Jack O' Lantern Mason Jar – The Joys of Boys
You will be impressed that you only need a few necessary supplies for this Jack O' Lantern pumpkin jar. The kids are going to go wild for this one!
Easy Pumpkin Craft Idea using Paint Chips – Passion for Savings
You can quickly and easily pick up paint chips at your local hardware store and make several of these lovely pumpkins. Your kids are going to be excited to see theirs hung on the wall too.
Pumpkin Apple Stamps – Frugal Mom Eh!
Making any craft with paint is amusing to kids, but when you use food as a stamp, it becomes next-level entertainment!
Toilet Paper Roll Pumpkin – Raising Whasians
These pumpkins have a very rustic or farmhouse style to them. Your kiddos will love making them, and you will love that you have inexpensive decorations. Win-Win!
Fall Craft Idea: Button Pumpkin Craft – This Mama Loves
Displaying these pumpkins is easy because they are so adorable! Everyone is going to want to make multiples.
Popsicle Stick Pumpkin Craft – Easy Peasy and Fun
Whether you spend a few days munching on popsicles or you buy the sticks unused, you will love how easy these pumpkins are to make.
Felt Pumpkin Preschool Craft – The Nerd's Wife
If you are looking for a creative craft that is geared towards preschoolers, add this one to your list. All the kiddos will think this is so neat.
Easy Fist Bump-kins Pumpkin Craft – Thrifty Jinxy
Even babies can get in on crafting or at least their behinds with this funny, adorable, and simple craft idea.
Kid's Handprint Sponge Pumpkin – ABC Creative Learning
When your kids grow up, they will enjoy looking back at their handprint crafts. It's so amazing to see how small your hand used to be.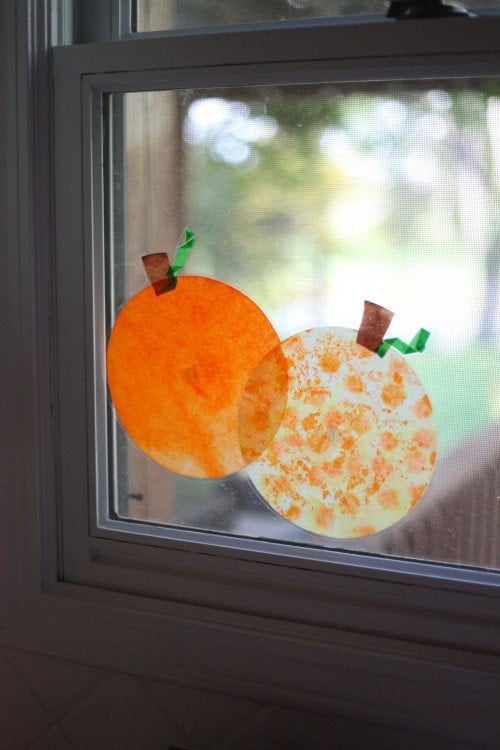 Coffee Filter 'Stained Glass' Pumpkins – I Can Teach My Child
This is a unique spin on a stained glass pumpkin. Instead of using tissue paper, a coffee filter is the star of the show.
Painting with a Loofah | Paper Plate Pumpkin – Artsy Momma
Who knew loofahs aren't just for washing your body? They can be used in lots of crafting ideas too! Just like this pumpkin paper plate idea.
Hand Painted Pumpkin Pine Cones – Premeditated Leftovers
Take the kids on a nature hike and collect pinecones for this pumpkin art project. Collecting and painting the pinecones is a blast.
Easy Rolled Paper Pumpkin Craft – One Creative Mommy
You only need scissors, paper, and glue to make these adorable pumpkins. I don't think it could get any easier.
Simple Lego Stamped Pumpkin Craft for Kids – Crafty Morning
LEGOs aren't just for building really cool houses and buildings. They are for ART as well! Break out the paper, paint, and LEGOs for this unique idea.
If you are looking for even more pumpkin-themed kid crafts, be sure to check out the fun posts below. And if you decide to make any of these 25 Easy Pumpkin Crafts For Kids or any of our inspiring crafts found on the blog – be sure to share a picture on our Facebook page for all of us to see!
Happy Crafting!
Jilleen