This post may contain an affiliate link.
Reading every night before bedtime has been a tradition in our family since my children were born.  Every evening my children pick two books for mom and dad to read to them while we snuggle up together in bed.  However, in the summer, I like to up the ante and encourage my children participate in one or more Free Summer Reading Programs for Kids.  Some programs are local, while others are nationwide.
Did you know that on average students lose 2 months of reading skills over the summer?  So to combat this trend, there are several Free Summer Reading Programs for Kids that you can sign your children up for right now.  In addition to this list of 15 free summer reading programs, many local libraries also host summer reading programs for kids.  I encourage you to stop by and sign your children up.  In the past, my children have won prizes to such places as BarnesandNoble.com or Amazon.com.
Free Summer Reading Programs for Kids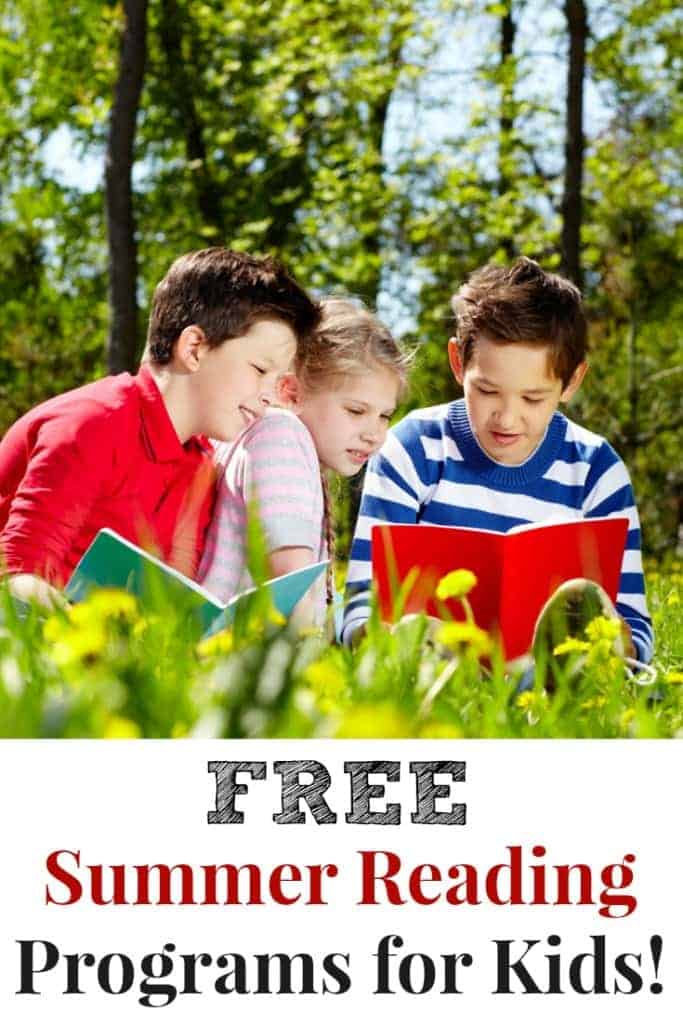 Sylvan's Learning Book Adventure
Using Sylvan's Learning Book Adventure, readers in grades K-8 not only receive the satisfaction of reading a book from cover to cover, they also earn rewards for taking online quizzes to demonstrate their comprehension of the books they've read.  This motivational approach to learning is proven to help build a love of reading that lasts a lifetime!
To set up an account for your child, visit here.  Kids earn prizes online and then redeem them via snail mail for prizes from the Balloon HQ, Gripper Products, Highlights Magazine, IGOR™, Patch Products, Quiz Hub, The Reading Stage in concert with Playbooks, Inc., Rocky Mountain Chocolate Factory and Whitney Worldwide.
Barnes & Noble Summer Reading Program
Parents can visit the Barnes & Noble website and download the Summer Reading Journal for children to participate.  Throughout the summer, children read three books, fill out their reading journal and then take it to any Barnes & Noble Bookstore to receive a free book.   This year's Barnes & Noble's Summer Reading Program runs from August 1 – August 31, 2019.
Pizza Hut's Book It Summer Reading Challenge
With the Pizza Hut Summer Reading Challenge, children can beat the "summer slide" by downloading and printing Pizza Hut's summer activities that keep kids reading throughout the summer months.  Parents and teachers can choose from book lists to book reviews to story starters.  Pizza Hut also partnered with Candlewick Press to bring children a great list of summer reading activities.  Don't forget to also sign up for Pizza Hut's Book It Homeschooling Program too.
New York Times Summer Reading Contest
The 9th annual New York Times Summer Reading contest is just for students ages 13-19.  Students are able to tell the NYTimes why they loved or disliked a particular piece and each week they publish the best comments.  The NYTimes.com has a digital subscription system in which gives readers free access to 20 articles each month.
The Scholastic Read-a-Palooza Summer Reading Challenge is a free program designed to be both educational and fun to help prevent the effects of the summer slide—the learning losses that can occur during the summer months.  Over the course of 18 weeks, kids can enter their summer reading minutes online, unlocking digital rewards as they complete weekly reading challenges; and access book excerpts, videos, and other summer-exclusive content.  Children create an account (per their parent's permission) on Scholastic's website and log their reading times into the system.  Prizes are awarded throughout the course of the program and kids get a chance to beat the world record.  The program runs from May 6 through September 6, 2019.
Chuck E. Cheese 's Reading Rewards Calendar
Chuck E. Cheese 's Reading Rewards Calendar is a program where kids can earn 10 free Chuck E. Cheese tokens for reading each day for 2 weeks.  Parents need to download the printable rewards calendar and take it in person to their nearest Chuck E. Cheese for redemption.
Enrich the long summer days away from school with Dr. Seuss.  They have fun, creative crafts, recipes and activities on the website that will encourage kids to think and engage their wild imaginations.  Have an Imagination Seuss-a-bration all summer long!
Camp Wonderopolis is a free online summer-learning destination that's full of fun, interactive STEM and literacy-building topics boosted by Maker experiments!  Keeping kids and their families learning together throughout the summer and out-of-school time, Camp Wonderopolis can help build vocabulary, background knowledge in science, reading comprehension, critical thinking, and other literacy skills along the way.  When you register as a Camper (kids of all ages) or Counselor (parents, community and library program staff, teachers), you'll enjoy free learning through wonder.
The Electric Company's Summer Learning Program
The Electric Company's Summer Learning Program is a six-week multimedia experience consisting of 24 sessions, with four 90-minute sessions per week.  Each session uses the show as a leaping-off point for developing children's vocabulary and exploring core math concepts such as addition and subtraction, pattern recognition, representing and analyzing data, telling time, reading and writing numbers, and measurement.  Children will also be learning comprehension strategies and building motivation through everything they do.
To make the learning deep and lasting, children watch the same episode and are exposed to the same words and concepts for two sessions in a row.  Built into each session are multiple opportunities for children to display their learning through small and large group discussions, one-on-one and whole class activities, writing, drawing, and playing online games.  And to ensure that each session continues beyond the classroom, families are given a bi-weekly newsletter that updates them on what children have been learning and offers simple ways to continue this learning at home.
Key features include:
36 hours of summer learning content
YouTube links to over 3 hours of content packaged into 15-minute narratives
Online Gaming: 12 levels of The Adventures of Prankster Planet
12 interactive group activities
24 skill-building activity sheets
TEC SLP Orientation Training:
– 90-minute orientation training for staff implementing SLP
– PowerPoint presentation detailing TEC approach and SLP curriculum specifics
– Training script to accompany PowerPoint for staff to administer training
PBS KIDS Summer Adventure Program
The PBS KIDS Summer Adventure program, for children ages 4 – 8 years old, is a collection of multi-media activities from kids' favorite PBS KIDS shows and characters.  Each day children participate in a series of hands-on, technology-based activities to practice and learn math skills as they complete a new adventure.  These activity plans deepen children's understanding of specific math content using a unique combination of online games, video segments, mobile content, and hands-on learning from programs kids know and love.  Activities run 60-90 minutes long to allow for flexible scheduling and provide group and camp leaders with guidance and tips on using a multi-media approach to learning.  Yes, it is math, but kids need to work on their numbers over the summer too!
Education.com Summer Reading Program
Escape into the wonderful world of books with these summer reading worksheets.  From fantastical dragons and amazing animals to wet 'n' wild fun, these summer printables offer endless ideas for incorporating reading into your child's break from school.  Print off a checklist, and get started on these awesome summer activities to create some fun in the sun.
Positively influence your children's reading behaviors over the summer by activating and incentivizing their motivation to read using tools that allow them to list, track and share progress.
Keep connected with all things Junie B.!  Sign up for their newletter and they will send you monthly updates about new books, fun printables like holiday cards, Junie B. games and activities, special events, sweepstakes, and more.
SYNC Summer Reading Program for Teens
SYNC is a free 14 week summer reading program for teens ages 13+.   Teens are able to download 2 free audio books each week throughout the summer.  Each week there will be a current young adult book as well as a classic title that teens will be able to download for free through the OverDrive app.  The program runs form April 25 – August 16,
AudioFile's Audiobooks for Kids and Teens
Whether you're listening as a family, "On-the-Go," or for quiet time, AudioFileMagazine.com has a terrific curated list for kids and teens that gives you dozens of awesome choices.  Explore other times and places, family and community themes, fantastic worlds, and familiar classics.  Audiobooks for Kids and Teens has something for everyone.
Happy Summer Reading!
Jilleen
More Summer Activities for Kids
Kids Bowl Free All Summer Long
20+ Water Parks in Southern California
75+ Splash Pads in Southern California
7 Free Summer Disney Movie Nights in Anaheim