Back in December, I was invited to spend the weekend as a guest of the Renaissance Indian Wells Resort & Spa in Indian Wells, California to help celebrate their "rebirth" as the newly renovated and innovated Renaissance Esmeralda Resort & Spa.
A lot has changed since the last time I visited. The property was given a multimillion dollar design transformation, with dramatic and exciting and innovative renovations to the lobby, guest rooms, corridors, fitness center, pool-area, food and beverage offerings, outdoor landscaping and more. I definitely felt the old Palm Springs retro vibe throughout the resort and loved it!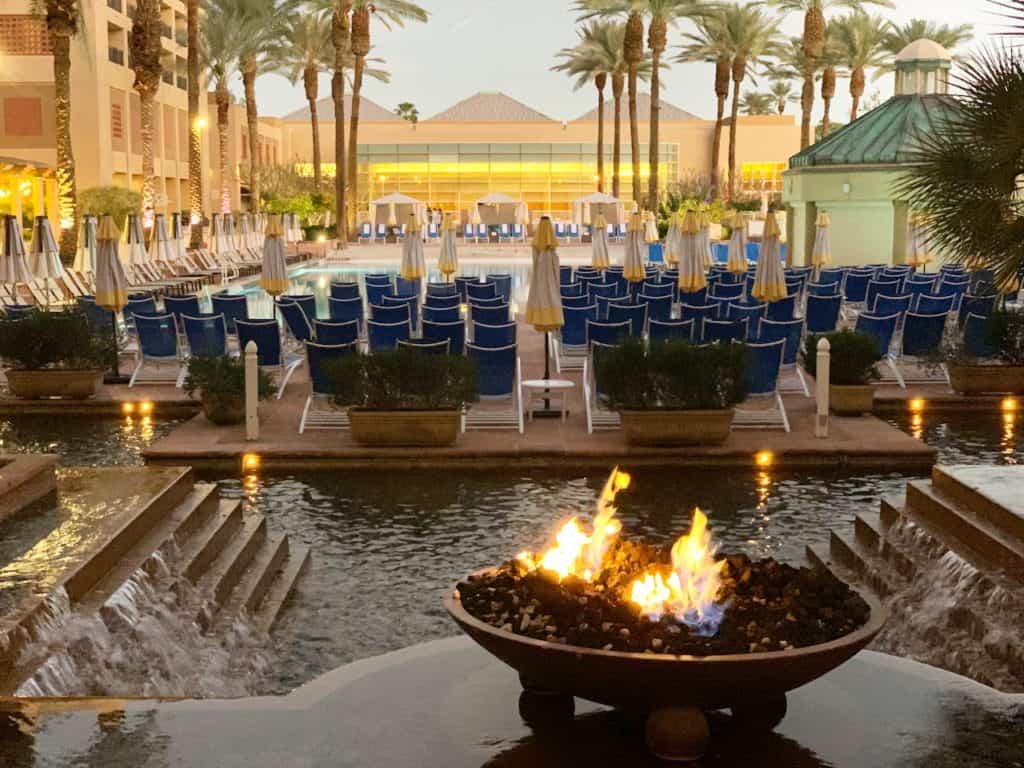 Renaissance Esmeralda Resort & Spa in Indian Wells
One of the first things that caught my eye when I arrived was the colorful seating area full of gorgeous mid-century modern inspired furniture in the lobby, in front of the sparkling grand staircase. Since it was December, I had the added pleasure of enjoying beautiful and whimsical holiday decorations all throughout the property.
Renaissance Esmeralda's new look included a complete overhaul of the guest rooms. The rooms were given complete floor-to-ceiling transformations as well as new configurations to create a larger selection of suites to choose from.
I absolutely loved my room! The suite featured a whimsical focal wall behind the bed, bright and cheery color palettes and vibrant decor. The bathroom also featured fun details, like teal shelves and nostalgic photo wallpaper. The seating area was so comfy and cute, and they even left a little welcome package for me on the table in celebration of their 30th anniversary.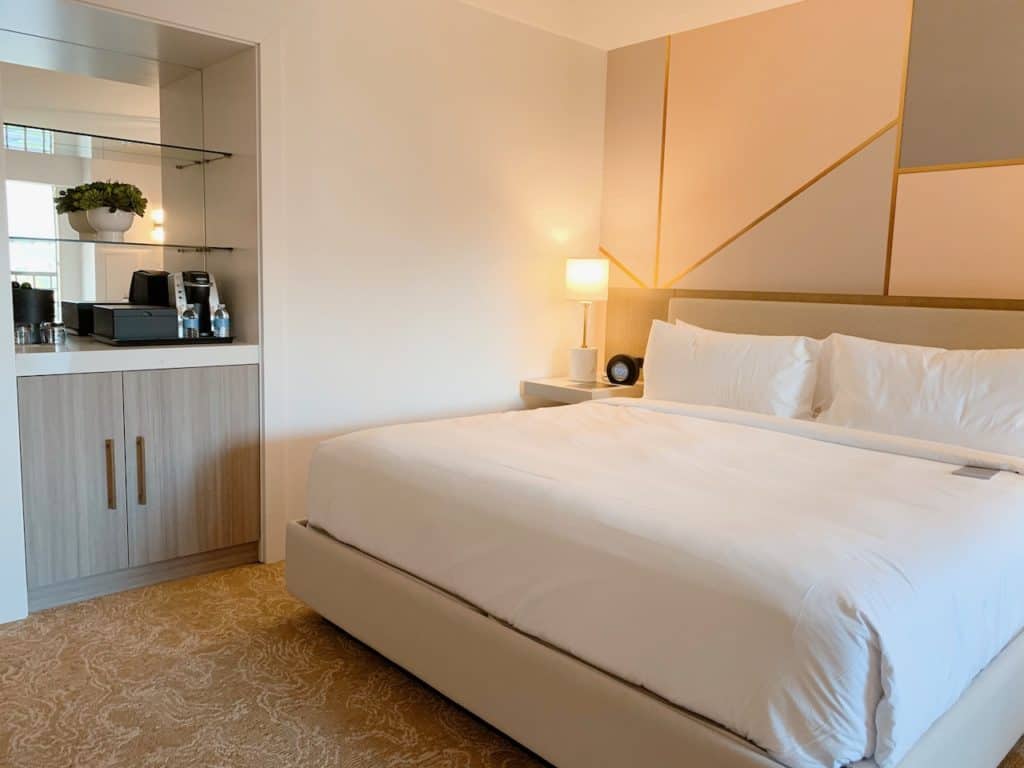 The new changes to the public areas on the property really take it to a whole new level! Waterfalls, fire pits, gardens, lakes and a newly-planted olive tree grove make it a magical place to explore.
Renaissance Esmeralda Resort & Spa Amenities
The pool area has been made more stunning than ever and includes new oversized cabanas and waterfront views. It really is an oasis in the desert. My favorite addition to the pool area is the added power ports, so you can keep your phone charged while you recharge or plug your laptop in and mix business and pleasure. Work does sound way more appealing when you can do it while lounging poolside.
While this was a solo trip, I stopped in to see the kids club. Camp Esmeralda is for children ages 4 through 12 and it's a fun half-day camp that you can add to your stay. It's open Saturdays 9:00 am – 12:00 pm and 6:00 pm – 9:00 pm and Sundays 9:00 am – 12:00pm only.
The cost is $45 and it includes a snack (or dinner or the 6:00 pm camp) and Camp Esmeralda gift. It's a great way to spend some quality time with your spouse (or in the spa) while the kids are safe and entertained.
Renaissance Esmeralda Resort & Spa Dining Options
Of course the best part was trying some of the new food and beverage offerings. The resort has a wide variety of dining and catering options that include innovative cocktails, upscale tapas, wood fired pizza, farm-to-table favorites, elegant sushi and more.
We had the chance to try their new breakfast offerings including a homemade waffle bar, fruit board, donut wall and fun cereal station. In the evening, we attended a picturesque dinner out under the stairs and enjoyed an after party in one of the hotel's elaborate ball rooms.
There's even an adults-only "story time" at the bar where you can sample their signature cocktail for the night and listen to little info bytes about the drink, resort, and local happenings. For the kids, there is s'mores to enjoy by the fire.
I had such an amazing weekend exploring the Renaissance Esmeralda Resort & Spa and I can't wait to come back again with the rest of my family for another wonderful staycation in the California desert.
Happy Field Tripping!
Jilleen
More Things To Do Near Palm Springs
Insider Tips For Visiting The Cabazon Dinosaurs Museum
Best Places To See Wildflowers in the Inland Empire
5 Tips for Apple Picking in Oak Glen