We all have a bucket list of sorts.  You know, places we want to visit one day, but haven't gotten to quite yet.  Cabazon Dinosaurs in Cabazon, California is one of those places for me.  I've passed the iconic dinosaurs countless times while driving from LA to Arizona, but I've never stopped to actually check them out.  Finally, one day in March, I decided to change that and became one of the 12 million people who drive by them every year.
The World's Biggest Dinosaurs™ museum in Cabazon includes a dinosaur garden and 50 robotic dinosaurs.  This educational facility features work from scientists around the world including Dr. Benjamin Carson and Dr. Michael Egnor.  Here, visitors learn cool dinosaur facts and about the history of the planet and the human race from a Creationist perspective.  Cabazon Dinosaurs is one of the best places to see dinosaurs in California!
Cabazon Dinosaurs in Cabazon
Cabazon Dinosaurs, also referred to as Claude Bell's Dinosaurs, are enormous, sculptured roadside attractions located right off the Cabazon exit of Interstate 10, a short distance west of Palm Springs.  The site features Dinny the Dinosaur, a 150-foot-long building, shaped like a larger-than-life-sized Brontosaurus (or perhaps it's an Apatosaurus), and Mr. Rex, a 65-foot-tall Tyrannosaurus rex structure.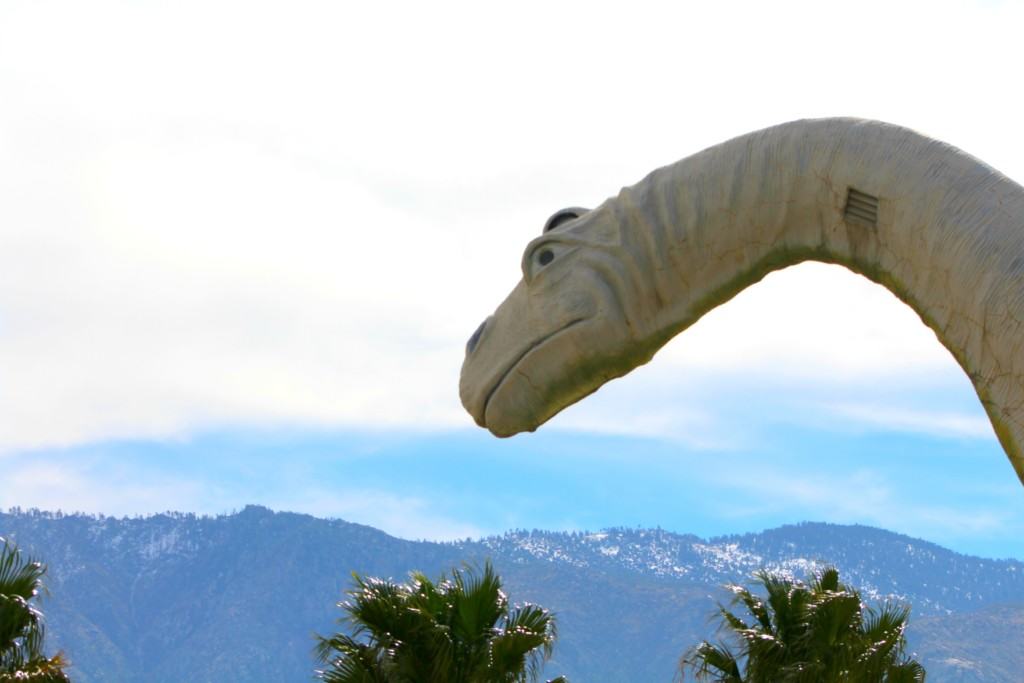 The History of Cabazon Dinosaurs
The first dinosaur to appear at Cabazon Dinosaurs was the Brontosaurus, built by former Knott's Berry Farm theme park artist and sand sculptor Claude Bell.  Bell decided to build the steel-and-concrete dinosaur in order to attract more visitors to his now permanently closed Wheel Inn Diner next door.  Construction on Dinny the Dinosaur began in 1964 and was completed 11 years later.  The giant apatosaurus is arguably the largest dinosaur in America.  Mr. Rex was completed in 1981.
Since their construction, Bell's dinosaurs have been featured in Coke commercials, MTV music videos, and the 1985 film Pee-Wee's Big Adventure.  When Bell passed away in 1998, his family sold the property to its new owners named Young Earth Creationists.