There's a new children's museum in LA! Cayton Children's Museum has landed on the west side, on the top floor of Santa Monica Place, and SoCal Field Trips got the chance to visit it for our readers. It was a long time coming, but the dream behind Cayton Children's Museum in Santa Monica finally came to fruition in June 2019. The new museum, complete with 21,000 square feet of fun and discovery for children, has many hands-on exhibits, and is be open 7 days per week.
The brand concept behind Cayton Children's Museum was developed by Greg Nelson, principal/owner of Altitude Design Office. Greg is responsible for the museum's vibrant layout and is an expert when it comes to the role color and design play in childhood development. The museum is meant to be a sort of children's utopia — a place to learn, explore and practice skills that could lead to success and happiness in adult life.
Cayton offers wide open play areas where kids can go from one activity to another with ease. There are a total of 5 different wings titled "Reflect On", "Together We", "Reach For", "Let's Help" and "Launch Your". Each wing has a different emphasis and is meant to inspire vistors to expore core universal values such as kindness, compassion, respect and hospitality.
What To Do at Cayton Children's Museum in Santa Monica
The first thing you'll notice, as you enter, is the large Courage Climber, a web of ropes suspended on the ceiling that kids and grown-ups who accompany their children under 5 can climb to. This is most probably be the first thing your children, like mine, will want to try. Part of the "Reach For" Wing, this colorful spider-web gives a different vantage point to the young visitors and help them reflect on the world around them.
In the "Let's Help" Wing, right under the web, you will find the ball pit, which is always a favorite of my daughter's. This is no ordinary ball pit. A real-size lifeboat sits in the middle of the lake made out of blue and white balls and there are life jackets, so children can rescue the poor souls in the "water".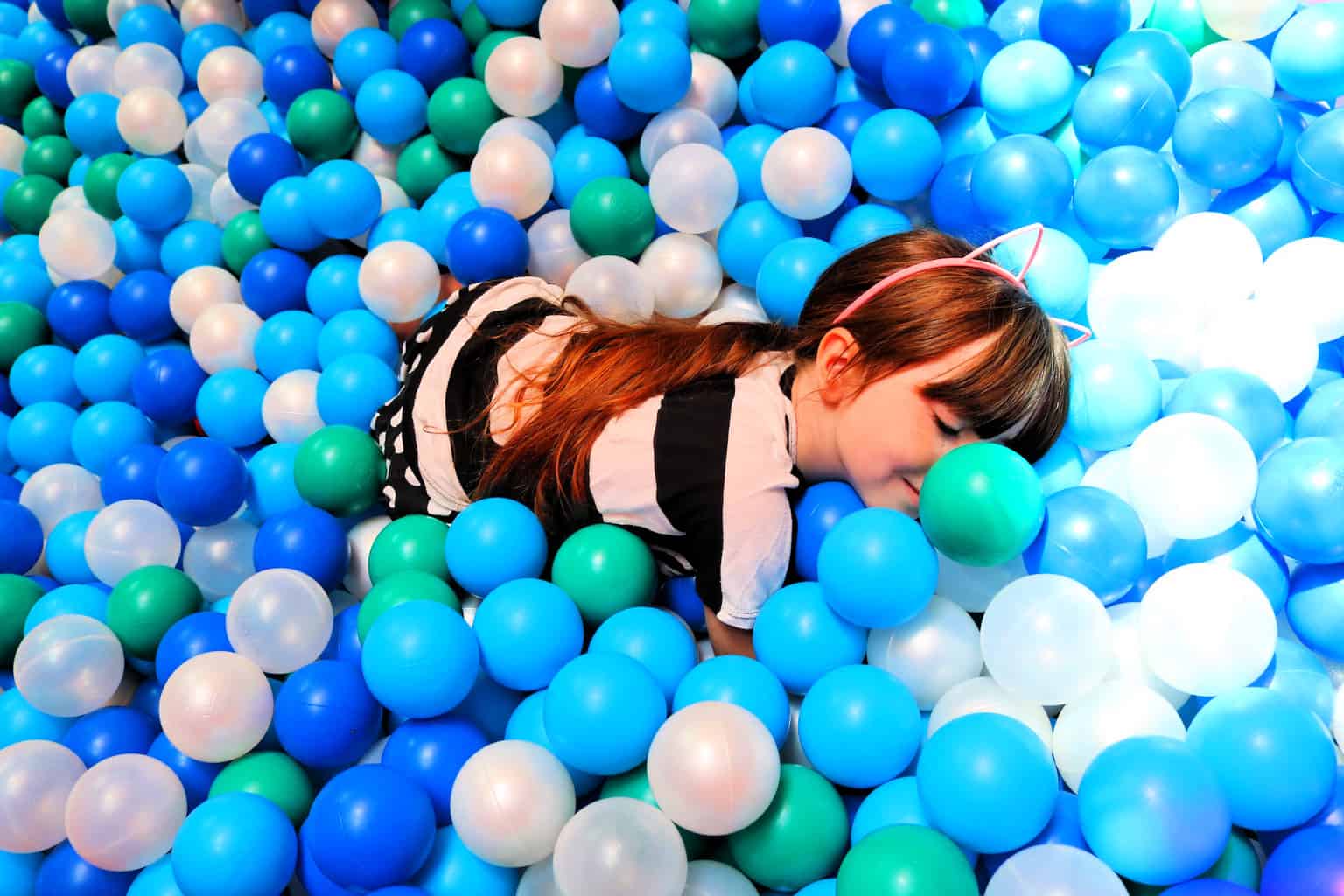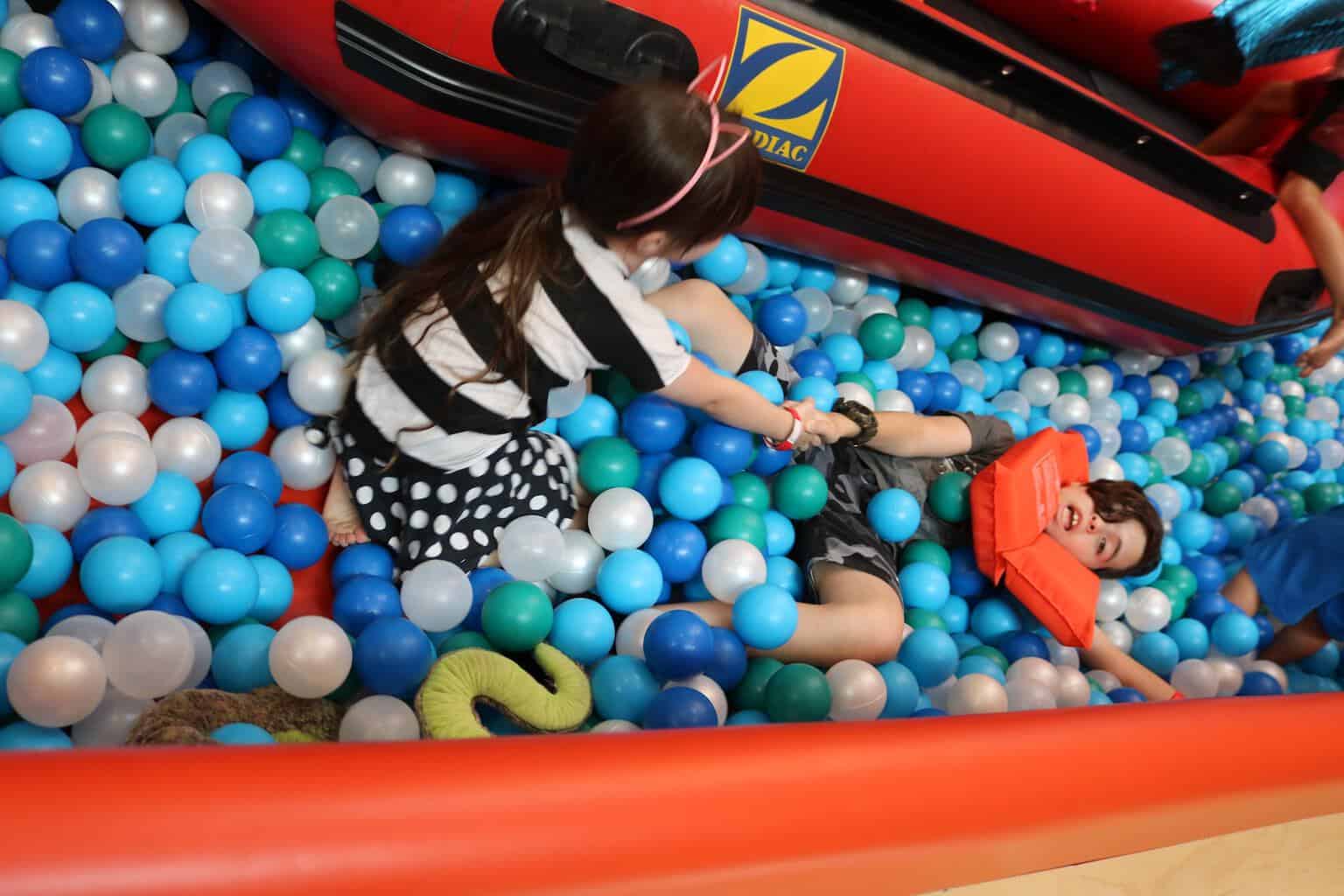 The most impressive part, for me, were the realistic helicopter and firefighter truck. Uniforms, helmets and boots are available for children to wear to immerse themselves in that universe and play the part. My daughter became an instant NASA technician and my son turned into a pilot. They had fun touching all the buttons inside the helicopter that would respond with flashing lights.
Do you have a budding vet and pet lover at home? Then, the animal hospital is for them. Grab a scrub and a stethoscope and tend to the ailing animals. This wing is all about helping, as you've already guessed.
For crawlers under 2, a special enclosed area has been set up in the "Launch Your" wing. The padded ground resembles a green hill where animals roam. They can play without getting hurt and everything is very tactile.
The "Together We" is a wing dedicated to collaboration. As my children experienced making bubbles, if another child stands on the other side of the bubble-making wall and blows on it, the bubble will act differently. Same thing for the water table with toy boats, or the interactive sand table. We had fun digging and make water appear. We even found a treasure chest as we dug further.
In the "Reflect On" wing, you will find exhibits for meditation and reflection. At the Wishing Wall, children are rewarded with holographic butterflies that are calm, cool and collected along with inspirational quotes that reflect the museum values. The Hello Booth has a cute collection of old yellow phones inside that say "Call on me".
Cayton Children's Museum in Santa Monica is so diverse that it's hard to tell you what my children enjoyed the most. They both loved dancing in front of the wall of mirrors, drawing fruits and vegetables in the craft room, jumping and discovering how high they went thanks to an interactive wall and going grocery shopping and walking through the check-out process at the end. My son also discovered a newfound passion for cleaning dishes. You know for sure that's something we will continue to work on at home!

My children were also excited when they got caught up in the eye of a glittery storm, tried on costumes and made foam cube towers fall in the theater and played with the touch-screen interactive wall. Although it is a bit hidden behind the magnet wall, you don't want to miss it. It is truly magical!
Admission to Cayton Children's Museum in Santa Monica
The Cayton has set up a time-entry system to avoid getting too crowded and allow children plenty of time to play during their two-hour time slot.
Children (ages 1 – 12) – $14.00

Children under 1 – FREE

Adult Admission – $14.00

Visitors who participate in EBT and WIC now enjoy FREE admission to the Cayton.
Active and Retired Military & First Responders receive 50% off admission which is good for up to six people each visit with valid identification.
Educators receive 20% off admission.
Special discounted rates for groups of 10+. Please email

[email protected]

for more information.

Membership plans start at $105.00 for unlimited admission for one named adult and one child.
Cayton Children's Museum Location
Cayton Children's Museum at Santa Monica Place is open from 10:00 am – 7:00 pm, Monday – Saturday, and from 12:00 pm – 7:00 pm on Sunday. Cayton Children's Museum is located at 395 Santa Monica Place, Santa Monica, CA 90401.
Happy Field Tripping!
Jilleen
More Things To Do With Kids in LA
40 LA Museums To Explore With Kids
The Best Places To See Wildflower in Los Angeles
Best Pop Up Museums in Los Angeles
7 Places To Go Sand Sledding in Los Angeles