A Field Trip to Zoomar's Petting Zoo, plus a Giveaway!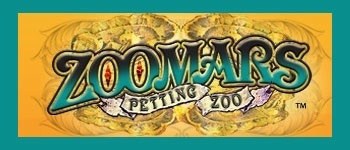 Whenever my children are out of school for a long period of time, I try to plan activities that are both fun and educational for them. Thankfully, my children enjoy visiting such places as the museum, zoo, observatory and more.
At the end of my children's last winter break, we visited Zoomar's Petting Zoo in San Juan Capistrano. Zoomar's is a small family-friendly owned and operated farm that opened it's doors for the first time over thirty years ago to visitors.
When we first arrived at the farm, we met and played with the guinea pigs in the Guinea Pig Gulley. Most of Zoomar's guinea pigs are very sweet and placid. Field Trip Girl and Field Trip Boy enjoyed sitting with and feeding them.
For only, $4 you can purchase a basket of fruits and veggies to feed the guinea pigs. Our basket consisted of carrots, lettuce, apples and brocoli. Plus the basket is big enough that two children can share it.
As an added tip, go slow when feeding all of Zoomar's animals. You don't have to give all your initial food to the guinea pigs like my children tried to do.
Instead, save some of your food for the Kunekune pigs, bunnies, donkeys, goats, sheep, emus, llamas and other animals on the farm that like to eat too!
Field Trip Boy has always had a strong connection with animals. Whether visiting a zoo, local dog park or exotic bird store, animals have always been drawn to him. It was the same at Zoomar's too. I wonder if one day Field Trip Boy may grow up and become a veterinarian. It sure would help us save a lot of money on own vet bills!
After feeding all the animals, our family and some friends played in the corn box and at the zoo's playground.
Additional fee based activities at Zoomar's include a mini choo-choo train ($3), horse and pony rides ($5) and the miner's gulch ($8-$10)
Zoomar's is also a great location for birthday parties and field trips. There is a lot of open space to play and run around.
ADMISSION: Adults $10, Children 17 and under $8, Seniors $9, Military $7 & 12 Months and under are free.
DISCOUNT OFFERS:
Zoomar's currently has a deal on Living Social for Four Admission Tickets and Two Train Rides for only $18!
Zoomar's also offers discount rates for school, scout, and mom groups. With

20 or more children the cost is only $15 per person and includes the price of admission, a pony ride, train ride and a feeding basket.
HOURS OF OPERATION: They are open daily from 9 am – 5 pm, weather permitting. Closed on Thanksgiving and Christmas Day.
BONUS TIP: Zoomar's Petting Zoo is squeaky clean and officially USDA-approved for cleanliness!
Are you looking to plan a day trip to San Juan Capistrano? Here are a few other spectacular sites to visit while in town – Mission San Juan Capistrano, Ronald W. Caspers Wilderness Park, Ecology Center, and O'Neil Museum.
So now here's your chance to enter and win a Family-Four-Pack of tickets to visit Zoomar's Petting Zoo! The package includes 4 admission tickets, 2 train rides and 2 mining gulch tickets for a total value of $64!
Good luck & Happy Field Tripping!
Jilleen
Disclosure: We received complimentary admission to Zoomar's Petting Zoo to help facilitate this post. All opinions are our own. Zoomar's logo is copyrighted and used by permission. All contest rules and regulations are included in the Rafflecopter link above.