Setting up the Christmas tree with your family is a fun and exciting way to celebrate the holiday season. It's such a magical time of year, you want to spend time making memories with those you love. Trust me when I tell you that your kids will remember these moments long after they are over!
Besides setting up the Christmas tree, there's lots of other ways to create holiday memories. Spending time together making Christmas crafts is one of them! So, for your enjoyment, I put together a list of 25 Christmas Tree Crafts For Crafts For Kids. From Christmas trees made of pinecones to gumdrop ornaments to an original 3D STEM tree, everyone in your family will enjoy making at least one of these crafts.
25 Christmas Tree Crafts For Kids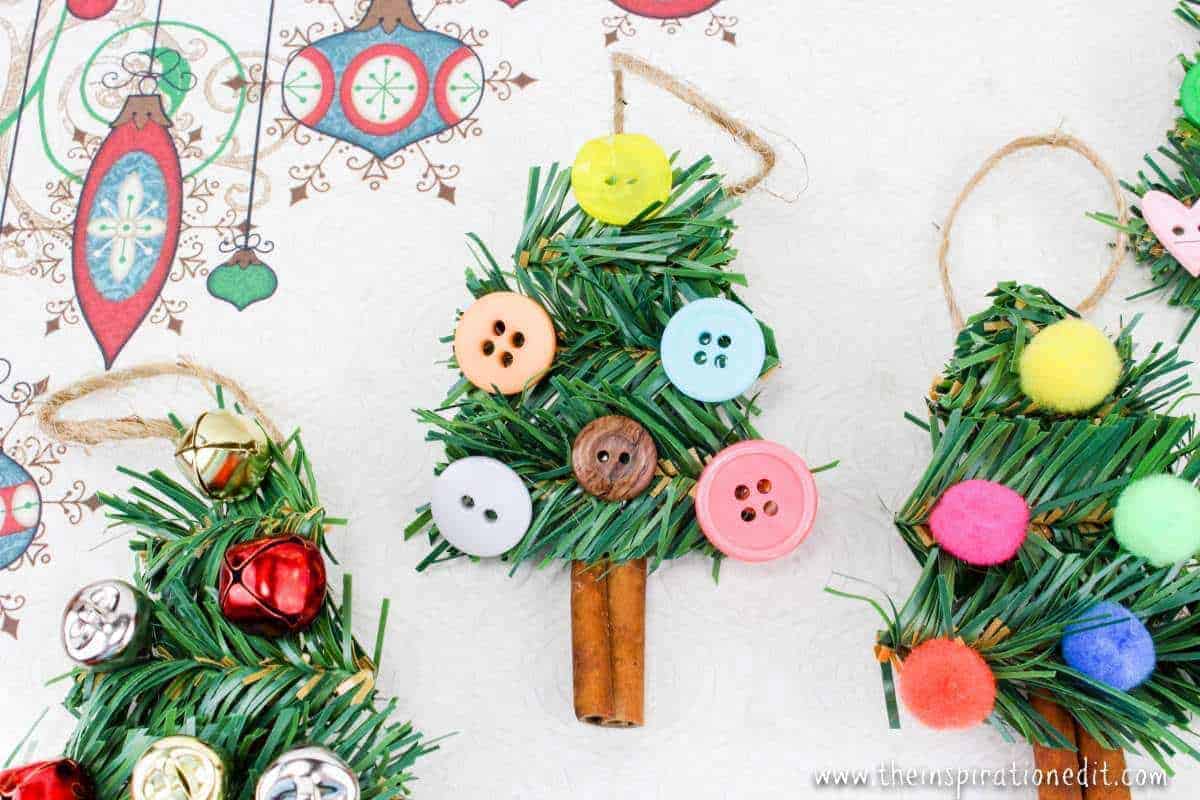 Funky Christmas Tree Ornaments – The Inspiration Edit
You can transform wreath garland into these adorable Christmas tree ornaments! They are so easy to make and look awesome.
Pine Cone Christmas Tree – Joyfully Thriving
Go out for a walk with the kids and pick up some pinecones! Then transform them into these adorable Christmas trees.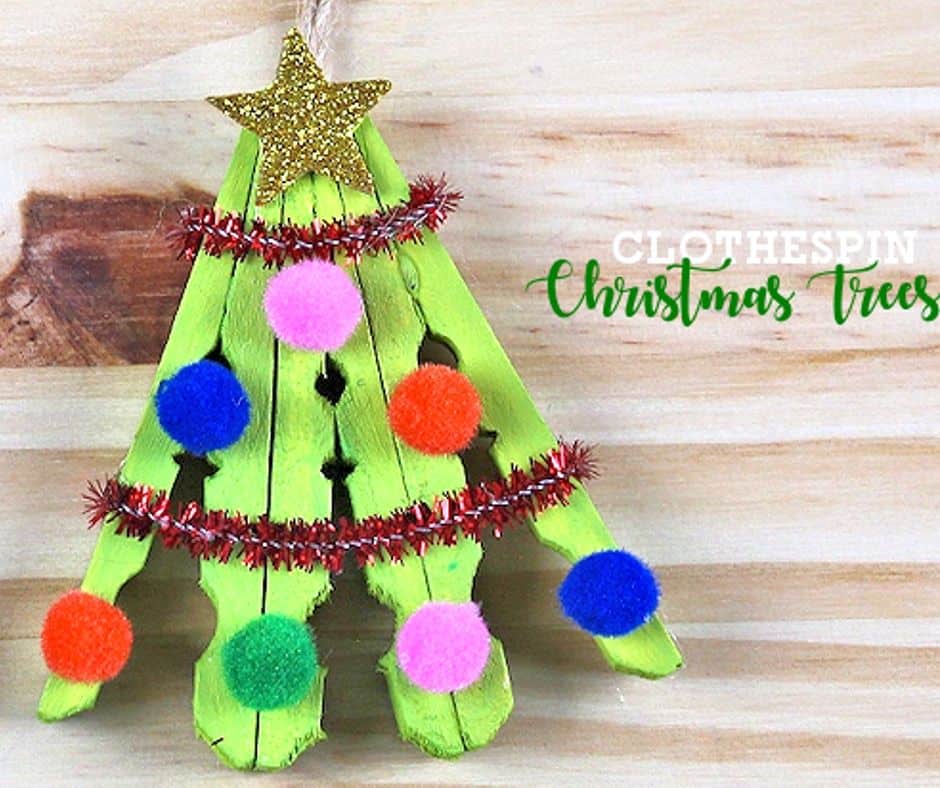 Clothespin Christmas Tree – Our Kid Things
Can you believe these started out as plain old clothespins? These Christmas trees are terrific!
Ombre Christmas Tree Garland – Rasing Whasians
This stylish Christmas tree garland is a perfect craft for the kids to help with. Plus, you will have a lovely garland too.
3D Handprint Christmas Tree – Raising Whasians
The kids will love making tons of handprints for these adorable trees. Each one will be completely different too.
DIY Scented Christmas Tree Ornaments – Gym Craft Laundry
These felt Christmas trees are scented with your favorite essential oils. The kids will love decorating their tree too.
Gumdrop Christmas Tree – Gym Craft Laundry
These gumdrop Christmas trees are so adorable! Everyone is going to love munching on some gumdrops too.
Homemade Christmas Tree Ornament – Coupon Closet
Having lots of ribbon choices available will keep the kids entertained. They will love choosing what they want for their trees.
Miniature Soaps – Tikkido
This craft is almost like a science experiment too. The soap is adorable and will be great for all different seasons.
Cinnamon Stick Ribbon Trees – Hunny I'm Home
If you are looking for a craft for preschoolers, this one is going to be a huge hit! They are super cute too.
Christmas Tree Button Craft – The Inspiration Edit
Buttons are fun to craft with because you can do so many things with them. These Christmas trees are lovely!
LEGO Christmas Tree Craft – Creative Green Living
LEGO's are more than just a tool to encourage creativity! They can be transformed into Christmas tree ornaments too.
DIY Terracotta Christmas Tree – Totally The Bomb
Terracotta pots can be easily turned into charming Christmas trees. You only need a handful of supplies to make these.
3D Christmas Tree Craft – Little Bins Little Hands
Not only is this Christmas tree craft a lot of fun to make, but the kids will also be learning all about math and engineering too.
3D Christmas Tree Craft – Craft With Sarah
This card is in pink, but the kids can really decorate their card in any color they wish. These are great to hand out to friends and neighbors.
Toilet Paper Christmas Craft – Modge Podge Rocks
This is a craft that is especially wonderful for older kids. They will love using their imaginations and decorating with their styles.
DIY Ribbon Christmas Tree – Tikkido
Ribbons are pretty and add so much character to these DIY Christmas trees. They are simple to make too.
Popcorn Christmas Tree Craft – Happy Hooligans
All you need is some paper, a stick, popcorn, and paint! So easy and the results look fantastic too.
Doily Christmas Tree Cards – Happy Hooligans
Doilies are incredible for crafts and art projects. These cards would be a pleasant surprise to anyone the kids made them for.
Dollar Tree Christmas Tree Craft – Because Mom Says
The children are going to love this Christmas tree craft idea. They can be so creative when putting theirs together too.
DIY Felt Christmas Tree – Princess Pinky Girl
The only warning I have is that when the kids start playing with this felt tree, they won't want to stop!
Pom Pom Christmas Tree Painting – Fantastic Fun and Learning
Toddlers will love to get a little messy when they are decorating their pom pom trees.
Paper Plate Christmas Tree Craft – I Heart Crafty Things
Paper plates are great for crafts because they are inexpensive and entertaining for the kids too.
Christmas Tree Puzzle Craft – Simple In The Country
We all end up with puzzles that are missing pieces, instead of throwing them out save them to make a Christmas tree instead!
Christmas Tree Sun Catcher – Fantastic Fun and Learning
This suncatcher is easy to make, and the kids will love to display their work in the window to view later.
I hope you're excited as I am to make one or two of these 25 Christmas Tree Crafts For Kids with your children! And please be sure to tag us on Facebook or Instagram with any of your finished products! And more holiday inspiration, here are some other projects I think you might love to make too!
Happy Crafting! Jilleen