What does Christmas mean to your family? Is it about spending time together, opening presents on Christmas morning or celebrating various family traditions? Christmas has many meanings to different people, but for our family, we celebrate Jesus's birthday. Yes, we still do Santa and the Elf on the Shelf and buy each other presents, but our main focus is on celebrating the birth of Jesus who came to earth many, many years ago.
It's easy to forget about the reason for the season in the hustle and bustle of the holiday season. With all the time it takes to shop for loved ones, decorate the tree, prepare the holiday meal and make cookies for family and friends, I am exhausted. That's why I like to look for little things to remind myself and my family about the true meaning of Christmas.
13 Beautiful Nativity Crafts For Kids
Throughout the month of December, we like to be inspired and do a few of these 13 Beautiful Nativity Crafts for Kids. And these aren't your average Santa-and-the-reindeer crafts. These nativity crafts for kids are meant to show children at their own level what Christmas is all about.
With a simple no-mess nativity suncatcher, homemade nativity scene rocks and a simple baby Jesus made out of popsicle sticks, there's something for just about every age range here.
Nativity Pop Up Paper Plate Craft – Pink Stripey Socks
Use a paper plate to recreate the nativity scene. The way it pops up makes it such a fun craft for little ones!
DIY Nativity Story Stones – Rainy Day Mum
Create stones with each aspect of the nativity scene this winter to tell the story to your kids in a fun way. This is also a great way to get them to remember and be able to tell the story!
Nativity Finger Puppets – The Idea Room
Have the kids help you create these homemade finger puppets to play out the nativity scene with!
More Christmas Crafts For Kids
Carson-Dellosa The Nativity Shape Stickers – Great for Christmas Scrapbooks!
Fun Express 2 Dozen (24) Make a Nativity Scene Sticker Sheets Religious Education – VBS Christmas Party Classroom Activity Favors – Holiday by OTC
Christmas Nativity Chipboard Playset Craft Kit
Baker Ross Ltd Nativity 3D Wooden Scenes Perfect for Xmas Children's Arts, Crafts and Decorating for Boys and Girls (Pack of 3)
Baker Ross Ltd Nativity Scene Card Kits (Pack of 6) – Christmas Arts and Crafts
Nativity Suncatcher – No Time For Flash Cards
This is a fun craft to look at once it's complete! Help the kids make a simple nativity scene that they can hang on the window and watch the sun shine through each morning.
Nativity Salt Dough Hand Print Keepsake – The Imagination Tree
Help your child make their own salt dough ornament to turn into the nativity scene for a fun holiday keepsake or gift!
Wooden Nativity Craft – Mess for Less
This fun craft makes a great gift to give this holiday season! It's a fun one to do alongside your kids too.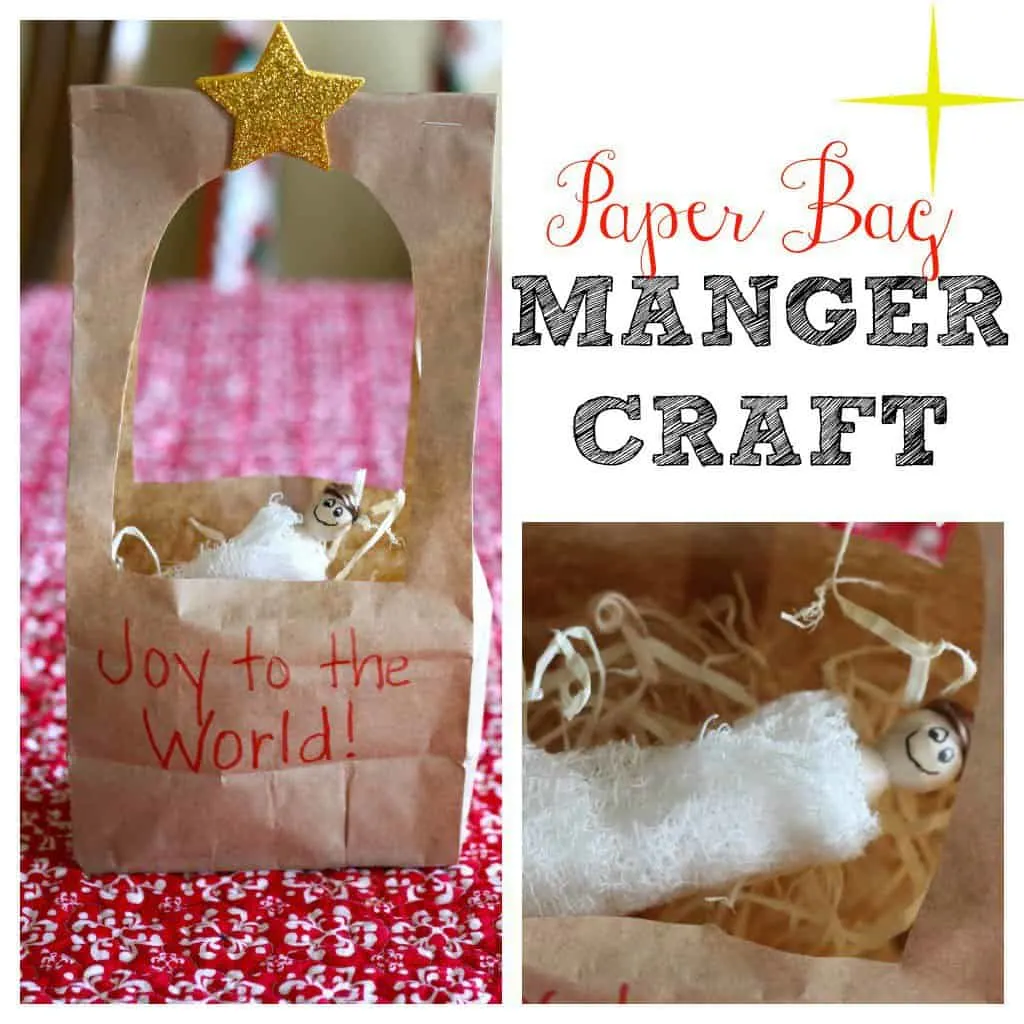 Paper Bag Manger Craft – I Can Teach My Child
Use a paper bag to craft your own manger for baby Jesus!
Handprint Stable – Crafty Morning
Create the nativity scene from your child's handprint! This is such a fun way to get engaged with the story of Christmas.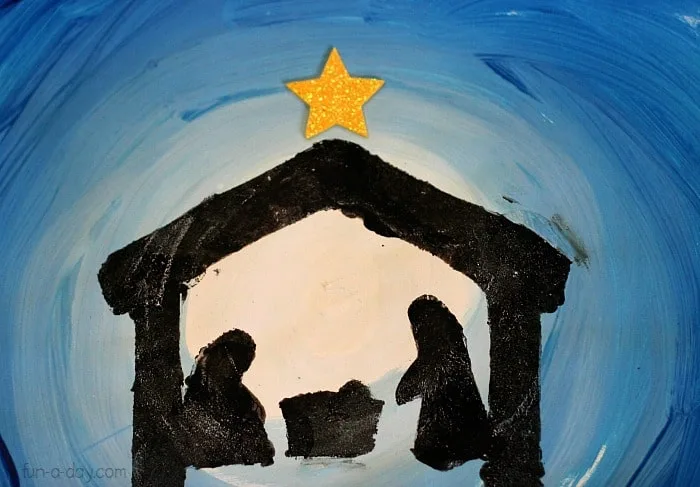 Nativity Christmas Art for Kids – Fun A Day
Pair creating a nativity scene along with a story for the kids this holiday season.
Popsicle Stick Manger Craft – Housing a Forest
This isn't the full nativity scene, but an important part of it. Talk about the story of Jesus' birth as you create this popsicle stick craft alongside your kids.
Nativity Chalk Silhouette – The Chaos and the Clutter
Pull out the chalk this winter to create this silhouette scene with the kids. It's a lot different than your typical holiday craft!
Nativity Finger Puppets – The Idea Room
Have the kids help you create these homemade finger puppets to play out the nativity scene with!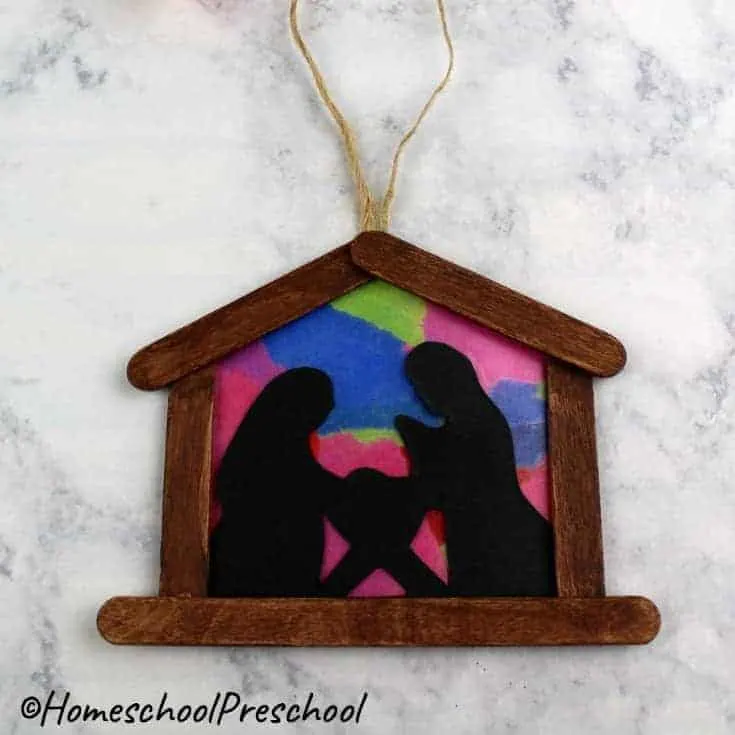 Nativity Ornament Craft – Homeschool Preschool
This is such a beautiful craft that can be made with such simple instructions and supplies!
If you are looking for even more Christmas themed kid crafts, be sure to check out the fun posts below. And if you decide to make any of these 13 Beautiful Nativity Crafts For Kids or any of our inspiring crafts found on the blog – be sure to share a picture on our Facebook page for all of us to see!
Happy Crafting!
Jilleen