Do you remember growing up and celebrating Christmas with baking gingerbread cookies? The aroma of freshly baked gingerbread coming from my grandma's kitchen was out of this world. Whenever I smell it today, it takes me right back to being a kid again. So to me, nothing says Christmas like homemade gingerbread houses and gingerbread cookies!
My kids and I also greatly enjoy making holiday crafts that involve gingerbread. For inspiration, you may find one or two of these 25 Cute Gingerbread Crafts For Kids to add to your traditional seasonal crafting. Each one of these gingerbread crafts offers something different. From making a salt dough gingerbread ornament to a popsicle stick gingerbread man to a handprint gingerbread house, you be creating laughs and memories that last forever. Enjoy your time together!
25 Cute Gingerbread Crafts For Kids
Salt Dough Gingerbread Ornaments – Adventures of a DIY Mom
You and the kids will all have a blast decorating and making these salt dough gingerbread ornaments. Make all sizes and decorate them all sorts of ways.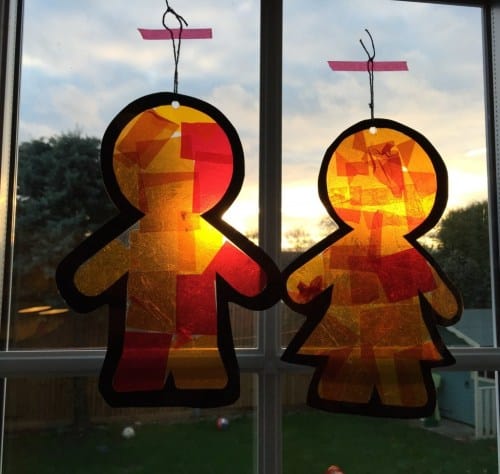 Gingerbread Sun Catcher – The Gingerbread House
Suncatchers are a cute way to display gingerbread art. These little gingerbread people are so adorable, and your kids will be mesmerized by them.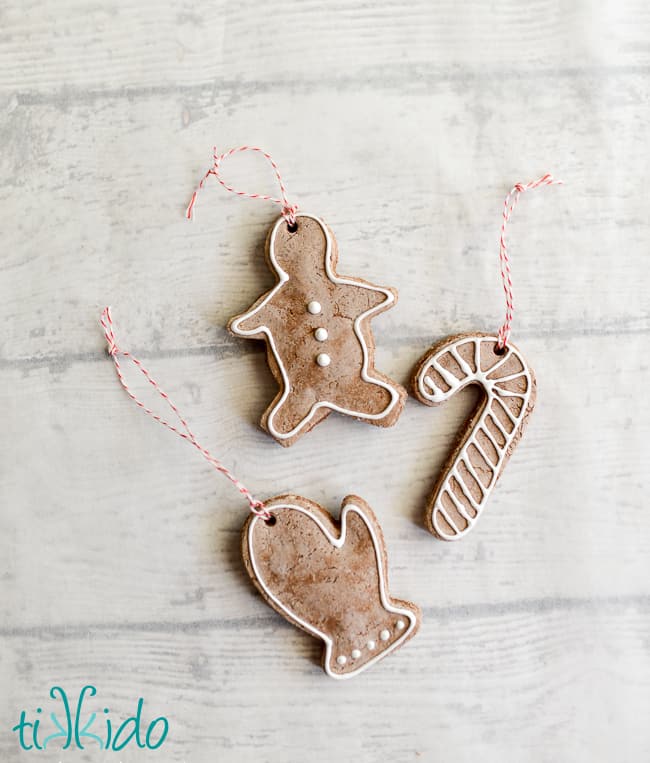 Gingerbread Salt Dough Ornaments – Tikkido
The smell of these gingerbread salt dough ornaments is amazing! You can't eat them, but they make you wish you could.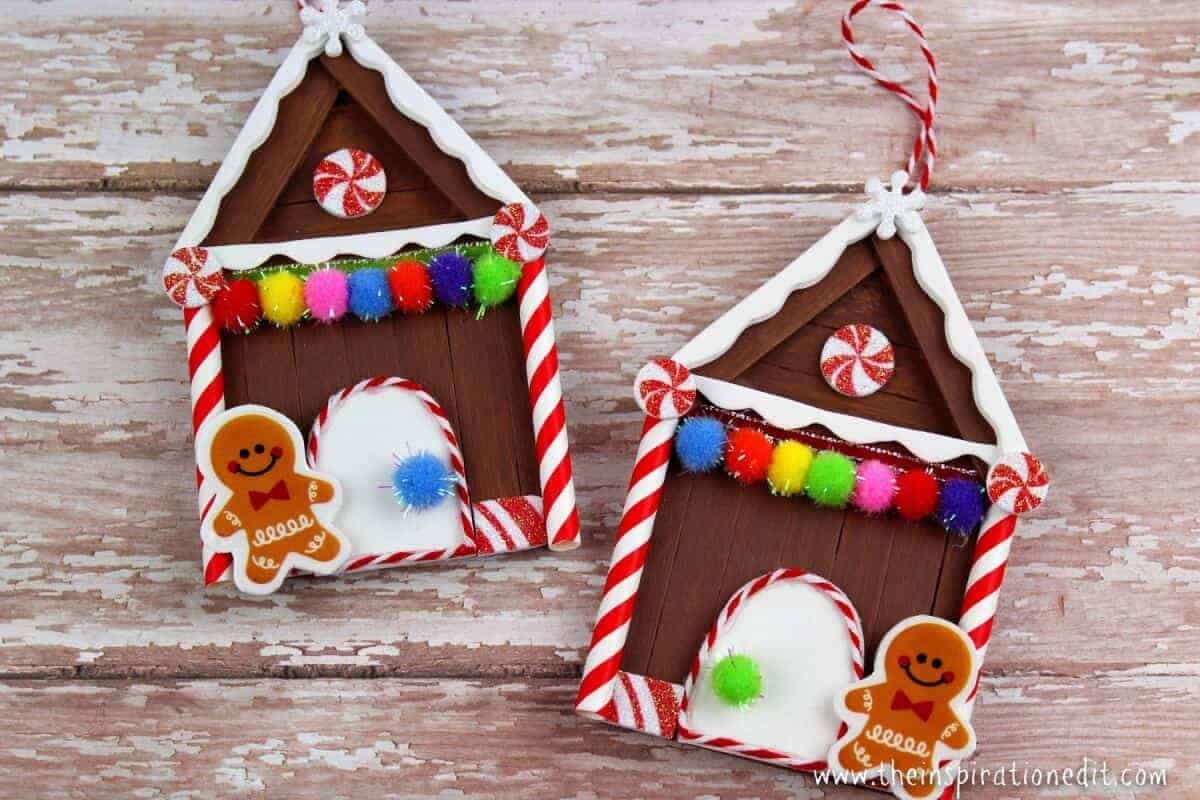 Gingerbread House Ornament – The Inspiration Edit
Aren't these the most adorable gingerbread houses ever?! They have bright colors and look fabulous too.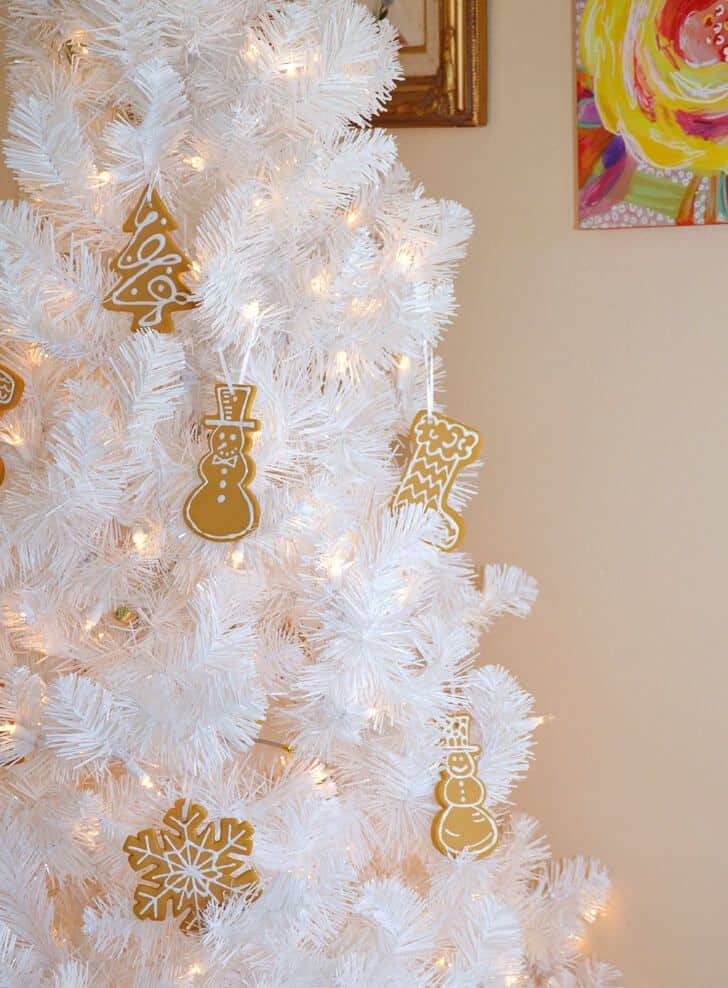 Faux Iced Cookies – Dream A Little Bigger
Don't go crazy and take a bite out of these gingerbread cookies because they aren't real. 🙂 But, they are lots of fun to make.
Cute Half-Eaten Gingerbread Ornament – Modge Podge Rocks
You and the kids will get some great laughs out of these charming half-eaten gingerbread men. Everyone is going to rave about them.
Popsicle Stick Gingerbread Man – Happy Hooligans
Have a few popsicles to eat, wash the sticks, and get to crafting an adorable gingerbread man! They are super cute!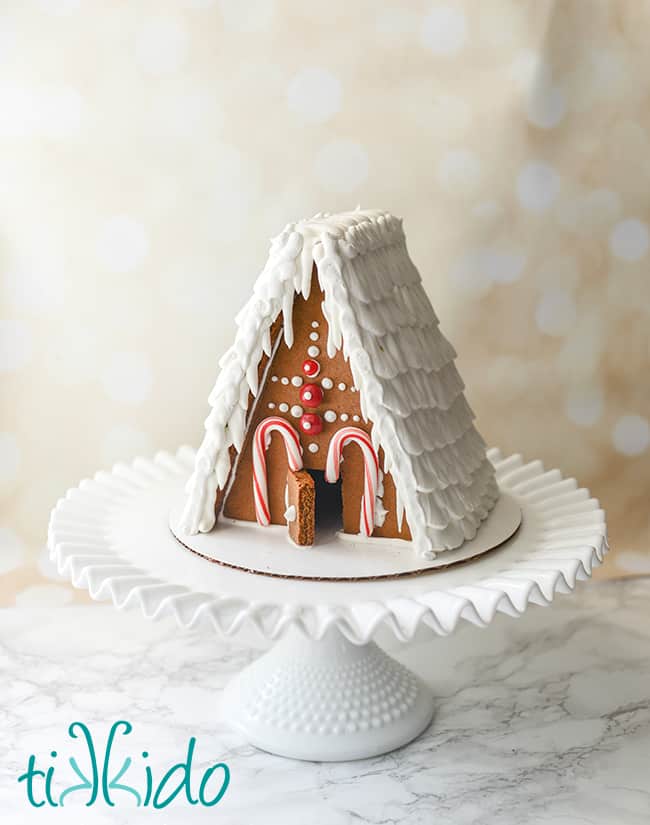 Gingerbread House – Tikkido
Older kids will enjoy making their gingerbread house extra pretty, and little kids will just love crafting. You can decorate a gingerbread house without smiling.
More Gingerbread Crafts For Kids on Amazon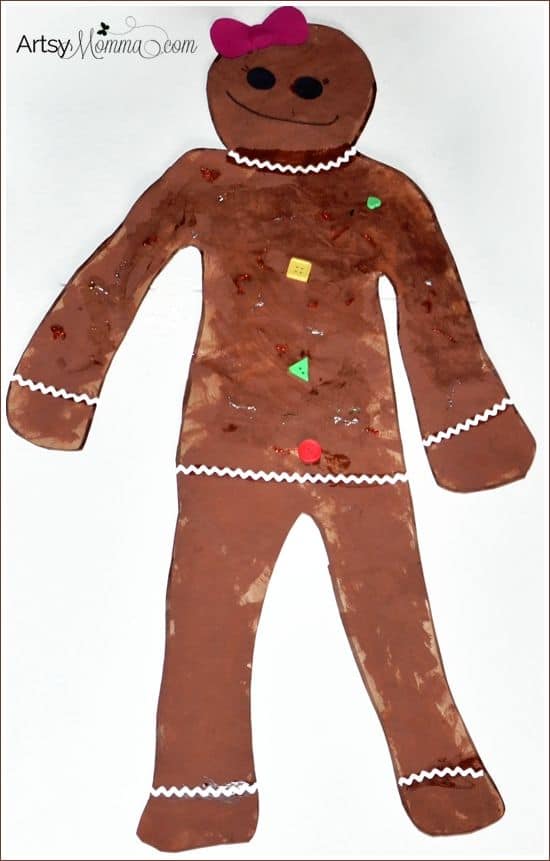 Life-Sized Gingerbread Man – Artsy Momma
What kid wouldn't want a life-sized gingerbread man? They are so much fun and gives your child an idea of the shape and size of their bodies.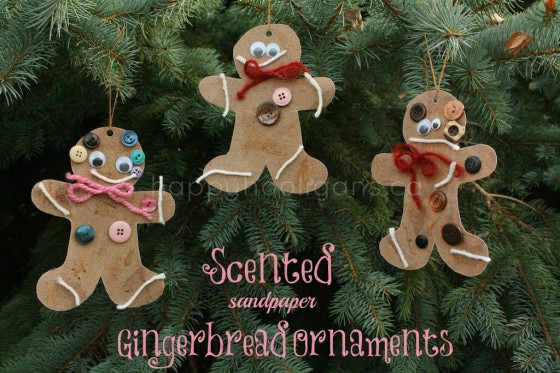 Scented Sandpaper Gingerbread – Happy Hooligans
Who would have thought you could add some spices to sandpaper and transform them into cute gingerbread men?!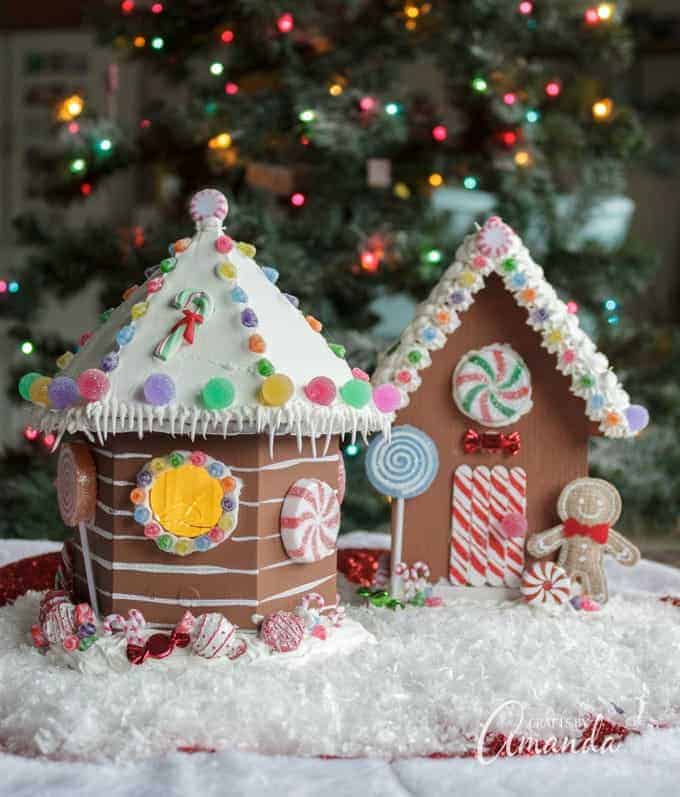 Birdhouse Gingerbread House – Crafts By Amanda
You can buy some small birdhouses and transform them into a gingerbread house with a little glue, modge podge, and some candy!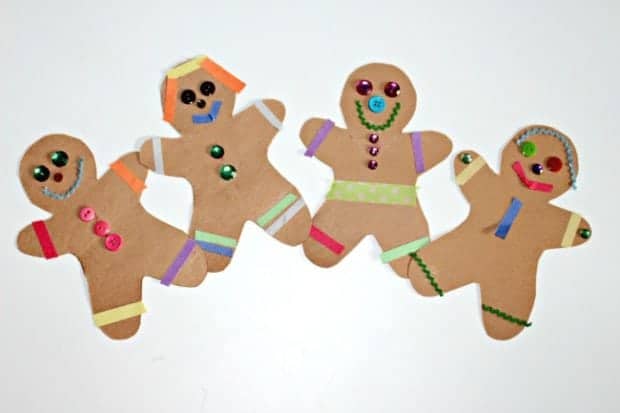 Gingerbread Man Craft – Spaceships And Laser Beams
It will be fun to see how each of the gingerbread men turn out. Each child can use their own imagination and creativity on their project.
Gingerbread Cinnamon Ornaments – Noshing With The Nolands
These ornaments aren't edible, but they look like the real deal. You will love how gorgeous they look with your tree decorations.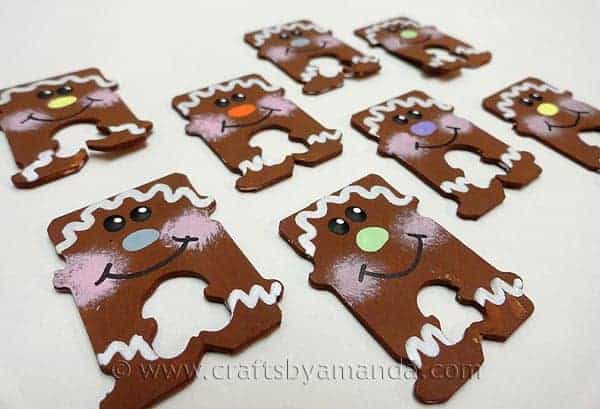 Bread Tag Gingerbread Men – Crafts By Amanda
These gingerbread men made from bread tags are ideal for older children. They can paint smaller lines and will love this project idea.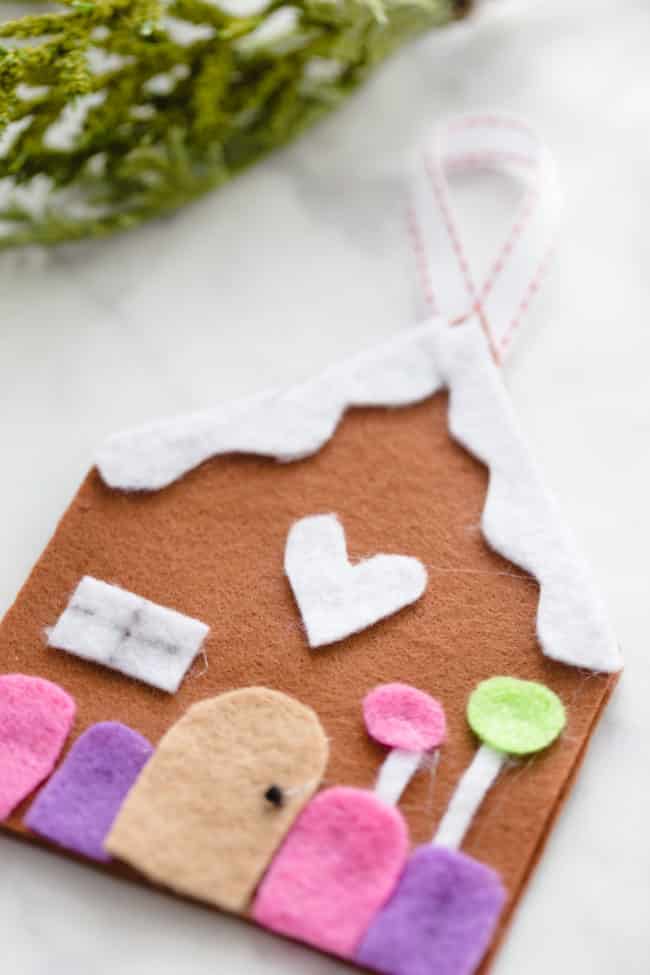 DIY Felt Gingerbread House – Dear Crissy
If you want to have the kids make a craft that they will be entertained with for hours, this one is a hit! Easy and fun!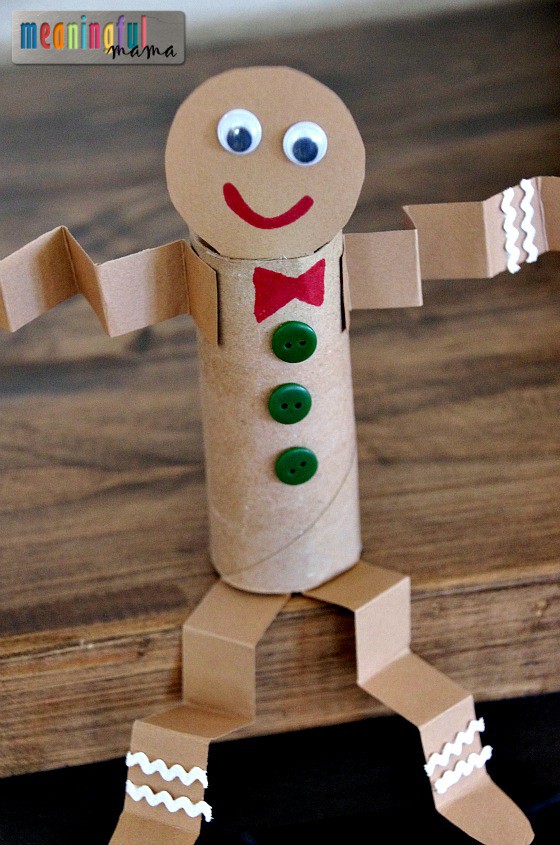 Toilet Paper Roll Gingerbread Man Craft – Meaningful Mama
You just need a toilet paper roll, glue dots, markers, googly eyes, buttons, glue, construction paper, and white trim.
Gingerbread Paper Plate – Natural Beach Living
Everything about this paper plate gingerbread craft is beyond adorable! The kiddos are going to love this idea!
Cute Gingerbread House Paper Craft – Real Life At Home
The bright colors are super playful and vibrant on this paper's gingerbread house. Each child can decorate his or her own easily.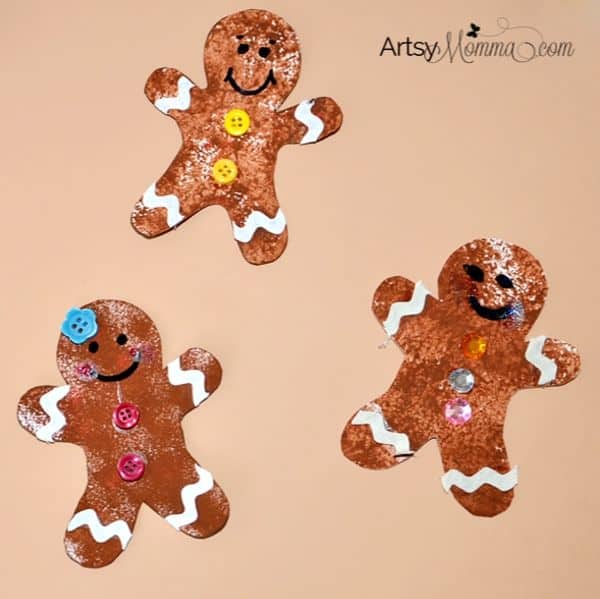 Sponge Painted Gingerbread Cookies – Artsy Momma
Painting with a sponge is a wonderful way to get the kids super excited about this project. They will love every second.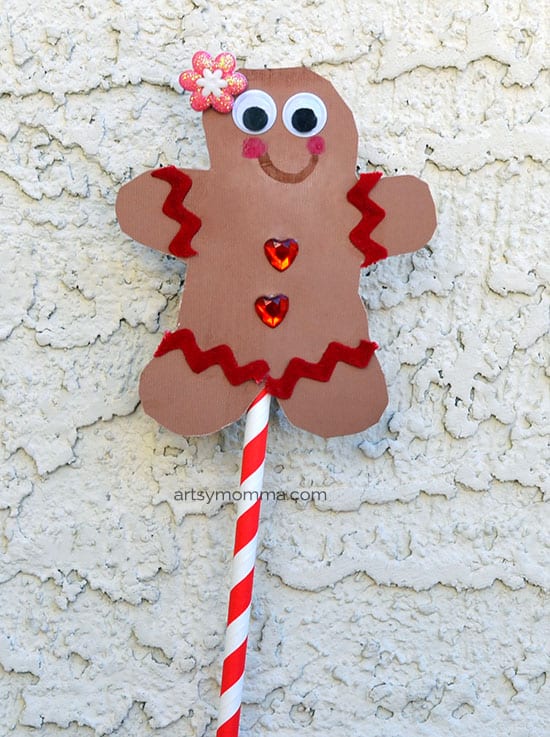 Gingerbread Puppet Craft – Artsy Momma
This gingerbread puppet is simple to make and great for toddlers. They will greatly enjoy playing with their new puppet friend.
Fingerprint Gingerbread Man – Crafty Morning
Don't you just love crafts that involve handprints, footprints, and fingerprints? They are classic and always turn out so cute.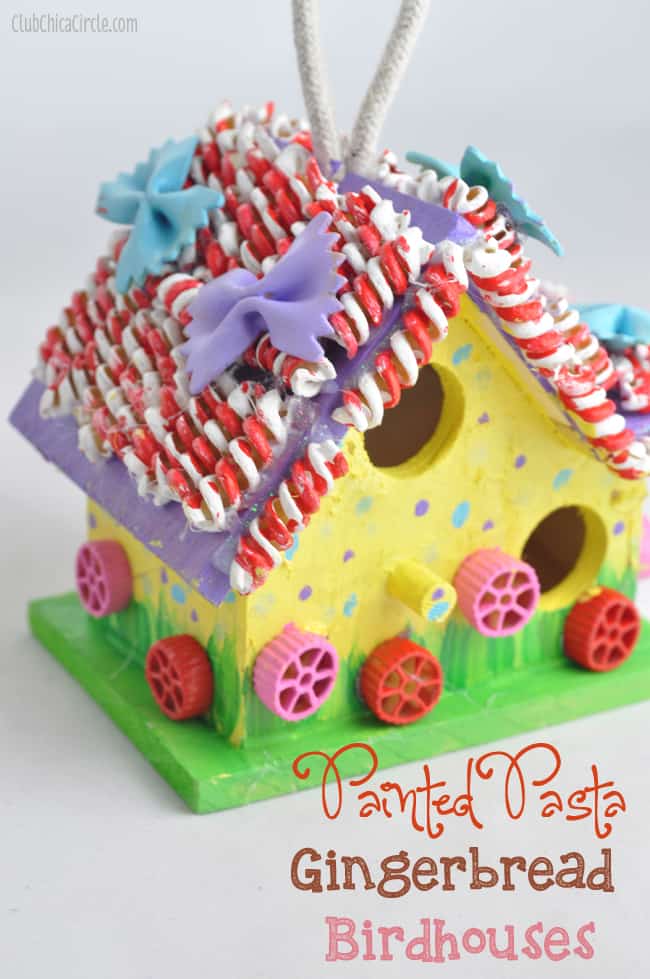 Pasta Painted Gingerbread House – Chica Circle
This pasta painted gingerbread house is brilliant! It gives the kids a chance to work on their painting skills and use their imaginations too.
Gingerbread Man Decorating – Fun Learning For Kids
When you are crafting with the kiddos, you don't have to do extravagant projects to keep them happy. They love simple things like this adorable gingerbread man!
Felt Gingerbread Dress-Up Doll – The Iowa Farmer's Wife
The options are endless when it comes to making a felt dress-up doll that looks like a gingerbread man. The children will have a blast playing with it!
Paper Plate Gingerbread Man – The Gingerbread House
This sweet little gingerbread man will keep your kiddo entertained for hours. It's perfect for toddlers and younger kids.
Homemade Gingerbread Playdough – Coupon Closet
Kids will never get tired of playing with playdough or making it. This playdough smells amazing and the kids will love every second of playing with it.
Don't all of these 25 Cute Gingerbread Crafts For Kids look like fun? I can't wait to see what you and your children make. Be sure to snap a picture of it and share it with us on our Facebook page. Also, take a look at these other Christmas craft ideas that you are going to love for the holidays.
Happy Crafting!
Jilleen