Famous for being home to Disneyland and California Adventure theme parks, Anaheim, CA is a popular tourist destination that attracts visitors from all over the world.  
Last weekend, when my two nieces flew down from the Bay Area, I wanted to take them to a fun venue that would make their Orange County experience memorable.  My choice was the House of Blues Anaheim.
Gospel Brunch at the House of Blues Anaheim
Anyone looking for a jammin' good time is welcome to attend the Gospel Brunch on Sundays at the House of Blues Anaheim.  There, original gospel artists take the stage in front of an audience craving spirit-filled music and southern hospitality.
Many bands play at the House of Blues Anaheim, but what appealed to me most was the Gospel Brunch with the group, Firm Soundation, performing.   Since 2001, Firm Soundation has ministered to audiences of different nationalities, cultures, races, and religious beliefs.
When they first came on stage, I was in awe of how well their voices blended together and their uplifting musical repertoire.  The leader of the group, Ray Sidney, connected with the audience right away and cracked jokes continuously during the show.  He was a top-notch performer with a knack for reading our audience.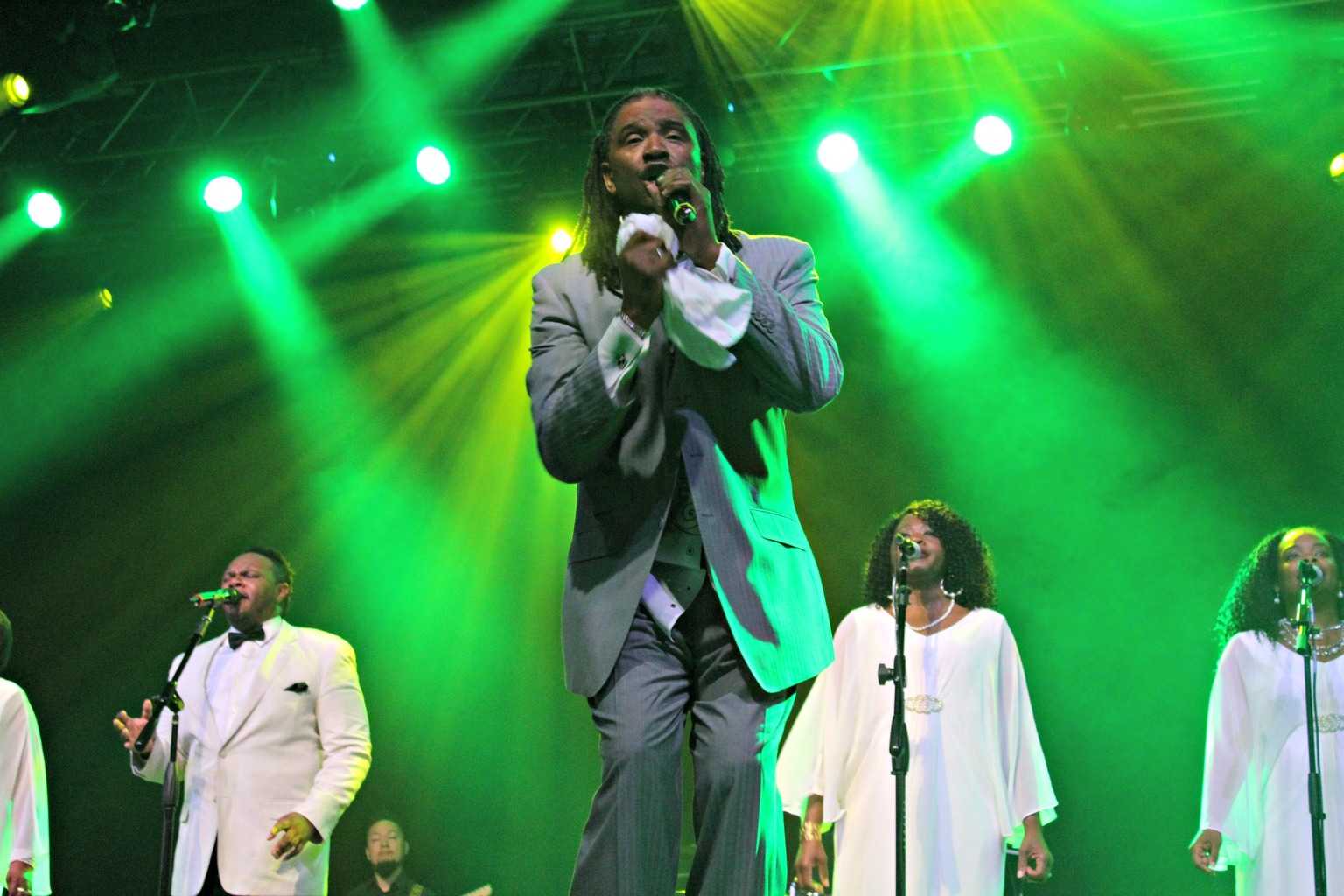 Firm Soundation sang classic gospel songs from the past to present day, including a few hit wonders from Diana Ross.  It was obvious from the group's musical selections and choreography that they loved what they did.
At one point, Ray even invitied up people from the audience, who were celebrating their birthdays and anniversaries, to join him on stage.  Even the littlest of people got in on the fun!
The Gospel Brunch Menu
Before, and throughout the 2-hour show, the House of Blues Anaheim served a delicious southern buffet complete with signature several brunch dishes and two live action carving and omelet stations.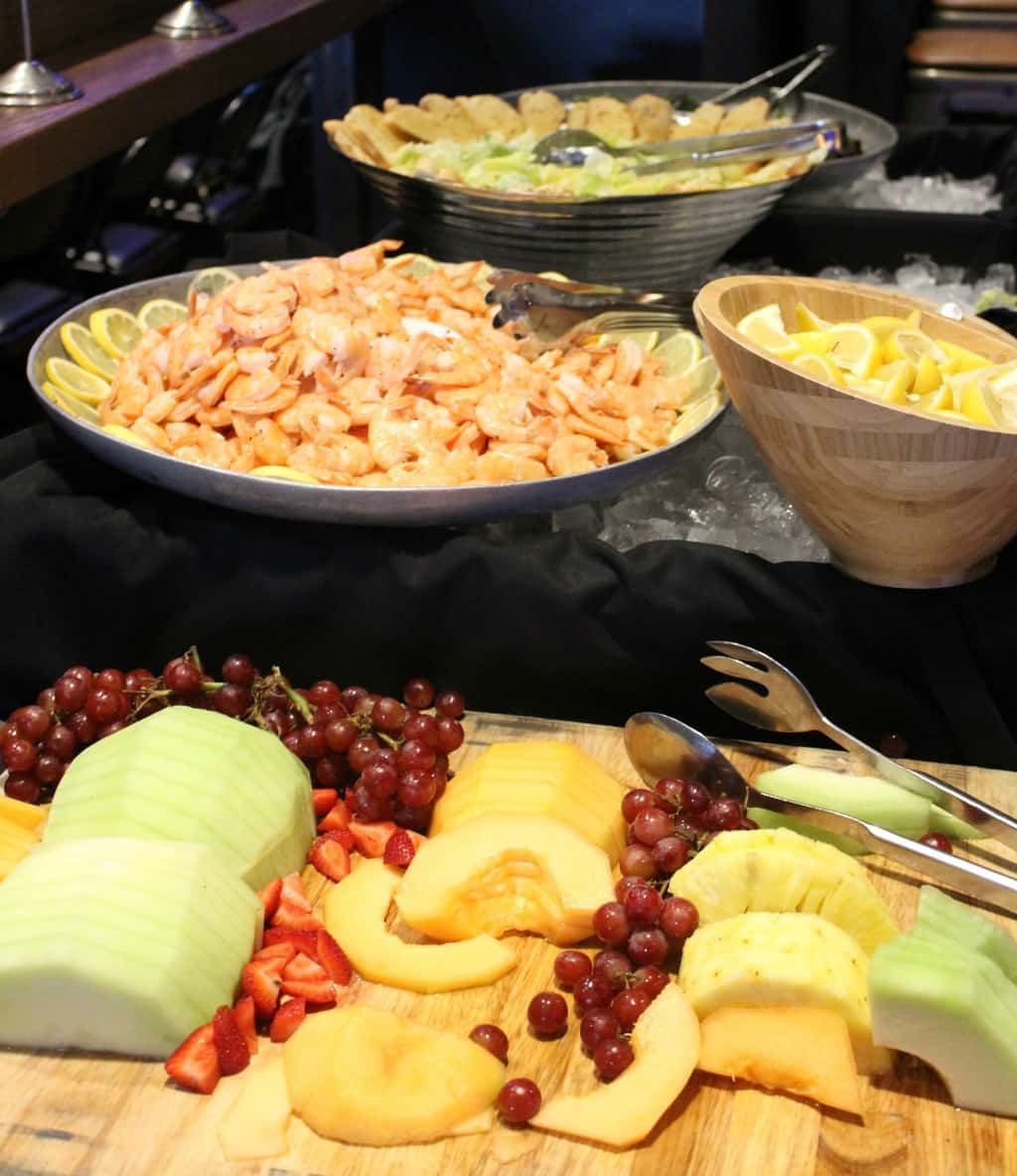 My niece, who is also a vegetarian, really enjoyed their wide variety of fresh fruits and vegetables and salads.
Complimentary orange juice, sodas, coffee and tea are included with your meal.  There is also a full service bar on site where you can purchase unlimited mimos for $15.
About the House of Blues Anaheim
The House of Blues Anaheim at GardenWalk, marks the first new House of Blues to be built in the U.S. in a decade.  The venue spans 44,000 square feet of space, with live music in four unique entertainment venues all under one roof including the main concert hall, the intimate Parish, the Foundation Room and House of Blues Restaurant and Bar.  All four of the entertainment and food spaces offer the most advanced sound system of any House of Blues, and the location will feature live entertainment every night.
Tickets to the Gospel Brunch in Anaheim
The Gospel Brunch takes places every Sunday at 10:30 am at the House of Blues Anaheim.  The show is perfect for families, visitors and special celebrations.  
Tickets are available to purchase online via http://houseofblues.com/anaheim/gospelbrunch or Ticketmaster.
Gospel Brunch Ticket Giveaway
Now enter for a chance to win 4 tickets to the Gospel Brunch at the House of Blues Anaheim!
Rules:  US Residents Only.  No purchase necessary to enter.  One winner will be randomly selected via RaffleCopter and notified via email.  Winner must respond within 24 hours to claim the prize or a new winner will be chosen via RaffleCopter.  The prize package will be fufilled by the sponsor.
The House of Blues Anaheim is located at 400 West Disney Way, Suite 337, Anaheim, CA.   Free parking is provided with validation.
Happy Field Tripping!
Jilleen
Things To Do With Families in Orange County
60+ Places To Explore with Kids in Orange County
The Best Time To Visit Mission San Juan Capistrano
Visit The Quaint OC Zoo in Orange
Surprise Your Kids With A Visit to The Reptile Zoo in Fountain Valley
A Knott's Berry Farm 2017 Season Pass Offers No Blackout Dates