This post may contain an affiliate link.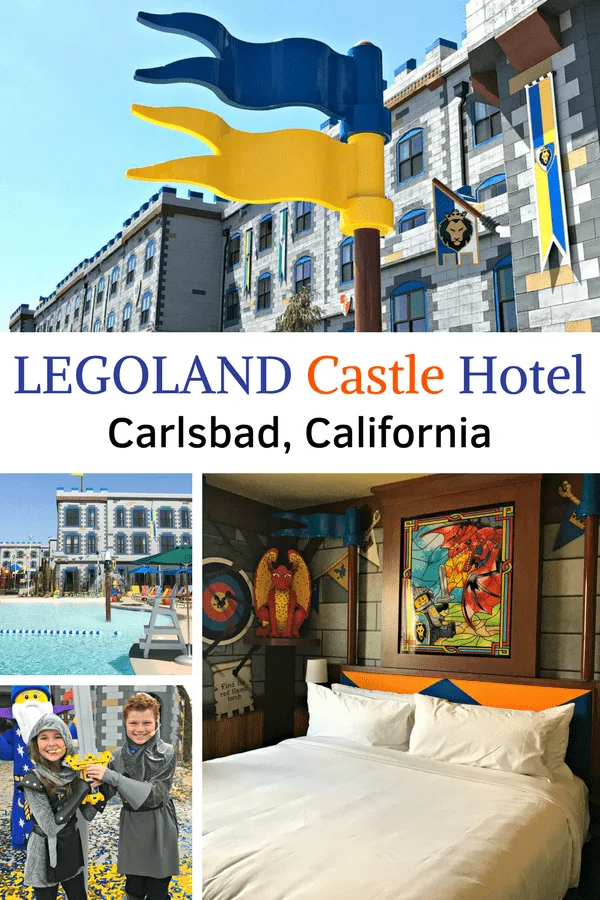 Hear ye! Hear ye! The new LEGOLAND Castle Hotel at LEGOLAND California Resort in Carlsbad, California is now open! The grand opening ceremony included knights on horses, a little girl squire and boy knight plus a hawk that flew the key to the Castle to Merlin the wizard.
The LEGOLAND Castle Hotel near San Diego offers guests an immersive experience into a magical world of wizards, dragons, knights and shining armor. Not only does every room tell a story, but every wall, floor and LEGO model is designed to make guests feel like they're in an actual castle. Field Trip Girl and Field Trip Boy couldn't stop commenting on how "cool" it was.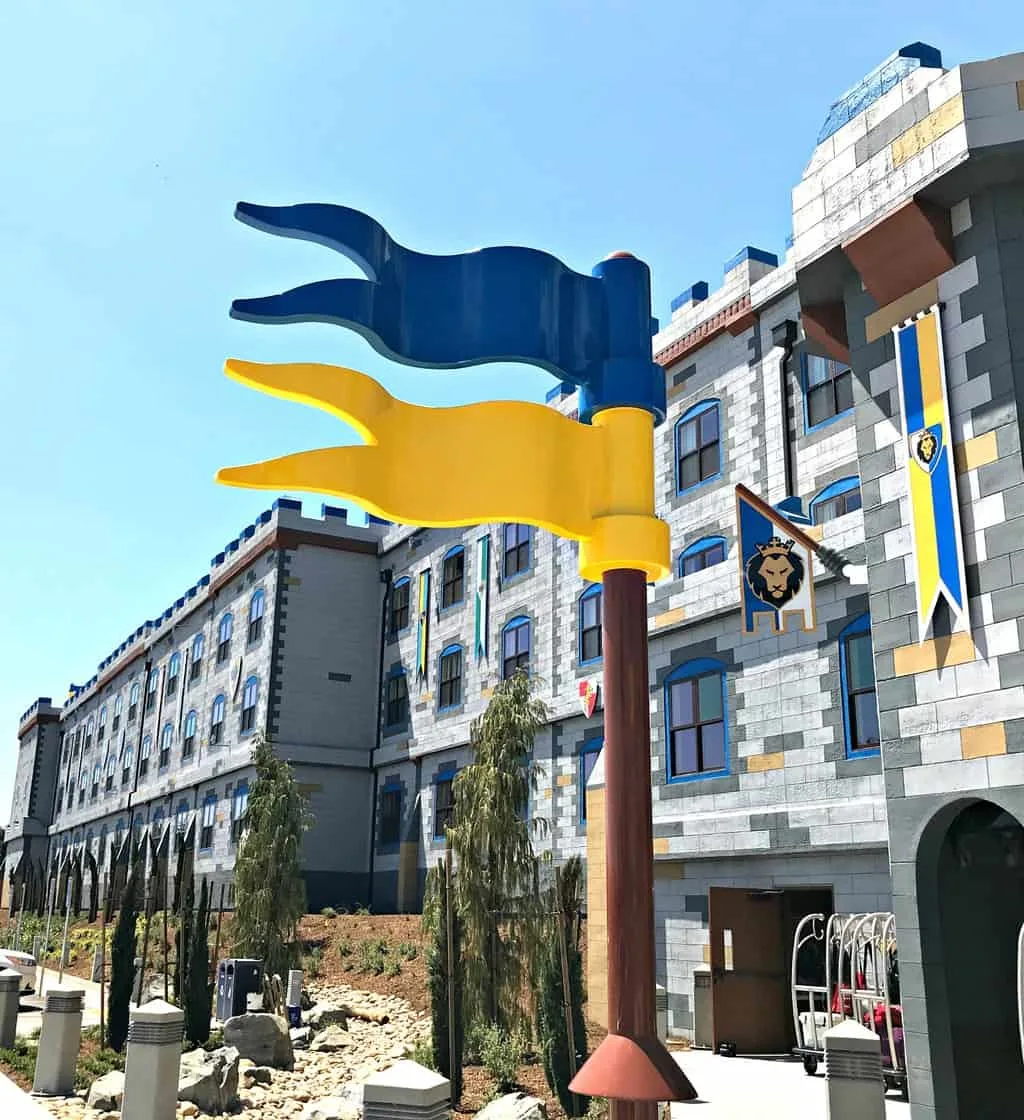 My family and I were invited as some of the first guests to walk into the Grand Hall and see such an awesome sight of magic and wonder designed for kids ages 2 – 12 years old. My kids spent well over an hour in what I nicknamed the "LEGO pit", while I checked in with the friendly Castle Hotel staff.
While in the LEGO pit, make sure to look up and and see the towering LEGO wizard conjuring up spells to protect the Castle from the bad knights and dragons. The wizard statue is just one of more than 2,100 LEGO models created out of more than three million bricks.
In the Grand Hall, there are activities for every child of every age to age. Behind the reception desk, my kids discovered many mysterious trinkets – items left over from previous LEGO royalty such as swords, books, potions and candles.
My daughter especially enjoyed the built-in slide that comes down into the lobby from the first floor above check-in level, planning her escape out of the secret dungeon and taking her picture on the royal throne while waiting for the Queen to arrive.
After we checked in, we went upstairs to relax and play in our room before dinner. The 250-room LEGOLAND Castle Hotel offers three premium themed hotel rooms, which can sleep up to five: Knights and Dragons, Royal Princess and Magic Wizard.
Knights and Dragons Room LEGOLAND Castle Hotel
We stayed in the Knights and Dragons room where the knights were on a mission to defend the king's castle and protect his treasure. Every room in the hotel has a separate children's sleeping area which includes bunk beds, a trundle bed, their own television, LEGO building station, shooting stars illuminating on the ceiling and a fun scavenger hunt.
Royal Princess Room LEGOLAND Castle Hotel
In the Royal Princess room, the princess joins forces with her jester friend to sneak into the grand tournament and compete with the knights. Depending upon which hotel room you are in, every adult sleeping area comes with an ornate head board with LED lights which could resemble a stained glass window, a canopy sparking with twinkling lights or shelves filled with potions and a magical bubbling illuminated cauldron.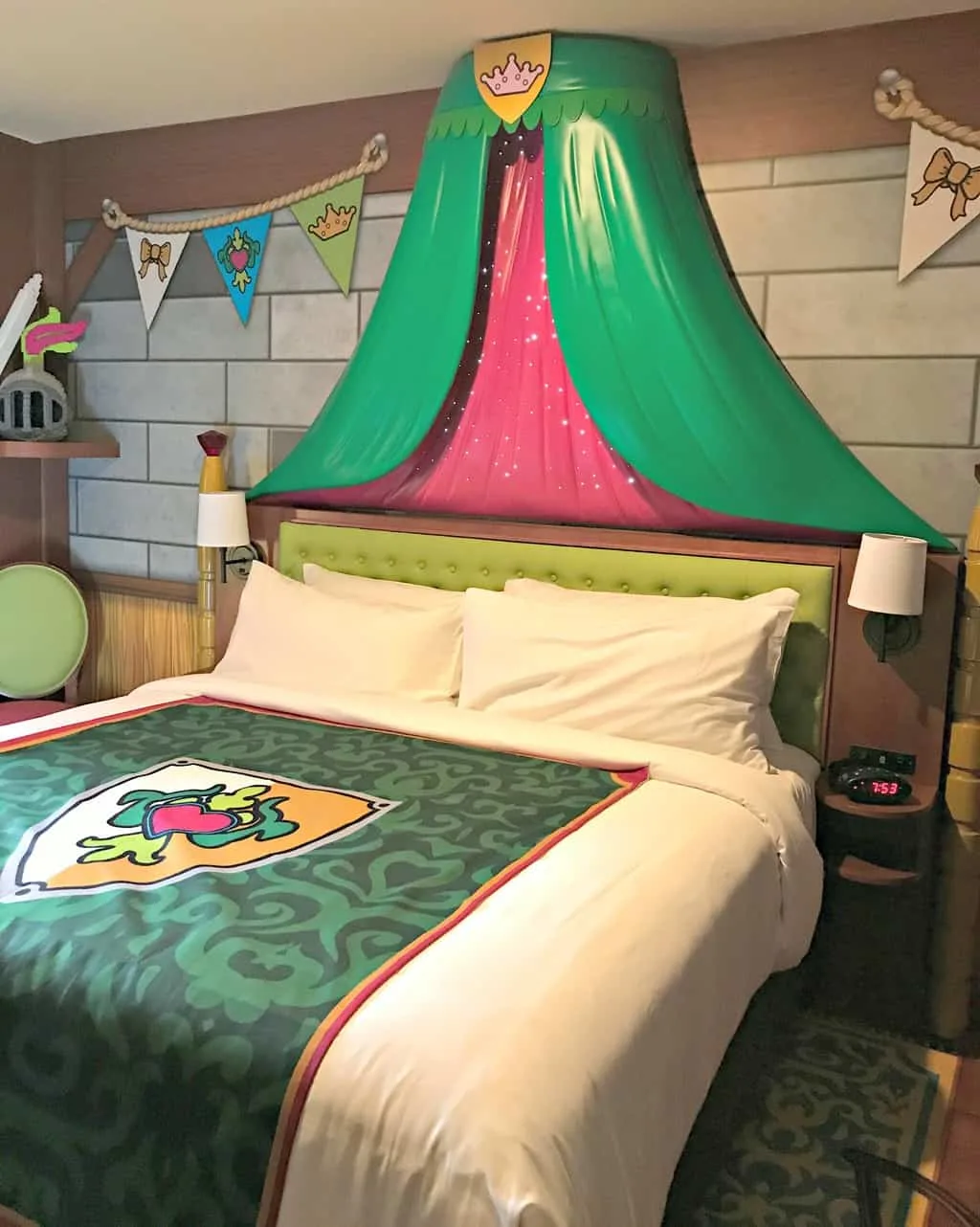 Magic Wizard Room LEGOLAND Castle Hotel
In the Magic Wizard room, kids can put their big imaginations to use and help the good wizard protect his precious treasures – curious potions, spell books, wands and magic mirrors – from any bad wizards and dragon knights.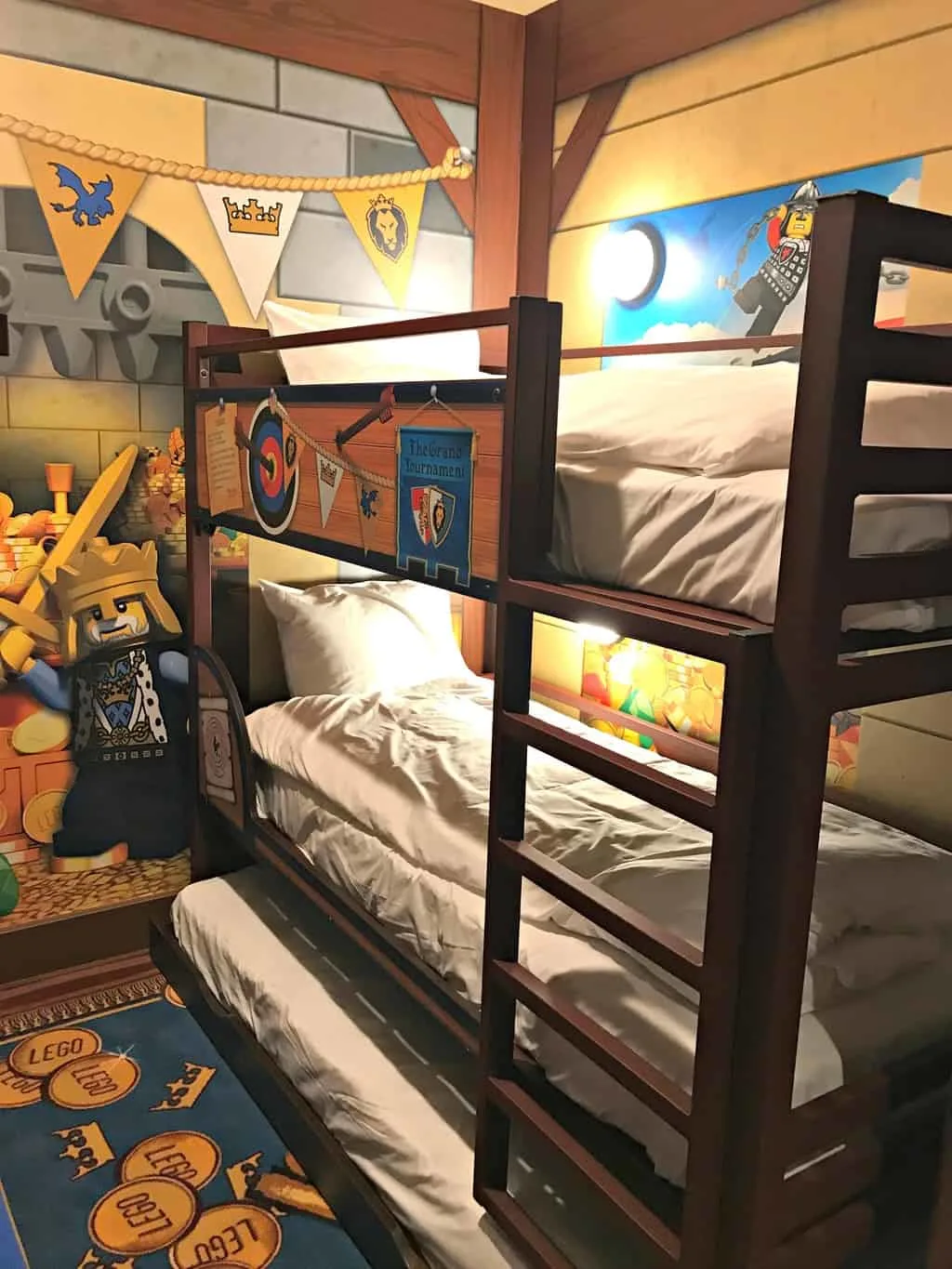 Restaurants at LEGOLAND Castle Hotel Carlsbad
In the Dragon's Den Restaurant & Bar, a full-service sit down restaurant, guests can watch chefs prepare their food and enjoy LEGO models and entertainers within a unique dining experience. Breakfast is included with each guest's stay and includes made-to-order items along with a buffet.
Dragon's Den Restaurant & Bar also serves lunch and dinner everyday which includes tasty seafood, pasta and steak options. I personally enjoyed the strawberry, spinach and feta cheese salad.
While I savored my dinner, my kids enjoyed listening to the self-playing piano, making LEGO figurines for the LEGO dipslay bookshelf and spinning the "wheel of fortune".
LEGOLAND Castle Hotel Entertainment
The Royal Courtyard outdoors immerses children in a fairy tale of their own creation with multiple play zones for kids of all ages such as a DUPLO tot spot, slides and an outdoor stage and cinema with seating.
The tented stage offers scheduled plays and live shows including:
Bubble Circus
Come one. Come all to an interactive spectacular perfect for the young squires. Join the talented Castle performing troupe as they perform bubble art, and other spectacular tricks. Suited for 5 years and younger.
Dragon Training Puppet Show
Join Kayda Drakaina and Arrow Flynn, the only two dragons in the land, as they teach you the ins and outs of dragon training. That is, if they don't get distracted. Suited for ages 6 to 8 years.
Jingles' Dance Party
Join the LEGOLAND Castle Hotel entertainers and show off your moves at Jingles' Dance Battle! Who knows, you may just be crowned the Dancing Queen or King!
Knight School
Learn what it takes to become a knight. Be sure to stay for the Knighting ceromony at the end of the show.
LEGOLAND Castle Hotel Resort-Style Pool
Right next door to the Royal Courtyard is the LEGOLAND Castle Hotel's resort-style pool with interactive water features and hot tub. My kids played for hours at the pool and ventured in and out of the whirlpool depending upon how cool it was outside.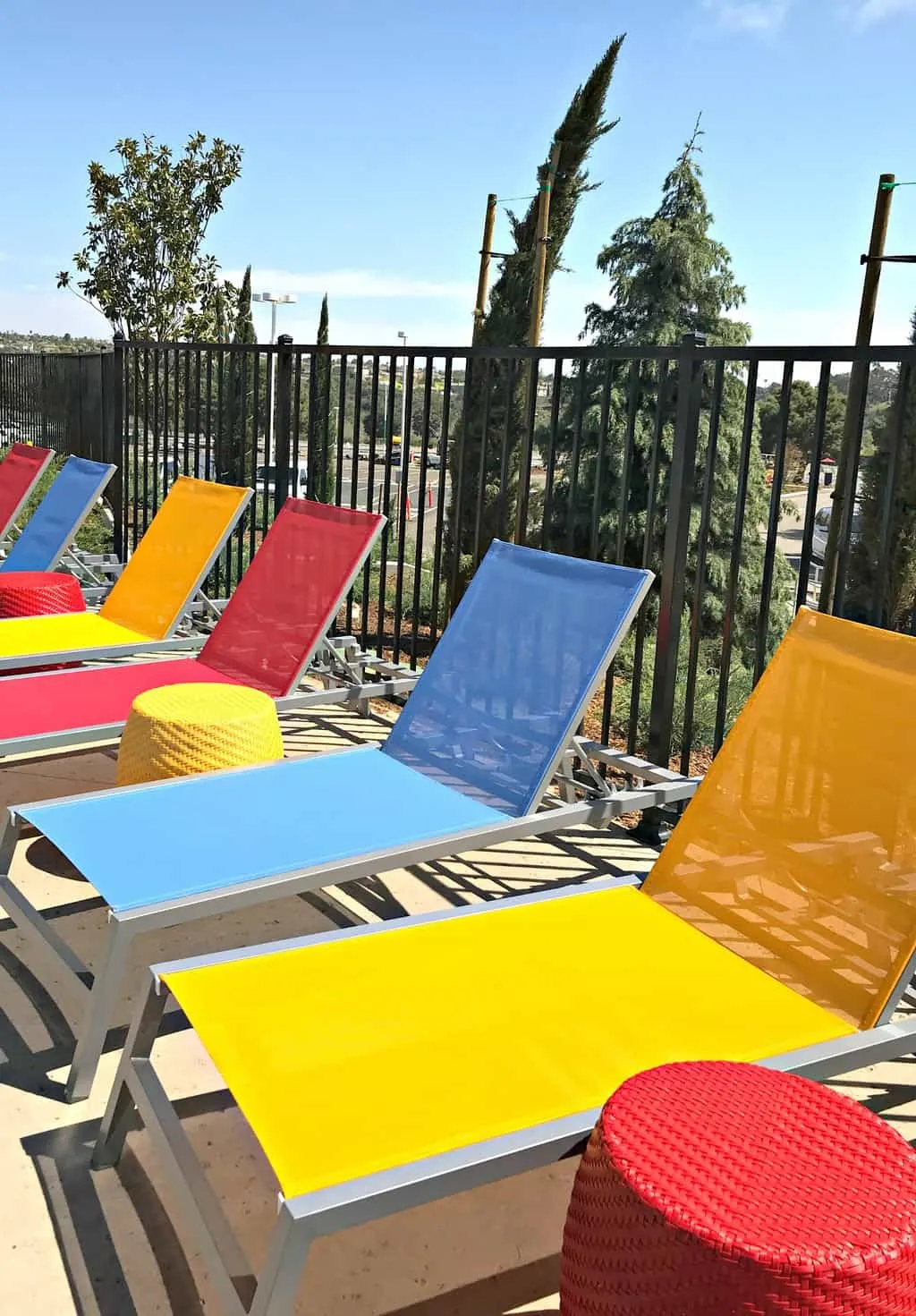 LEGOLAND Castle Hotel Birthday Package
LEGOLAND Castle Hotel also offers a premium birthday package for special guests that includes a cake, gift and a 15-minute in-room interactive activity with one of the LEGOLAND Castle Hotel Performers. The activity could either be a juggling class, balloon making, a Hero Training game, hula hoop lessons or a song written just for the royal birthday subject.
LEGOLAND California Discount Tickets
If you are looking for discount tickets to LEGOLAND California I recommend the following resources.
LEGOLAND Castle Hotel Location
LEGOLAND Castle Hotel is located on the west side of the entrance to LEGOLAND California Resort, directly in front of SEA LIFE aquarium and across the way from the original LEGOLAND Hotel.
Happy Field Tripping!
Jilleen
More Things To Do With Kids in San Diego
75 Places To Explore in San Diego with Kids
The Best Time To Visit The Flower Fields in Carlsbad
A Visit to the Museum of Making Music in Carlsbad
Visit The Free Flight Exotic Bird Sanctuary in Encinitas