Last spring, while my family and I were visiting The Broad in Los Angeles, I discovered this quaint underground sandwich shop called Mendocino Farms in the California Plaza in Downown LA. The food was fresh and delicious. I hoped I could return again the next time I was in town.
However, a few months later, I was surprised to be invited to a media tasting at Mendocino Farms in Irvine. I had no idea that the sandwich chain had expanded into Orange County and San Diego, so I was honored to be able to preview their fall 2016 menu items and specificially, their unique family-friendly dining area.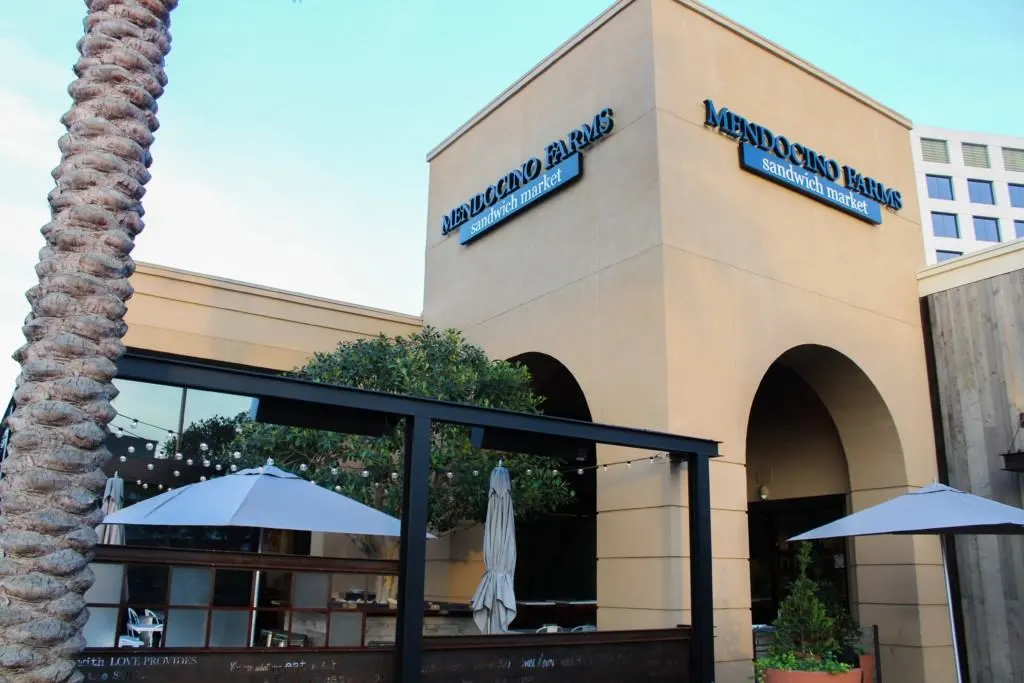 Kid Friendly Dining at Mendocino Farms in Irvine
Personally, when I go out for dinner with my family, I look for two things in a restaurant.
#1 – Will my children enjoy the food?
#2 – Is the restaurant kid-friendly?
If you've noticed, there's a new trend in restuarants these days. As soon as families sit down at a table, they are invited to play video games on a table top ipad. This not only limits families from communicating, but also teaches children that they have the right to be entertained 24 hours a day, even at the dinner table. It is very discouraging.
That's why I'm grateful I've discovered Mendocino Farms in Irvine! They are the complete opposite of your traditional restaurant. Mendocino Farms offers indoor seating that is similar to relaxing in your own living room at home.
The restuarant has a table with arts and crafts for the kids to make, along with a gigantic chalkboard for them to doodle on. There is also 2 bean bag toss games and an outdoor fooseball table, which was a reay big hit with all the boys.
On the particular day that we visited, Mendocino Farms invited our kids to make their own sandwiches and learn about the different types of fresh ingredients that the restaurant sources for their dishes.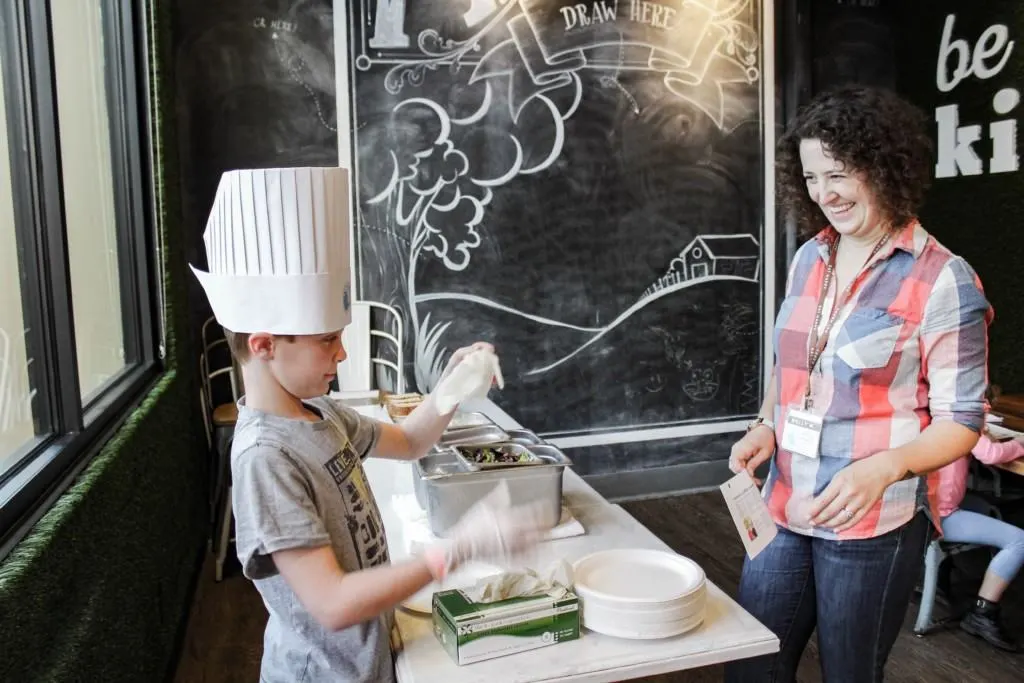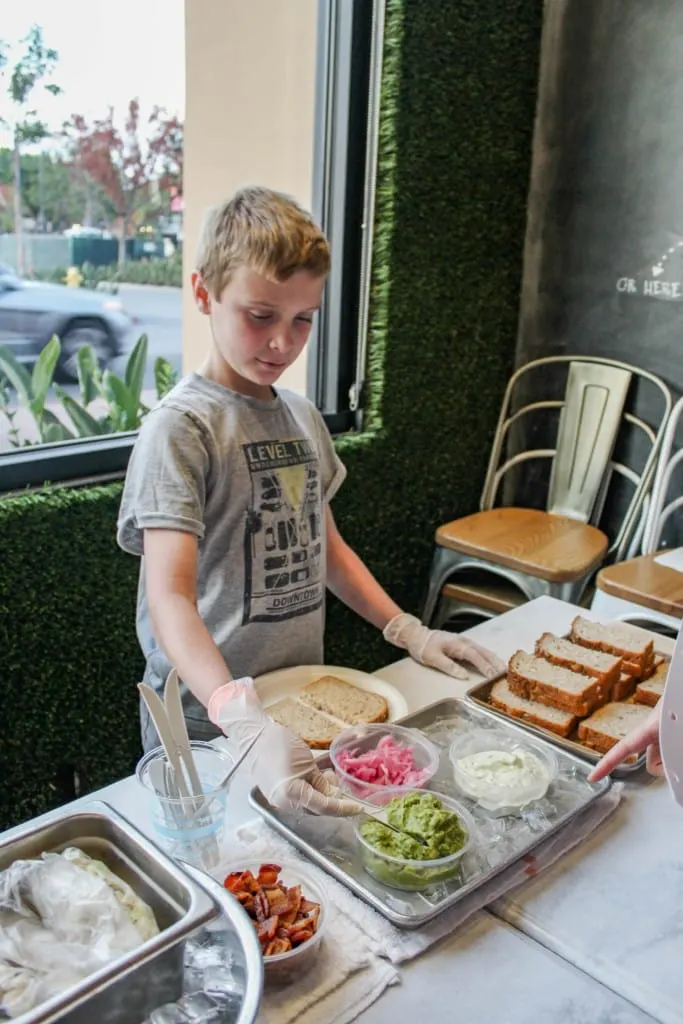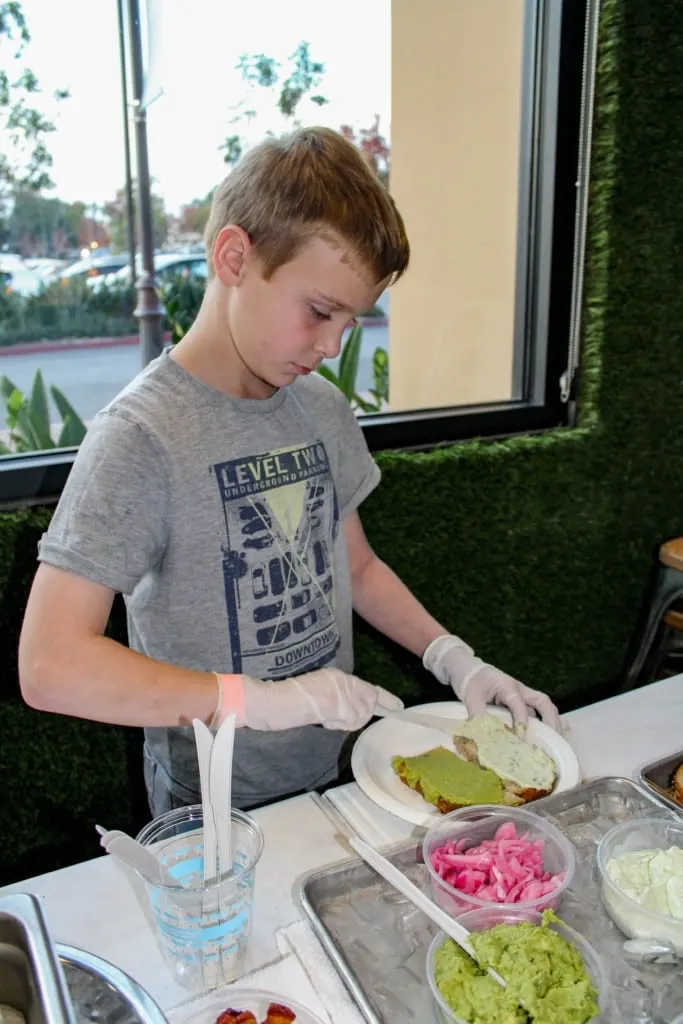 Mendocino Farms started as—and still is—a family business. Co-Founders (and husband-and-wife team) Mario Del Pero and Ellen Chen opened their first restaurant on Bunker Hill in Downtown Los Angeles in 2005. Since then, Mendocino Farms have opened restaurants in numerous neighborhoods across Southern California, taking their places as some of the best loved eateries in the communities they serve. Their partnerships with some of the best farmers and food artisans in the region, also allows them to provide the tastiest food around while supporting the local food economy.
Mendocino Farms Menu
We tried many of Mendocino Farms' popular dishes at the media event including:
Gioia Mozzarella Caprese Skewers made with grape tomatoes, Scarborough Farm's baby arugula and basil pesto balsamic vinaigrette.
Meat & Cheese Board complete with Creminelli prosciutto, fennel salami, French brie, smoked gouda, housemade giardiniera almond romesco, candied nuts and ciabatta bread.
Steak BLT Sandwiches served with steak, bacon, marinated red peppers, arugula, grape tomatoes and basil pesto balsamic vinaigrette.
And my favorite, Mendocino Farms' local artisan dessert tray that comes with chocolate chip, raisin and sugar cookies. They were so good that I just had took home a few cookies for my husband and Field Trip Girl!
Mendocino Farms Gift Certificate Giveaway
Now here's your chance to enter and win a $25 gift certificate to Mendocino Farms good towards the purchase of Two Sandwiches and Two Salads. The gift certificate may be used at any Mendocino Farms location in Southern California.
US Residents Only. No purchase necessary to enter. One winner will be randomly selected via RaffleCopter and notified via email. Winner must respond within 24 hours to claim the prize or a new winner will be chosen via RaffleCopter. The prize will be fulfilled by the sponsor.
To learn more about Mendocino Farms, visit www.mendocinofarms.com.
Happy Dining!
Jilleen
More Things To Do With Kids in Orange County
60+ Places To Explore with Kids in Orange County
Visit The Children's Museum of La Habra
A Field Trip To The Rancho Las Lomas Wildlife Foundation
Surprise Your Kids With A Visit to The Reptile Zoo in Fountain Valley
A Knott's Berry Farm 2017 Season Pass Offers No Blackout Dates