When think you of dairy products, where do you imagine they come from? Cows. Sheeps. Sometimes even goats. But did you know that camels also produce milk? It is a strange concept, but true!
Over the years, I have planned a few field trips for homeschoolers to visit the Oasis Camel Dairy located in Ramona, California. A friend of mine had coordinated a prior field trip to farm and highly recommended it. Plus at the time my son was learning about Egypt, so this was the perfect trip to tie into his lesson plan.
About The Oasis Camel Dairy
The Oasis Camel Dairy was established over twenty years ago by owners, Gil and Nancy Riegler, as America's first camel dairy. The Rieglers raise and care over 26 one-hump camels, otherwise know as the Dromedary, on their farm.
A Dromedary is the type of camel that is common to Africa and the Middle East. They use to be exported all over the world and is now relatively common in Australia and North America, where they have been used sporadically over the years as a pack animal. The Dromedary can drink and store enough water in its own hump to last approximately two weeks.
We listened to a talk about the animals and received a tour of the Oasis Camel Dairy. The owners shared with us that camels are similar to dogs in nature. They are loving and affectionate animals. In fact, when one of the caretakers is gone for awhile, the camels will welcome them home by giving them wet kisses!
Camel milk is currently not available for consumption in California. However, the Rieglers make homemade soap and lotions out of the milk and sell them on the Internet, at fairs and during tours. I personally purchased their pomegranate scented camel's milk soap and love it.
After the presentation, the students got to visit with the camels and feed them some apple treats on a stick. To my surprise, the camels were very friendly and interacted with us a lot. They also tried to give us wet kisses!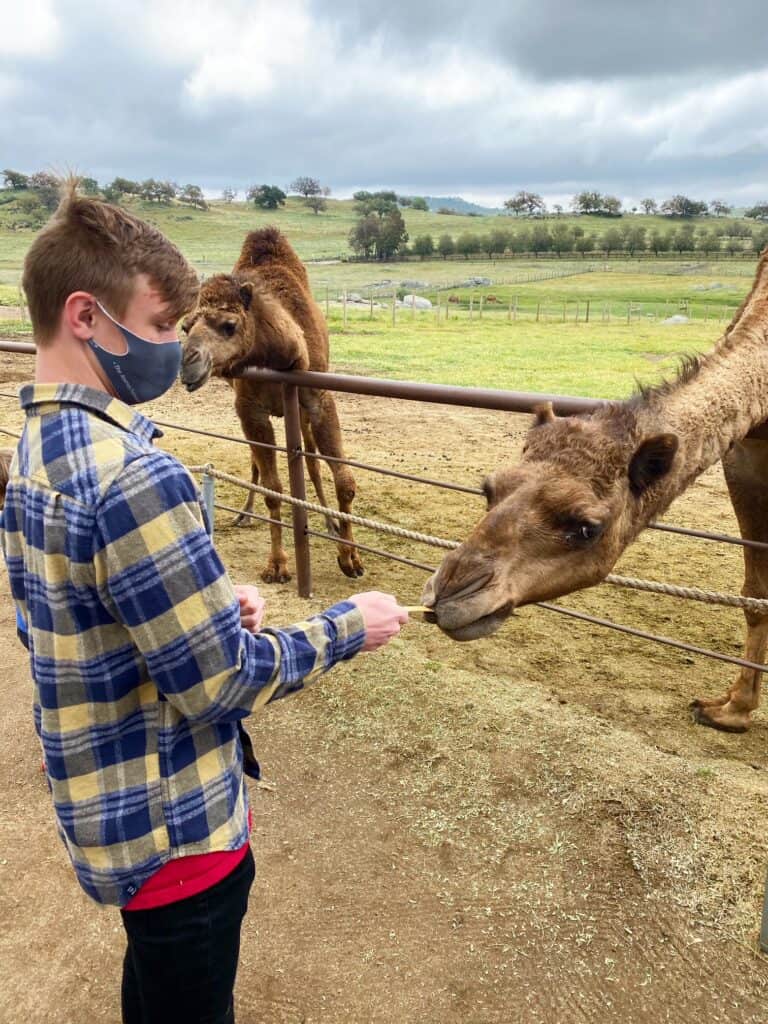 Then Field Trip Boy and Field Trip Girl had the opportunity to ride one of the camels with their friends. My son said it was similar to riding an elephant at the zoo. The ride lasts for an approximately 2 to 3 minutes. The ride stops so you can take a cute photo of your loved one on top of the camel.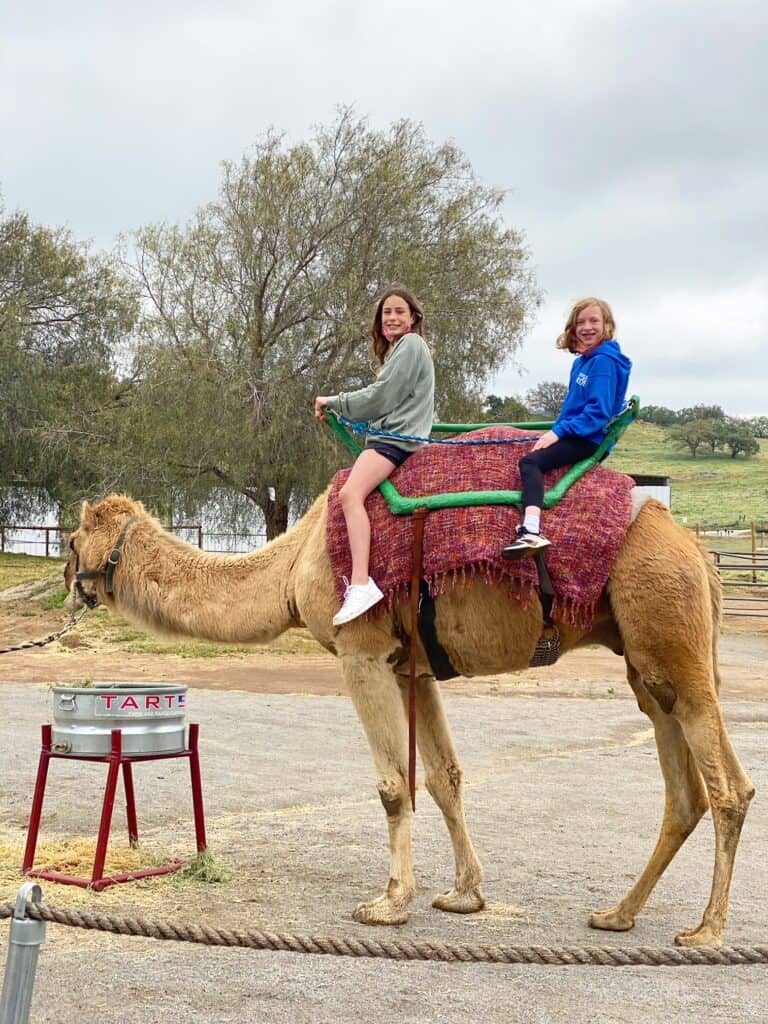 The Oasis Camel Dairy have a few other exotic birds on the property for people to enjoy. We also got to meet their new racing turkeys (yes, they race them at fairs!) and feed the sheep. New baby lambs had just been born prior to our visit. They were adorable!
Oasis Camel Dairy Tours
The Oasis Camel Dairy does not have normal operating hours. Therefore, to see the camels yourself, you have to either set up a private tour or attend one of their open farm tours offered at various times throughout the year.
Currently, Oasis Camel Dairy is only offering private tours for a fee. These tours are great for homeschool groups, school field trips, senior outings and scout excursions. Family tours are also available for a minimum number of people in your party.
Camel rides can also be added to private tours. There is an additional fee for adding rides to a tour package.
There are also several other local tourist places to visit in this part of Northern San Diego County. For my family, we enjoy apple picking in Julian and touring the California Wolf Center in Julian as well.
To learn more about The Oasis Camel Dairy and book a tour, visit cameldairy.com.
Happy Field Tripping!
Jilleen