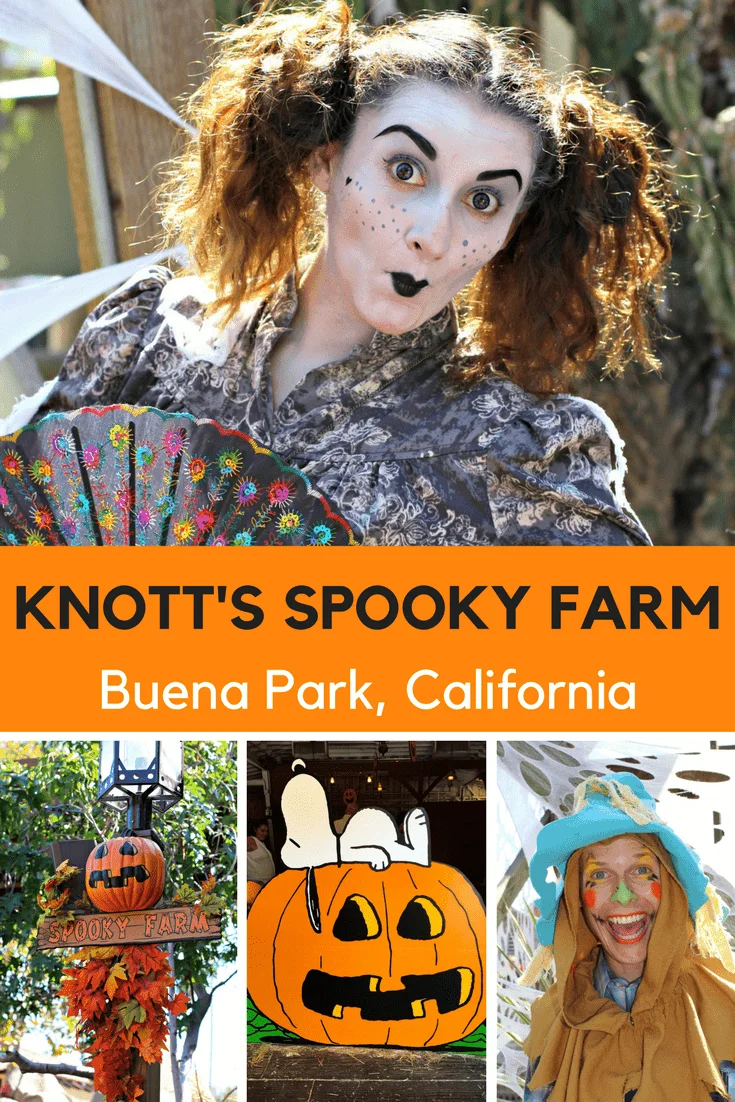 Last Saturday, my family had a not-so-spooky day at Knott's Berry Farm in Buena Park, California! We attended their annual Halloween family-friendly celebration called Knott's Spooky Farm. This daytime event is a non-scary celebration of cheer rather than fear with shows and activities geared for kids ages 3-11. The fall daytime Seasons of Fun event is included with regular park admission or your 2019 Knott's Berry Farm Season Pass.
Families are invited to participate and join in the Halloween fun at several key areas within the park – Ghost Town, Calico Park, Fiesta Village and Camp Snoopy. This special limited-time event serves up live entertainment, trick-or-treating, a costume contest and exclusive festivities tailored just for little ones.
Top 6 Not-To-Miss Knott's Spooky Farm Activities
Ghost Town Treat Stops
We attend Knott's Spooky Farm every year and like to bring along our good friends to enjoy it with us. First, my children and their friends go trick or treating through Ghost Town. Since Knott's has expanded the trick-or-treating path to six stations, my little ghouls are able to interact with even more spooky, but friendly shopkeepers, than in years past. Children are encouraged to wear their costumes while trick-or-treating, while parents can pick up a treat bag for their kids at the main entrance. The treat bags that contain event maps and other goodies are distributed from opening until 4:30pm.
Check Out The Best Halloween Costumes For Kids!
Morph Alien Pick Me Up Inflatable Blow Up Costume
Disney Fairies Tinker Bell The Pirate Fairy Girls' Costume
Marvel Spider-Man Toddler Costume
Disney Mary Poppins 2 Pc. Girls Costume, with Hat Size: Med
Star Wars: The Force Awakens Child's Stormtrooper Costume, Medium
While walking around Calico, the friendly ghosts hand out treats to the children, tell funny ghost stories from the school house steps, take spooky pictures with visitors and do personal coffin fittings. If your lucky enough, the ghosts might even show up in one of your pictures!
This year's trick of treat stations are located at the Dress Shop, Post Office, Calico Bank, Gun Shop Peak In, Undertaker and Town Hall. I highly recommend that you arrive early in costume to go trick or treating at Knott's Berry Farm. Since the lines can get fairly long, the earlier you go, the better. Also, as it gets closer to Halloween, the park can fill to capacity.
Creepy Critters of Calico
Back again this year at Knott's Spooky Farm is Creepy Critters of Calico located right in the middle of Ghost Town. Vistors are invited to meet Stanley Scarecrow and get up close and personal with a wide variety of creepy critters in the Livery Stable, including horses, turtles, a donkey and rats! Eek!
This year, while talking with the helpful caretakers in the stable, I learned that Knott's Berry Farm likes to partner with local animal rescues to showcase reptiles that normally may not be accessible to the general public. I even met a reptile that looked like a snake, but was called a legless lizard instead. Who knew?!!
Camp Spooky
After trick-or-treating around Ghost Town, the girls and I spent some time in Camp Snoopy. We went on several rides including The Grand Sierra Railroad, which takes riders on an adventure to find Camp Spooky and the Peanuts Gang. We also saw the festive 2D & 3D Halloween Themed characters and effects.
Then we sat down and watched the "The Monsters are Coming, Charlie Brown" show at the Camp Spooky Theatre, a show where the audience is invited to join in singing and dancing to classic Halloween songs. At other points during the day, children are welcome to enter and show off their best costumes in the Peanuts Costume Contest. Snoopy, Lucy, and Charlie Brown all pick their favorite costumes, so you have three chances to win.
After the show, we went over and met some of our favorite Peanuts Gang Characters at the photo area right next to the Camp Spooky Theatre. Make sure to bring your camera to capture that perfect Halloween picture or sign up for Knott's photo pass service called FunPix. This year we met Peppermint Patty, Sally Brown, Snoopy and Woodstock. You can even find Pig-Pen out and about in the park wearing his favorite Halloween costume!
Timber Mountain Log Ride Halloween Hootenanny
While the girls and I were at Camp Snoopy, Field Trip Boy and his dad went on the seasonal Timber Mountain Log Ride. Every year, the citizens of the Timber Mountain invite the mysterious creatives that live out in the woods and caverns of the area to join them as they celebrate the season at the Halloween Hootenanny. The ride's interior features fun surprises as guests venture past the Calico Coffin Creeper band, the Green Witch and splash down Skull Mountain through a labyrith of jack-o-lanterns.
Calico Park Pumpkin Patch
Later that afternoon, we met back up with Field Trip Boy and his father, and visited Linus Van Pelt's Great Pumpkin Patch in Calico Park. Here, the kids were able to do complimentary arts and crafts with their friends, paint their own pumpkins and decorate two pumpkin shaped sugar cookies with frosting and sprinkles for a nominal fee.
There are also several photo backgrounds throughout the pumpkin patch where parents can stop and take classic Halloween pictures of their kids. They make great holiday photos too. Linus is also on hand to take photos and help pick out the perfect pumpkin!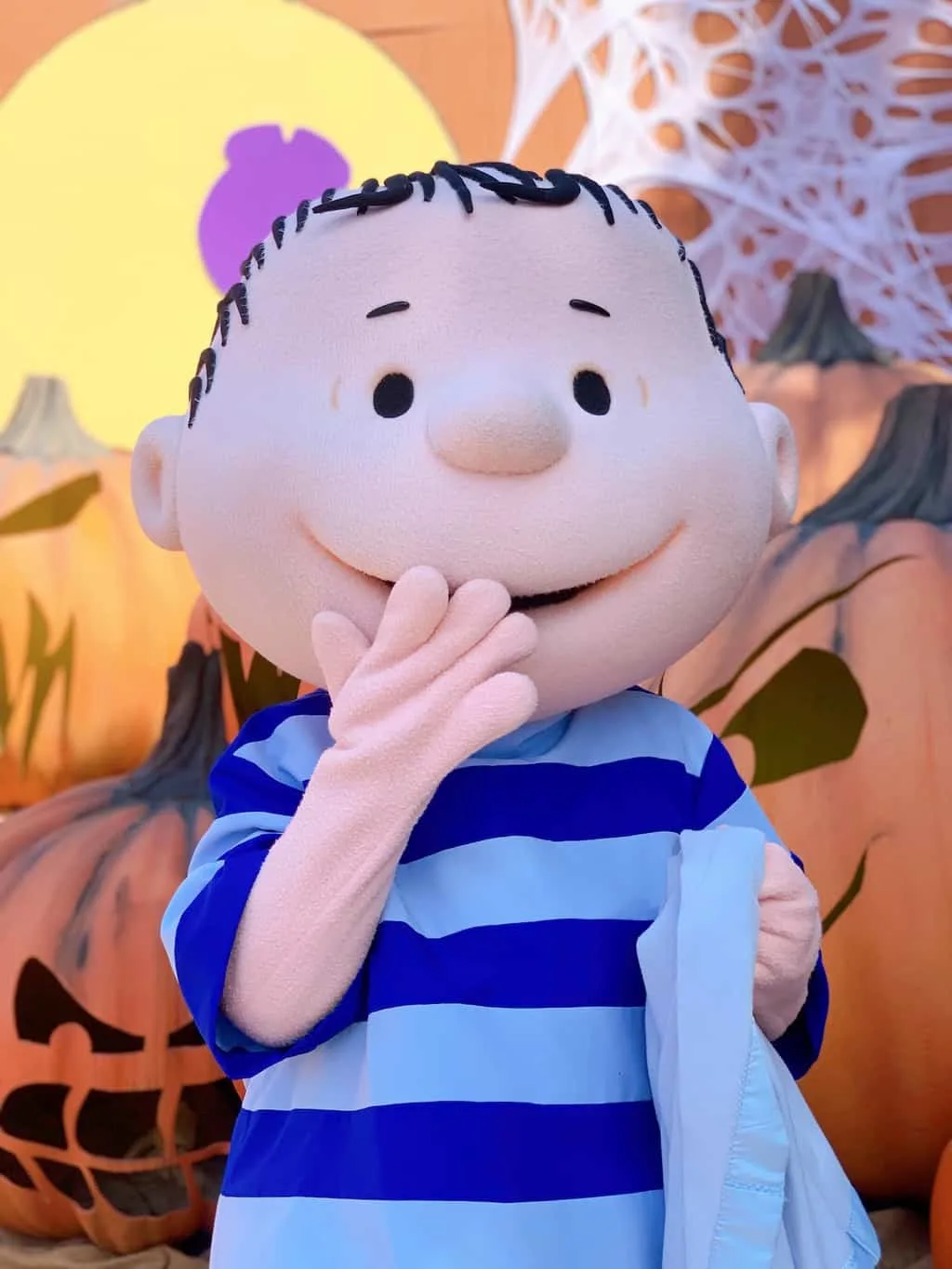 Dia de los Muertos
While visiting Knott's Spooky Farm, don't forget to head over to Fiesta Village for some vibrant fun with a Dia de los Muertos non-scary, friendly, educational celebration of the season. Field Trip Girl asked me several questions about the celebration and what it specifically meant. It was a good history and cultural lesson for both of us.
Entertainment at Knott's Spooky Farm
Finally, make sure to check out some of the Halloween entertainment at Knott's Spooky Farm. There are a handful of family-friendly shows happening around the park. In addition to the "The Monsters are Coming, Charlie Brown" show at Camp Spooky Theatre, there's "Spooky Story Time" at the Bird Cage Theatre. Here, you can sit back, relax, and become entranced by the semi-haunting tale told by charismatic storytellers interacting with tots throughout the Halloween story. These shows are great for all ages, and also give you the perfect chance to rest your legs after trick-or-treating through the streets of Knott's.
Knott's Spooky Farm Dates and Times
Knott's Spooky Farm runs every weekend from September 28 – October 27, plus on October 31 from 10 am – 5:30 pm. Admission to Knott's Spooky Farm is included with the price of a Knott's Berry Farm ticket and Season Pass.
Happy Field Tripping!
Jilleen
More Fall Events in Southern California
Where To See Fall Leaves in Southern California
The Irvine Park Railroad's Annual Pumpkin Patch
5 Tips for Apple Picking in Oak Glen