Christmas will be here in no time. So it's a good idea to start planning ahead and get all your craft supplies put together. Especially during the holidays, when I love crafting with my kids and getting our creative juices flowing, I like to store all my craft supplies in one location and have an ample amount of glue, glitter and colored markers on hand.
Then when inspiration hits, we drink hot cocoa together, have some delicious snacks, and make fantastic memories: no television, no tablets, just us and LOTS of fun!
You can't help but get into the holiday spirit when you make one or more of these fantastic 25 Classic Christmas Crafts For Kids! Plus, there's such a wide variety of crafts to choose from, it's hard to pick just one.
From making Frosty The Snowman decorations out of popsicle sticks to creating homemade salt dough ornaments to playing a round of classic Christmas tic tac toe, there's bound to be at least one activity for your family to enjoy. Many of these crafts are also ideal for large groups including preschool, daycare and early elementary school.
25 Classic Christmas Crafts For Kids
So, let your children use their imaginations, and they will love being creative. Take a peek at these 25 Classic Christmas Crafts For Kids and get in the Christmas spirit! Be sure to share them with your friends and family too.
The Kids DIY Fingerprint Ornament – The Happier Homemaker
Crafts that involve fingerprints always make lovely memories later too. The children will love looking back over the years and seeing what they made.
Christmas Tic Tac Toe Craft – iSave A to Z
Playing tic tac toe is always entertaining. It's even more fun when you get to play on a game that you created.
Popsicle Stick Christmas Crafts – The Best Ideas For Kids
Aren't these the cutest popsicle stick ornaments ever? The options are endless, and they turn out fabulous.
Snowman Christmas Countdown Craft – Coffee And Carpool
The countdown to Christmas is such a magical time. Make it even more special with this countdown craft idea.
Angel Christmas Craft – Mommy's Bundle
These sweet angels are so much fun to make and will look incredible on your tree. Fantastic craft for older and younger kids.
Santa Christmas Craft – Mommy's Bundle
All you need is a few simple supplies like a toilet paper roll, paint, felt, pipe cleaners, pom-poms, glue, and a soda can tab.
More Christmas Crafts For Kids on Amazon
Salt Dough Handprint Craft – Life Is A Lullaby
What is better than glitter and handprints! This craft has a little bit of everything. The kids will love it too.
Egg Carton Christmas Craft – Fantastic Fun And Learning
Make sure to hang onto the egg cartons when you're done because you can make some terrific crafts just like this one!
Easy Beach Christmas Ornaments – Coastal Wondering
This unique beach theme set of Christmas ornaments is a perfect time to talk to the kids about the beach. Plus, they look fabulous!
Christmas Card Craft – Party With Unicorns
Not only are these terrific Christmas cards fun to make, but they are also fun to give. Whoever you give them to is going to be thrilled!
Stable Ornament – Adventures of a DIY Mom
Even adults will love these ornaments too! Make them for friends, family, and neighbors to surprise them.
Giant 3D Paper Snowflake – A Piece Of Rainbow
Remember making snowflakes when you were growing up? This is a classic Christmas craft that will take you back to your childhood too.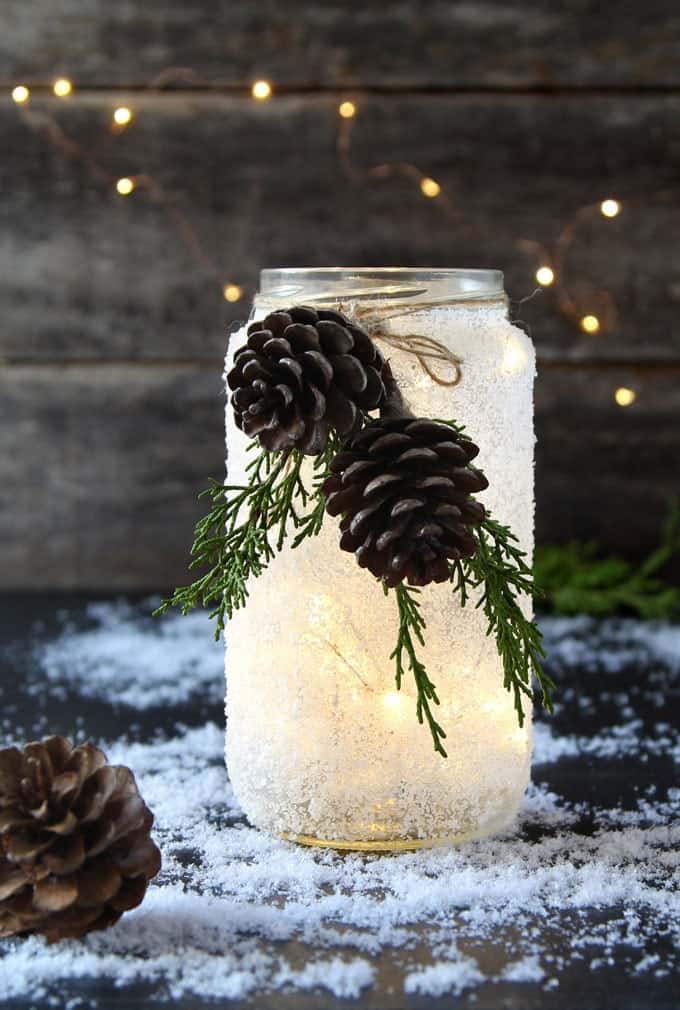 Snow Frosted Mason Jar – A Piece Of Rainbow
Not only will your children love making these mason jars, but you will also love how awesome they look too.
DIY Christmas Ornaments – Organized 31
You can make so many fantastic ornaments! The options are seriously endless. Go crazy and make all sorts of decorations.
Glitter Ornaments – Simply Being Mommy
Glittery ornaments look so pretty on your tree or in a bowl. These are so fun to make to, and you can create a variety.
Potato Print Snowmen – The Gingerbread House
Making crafts with food is a great way to learn, and it's entertaining too. This craft idea is great for toddlers or older kids.
Peanut Snowman – The Flying Couponer
You can't help but have a massive smile on your face when you see these cute ornaments. There will be lots of giggles along the way too.
Salt Dough Ornaments – One Crazy Mom
Salt dough is a classic Christmas craft idea that will never go out of style. Make several and use them as lovely tree decorations.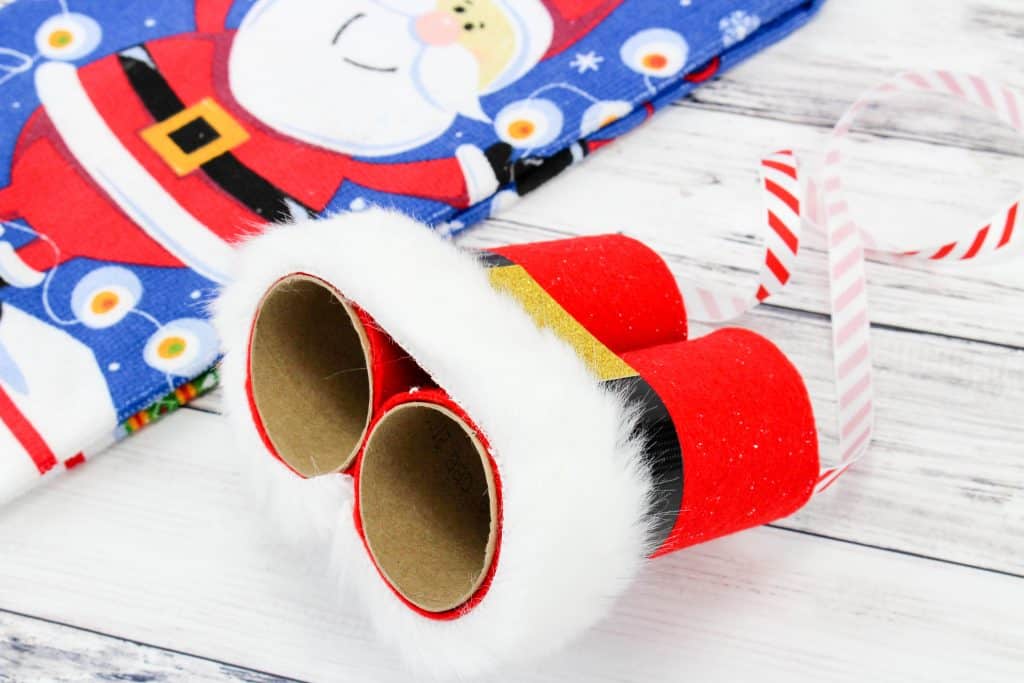 Santa Binoculars – Mommyhood Life
Keep a lookout for Santa with these easy and creative binoculars! The kids will go WILD for this idea.
Miniature Gingerbread Christmas Ornament – Tikkido
I love everything about this terrific ornament idea. These would be wonderful gift ideas too.
Paper Plate Christmas Tree Craft – Creative Family Fun
Pom poms, paper plates, glue, and paint are all you need to make these super cute Christmas trees.
DIY Christmas Bags – Party With Unicorns
These bags are so adorable, and they provide you with free printables to help make them.
DIY Swirl Ornament – Simply Being Mommy
The result of this ornament is fantastic! It's rustic, creative, unique, and delightful!
Homemade Snowflake Ornaments – Honey And Lime
Decorate your tree with some lovely snowflake ornaments. They are so adorable and easy to make too.
DIY LEGO Wreath Craft – Honey & Lime
Don't you love classic Christmas crafts that you can put your kid's photos in? They are so much fun!
I hope you have enjoyed these 25 Classic Christmas Crafts For Kids as much as I do! And if you are looking for even more holiday inspired crafts, be sure to check out the fun posts below. Better yet, if you decide to make any of these crafts found on our blog – be sure to snap a picture and share it with us on our Facebook page. We would to see all your holiday creations!
Happy Crafting!
Jilleen