This post contains affiliate links.
Kids don't have to go to an expensive camp to have a blast this summer! Bust summer boredom with this free Do-It-Yourself Summer Camp At Home Planner filled with classic camp-inspired activities and crafts you can do at home with your kids.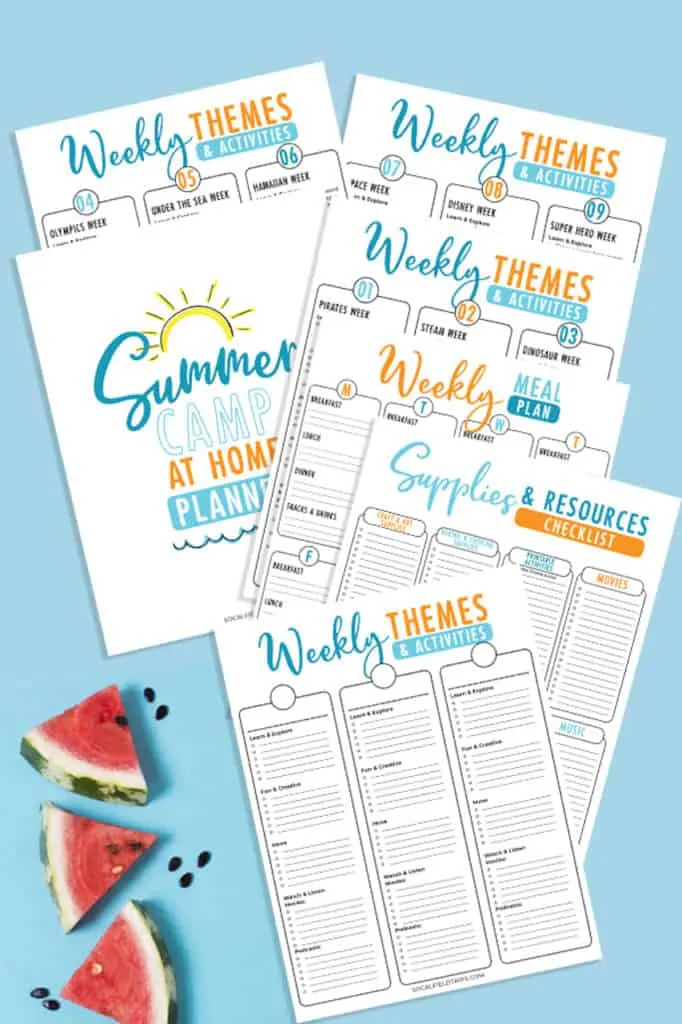 For me, after a lot of trial and error, I finally got summer right for my kids. Usually in July, we go on a family vacation or travel to Northern California to see relatives. But, in June and August my kids are either bored or stressed out. One year, I planned no activities and we just lounged around the pool. After a few weeks, my kids were bored out of their minds and begging me for more time on their devices. I was about to pull my hair out that summer!
The next year, I tried the opposite and signed my kids up for so many camps, that I felt like an Uber driver with no tips! What was the point in wasting so much time and money on mediocre camps, while stressing out my entire family trying to get to certain places at certain times.
Last summer, I finally struck out on my own and found the right balance! Now we do one or two summer camps in the community, a few playdates at the pool and the rest of the time I host my own summer camp at home! I like to call it "Butler Camp Adventures".
How To Host A Summer Camp At Home
The best part about summer camp at home is spending time together as a family, getting your wiggles out and being creative. Families can call their camp whatever name they like. I recommend having a brainstorming session and voting on which name your family likes the best.
Now that you've come up with a camp name, you need to develop a plan. Together, you can brainstorm a list of activities that are good to do each day to keep your bodies and brains active. Think of it as a bucket list of fun activities you'd like to do together!
I recommend setting up a daily schedule for your summer camp. Some things to consider are when will your camp begin, how long is each session, what will you serve to eat, etc.?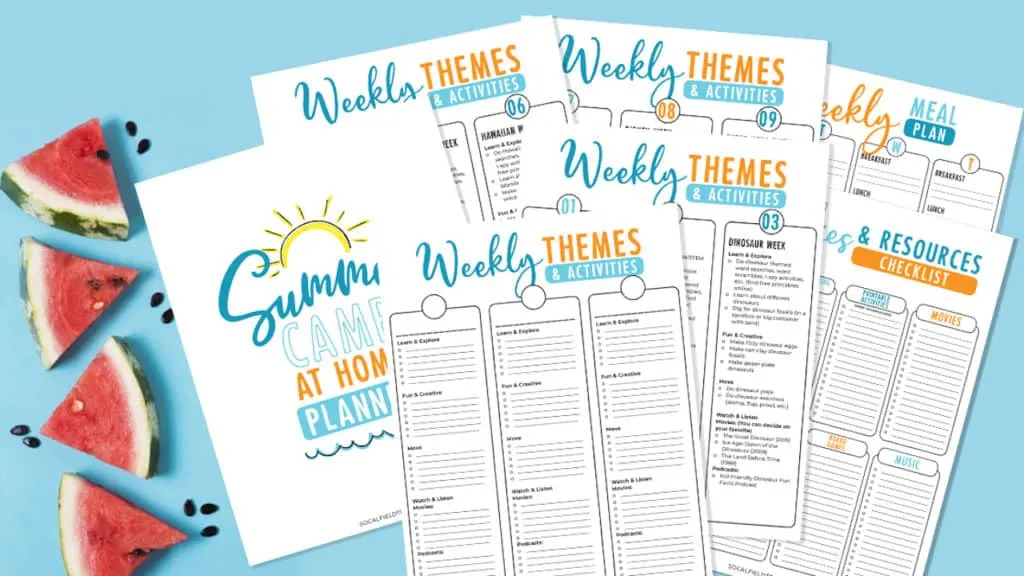 Summer Camp At Home Weekly Themes
But if you're like me and prefer to follow a more structured summer camp schedule, then I have the perfect option for you! Check out this Do-It-Yourself Summer Camp At Home Planner! Each week is already planned out for you with themes and activities that you can implement right away including:
Each weekly theme is also broken down into times for Learning and Exploring, Fun and Creative, Moving, Watching Movies, and Listening to Podcasts.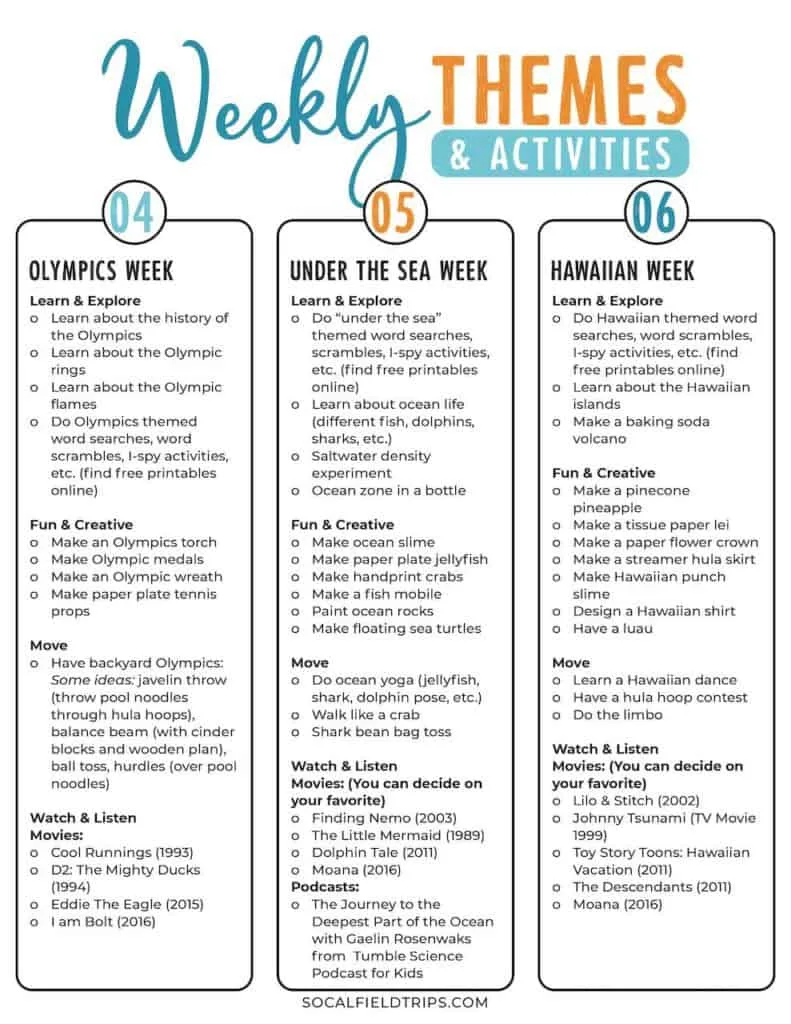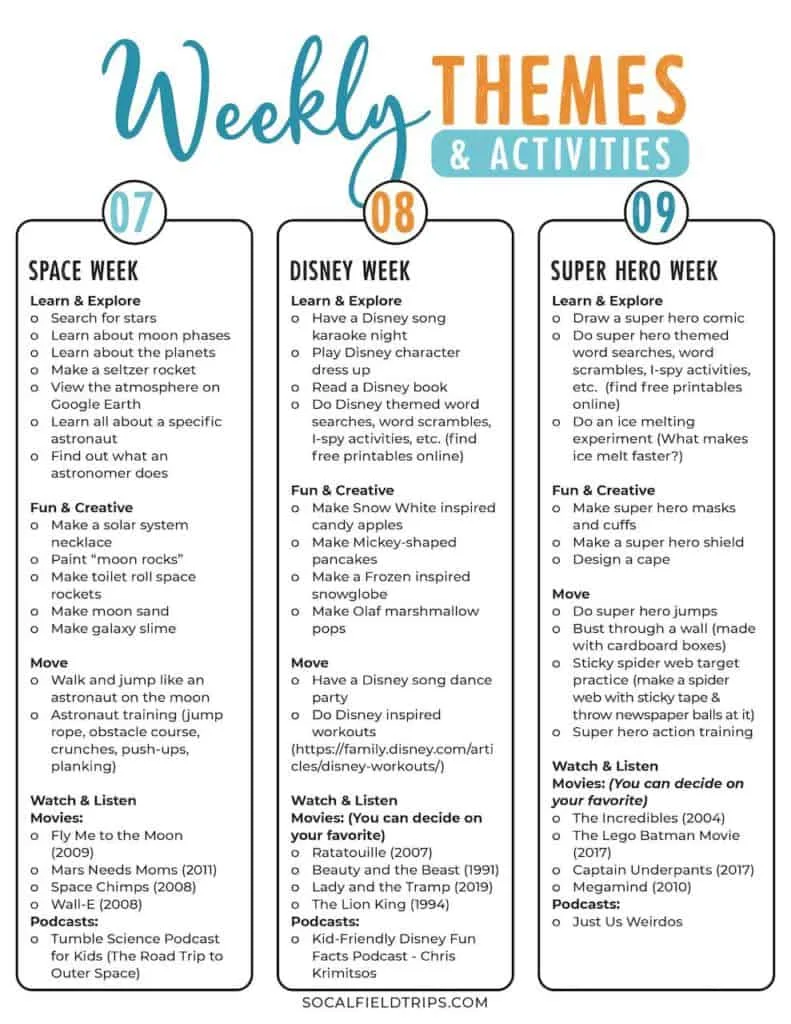 Summer Camp at Home Supplies List
Each week also comes with a handy checklist for you to write down all the supplies that you need for making crafts, cooking, baking and printable activities (like this Family Summer Bingo Game). There's even a weekly meal plan with a shopping list! Imagine all the time you will save with this complete guide to hosting a summer camp at home!
Free Summer Camp At Home Planner
To take advantage of this free summer camp at home planner, all you have to do is the download the entire planner here and print it out. Have the kids help you fill it out, go shopping and pick out all the supplies you'll need to make this year's summer camp most memorable. Sometimes it's even more fun to host the camp with a fellow mom or dad in the neighborhood! Either way, I hope you have a fabulous summer!
Summer Greetings!
Jilleen